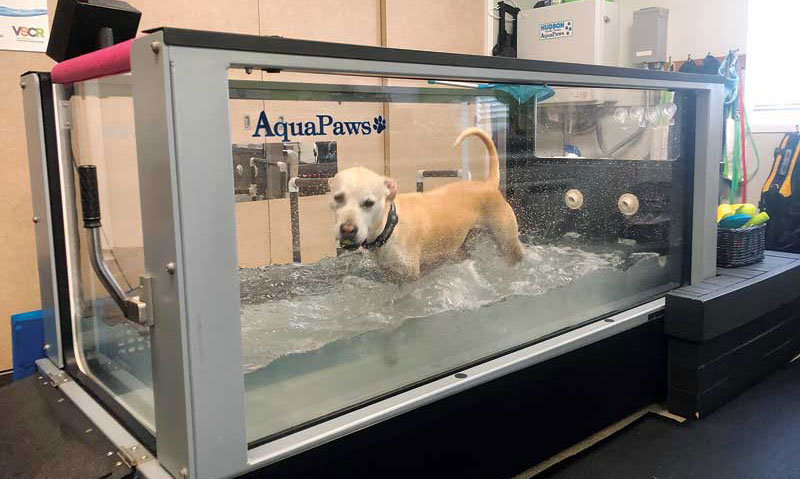 Osteoarthritis (OA), also known as degenerative joint disease (DJD), is the No. 1 cause of chronic pain in dogs in the United States. It has been concluded 20 percent of dogs have some degree of OA/DJD. This results in decreased activity, weight gain, negative impact for the patient, a change in the human-animal bond (negatively), and an increase in euthanasia for dogs when becoming refractory to treatment.
It is critical to have options when treating this disease. Identifying OA/DJD patients within your practice can be done quite easily. Take a complete, thorough physical exam, and proper history on each and every patient coming in for an office call. Include questions about mobility (Trouble going up the stairs? Not playing as much? Slowing down?).
Proper flexion and extension of all the joints of the limbs and palpation of the spine, flexion of the neck, checking for joint effusion and instability of joints can easily clue the clinician to determining potential OA patients. Also, look for signs such as muscle wasting, asymmetry, and lameness. Cartilage damage occurs well before radiographic changes.
Other changes occurring in the process are thickening of the joint capsule and remodeling of subchondral bone, which leads to sclerosis. Osteophyte formation occurs via synoviocytes releasing bone morphogenetic proteins (BMPs). Further, chronic inflammation then initiates osteophyte formation from which a joint mouse or the osteophyte impinges on periosteum. Bottom line: OA becomes a vicious cycle. The joint is less able to bear stress and forces, leading to further joint damage and the initiation of clinical signs.
This ongoing inflammation is the source of both the progressive nature and pain of OA. Prostaglandin E2 (PGE) and other inflammatory cytokines lead to: progressive degradation of the joint and stimulation of nociceptors in synovium, joint capsule, and subchondral bone. PGE is also released in dorsal horn and contributes to the pain signal.
The neural aspect of the joint is also a source of pain. Cartilage is aneural; cartilage damage alone is not painful. Inflammation stimulates nociceptors found in joint capsule, synovium, subchondral bone, and the periosteum. The joint nociceptors intimate pain.
Neurogenic inflammation is an additional step in the nociceptive pathway. It involves the antidromic release of neurotransmitters near the joint. Neurotransmitters, such as Substance P, trigger inflammatory mediators within the joint. This contributes to joint pain, as well as inflammation.
Intra-articular medications can provide targeted therapy for OA. These can be easy to learn with practice. In my clinic, it is done under sedation, and after radiographs to verify the OA process. This also allows for elimination of infection or neoplasia as mimics of OA pain.
Diagnostic arthrocentesis could be done if indicated. The same approaches to joints for diagnostic purposes can be utilized for treatment. Removal of some of the joint fluid allows space for the infusion of medication. These need to be done with sterile technique for obvious reasons.
Therapeutics for intra-articular injections
Options for intraarticular therapies currently include corticosteroids, hyaluronic acid, and regenerative medicine (platelet rich plasma or "stem cell" therapy). Corticosteroids can have deleterious effects to cartilage, but these are often used in palliative care, or if other options are not financially available.
Methylprednisolone acetate has historically been used in these cases for both dogs and horses. A 20-mg dose is used for most medium- to large-breed dogs. Triamcinolone (6-8mg/joint) can be used—with shorter effect but less overall chondrocyte damage to the joint. Additionally, if any systemic side effects happen from corticosteroids, triamcinolone's effects will be over faster than methylprednisolone.
This is especially important in patients with severe mobility issues (less chance of urine scald, accidents in the house) and potentially other metabolic diseases (renal, hepatic impairment).
Hyaluronic acid increases viscosity of joint fluid, is anti-inflammatory, analgesic, and induce production of synovial fluid. Many different options are available, and molecular weight is the primary variable among them. Cost can be variable, as well, and some products are not currently available. Usually 20 mg for large breed dogs, 10 mg per joint for small breeds.
Hyaluronic acid alone was not shown to be a viable option for arthritis (whether given intravenously or intraarticularly). Therefore, it can be combined with a steroid (see doses above) if needed for both a short-term and long-term effect. In the author's experience, using hyaluronic acid as sole therapy is often unrewarding. The combination of a corticosteroid and hyaluronic acid together leads to a longer and better clinical outcome. Repeating injections in a few weeks to months may be needed in some cases.
Regenerative medicine is an emerging field for both animals and humans. There are many variables with products and product preparation. In clinic and outside laboratory preparations are available. Each has their own pros/cons to be considered by the clinician. Currently, either requires patient donation or baseline cells. An over-the-counter synthetic product is not yet available.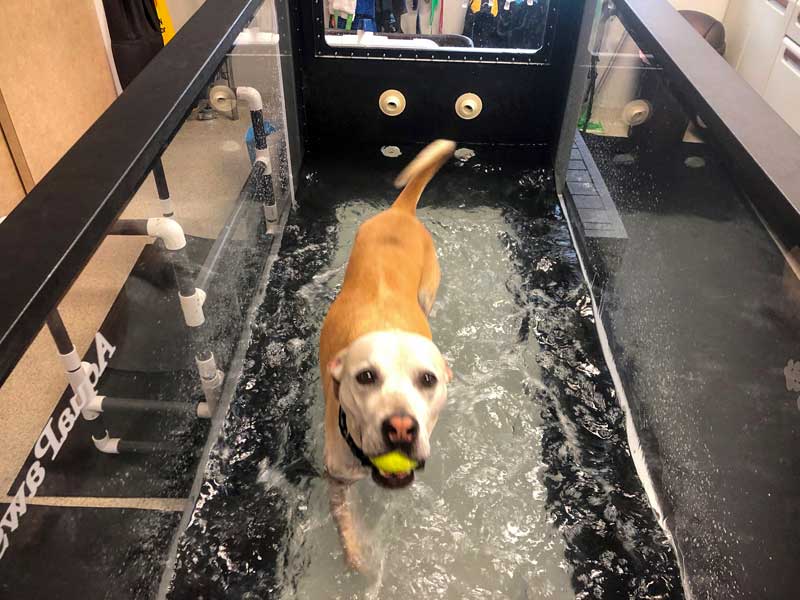 Platelet rich plasma (PRP) has positive effects on angiogenesis and extracellular matrix remodeling, provides fibrin for matrix, a potent source of growth factors, cell proliferation and differentiation, and stem cell recruitment and chemotaxis. Results will be patient-dependent and may need a series of injections over a few months to maximize effect.
Stem cells can be of bone marrow or adipose tissue origin. Research is not clear as to which is superior at this time. Stem cells are reported to contribute to generating new tissue, chemotactic for progenitor cells, supply growth factors, make extracellular matrix, are angiogenesis, anti-apoptosis, anti-inflammatory, and anti-fibrotic. These are usually combined with platelet-rich plasma and can last for nine to 12 months.
Radiosynoviorthesis (Synovetin OA) is a novel therapy approved for elbow OA management in canines. This is an injection of radioactive Tin-117m, which decreases macrophages and subsequently decreases synovitis, which is associated with pain and inflammation. Initial research showed about a 92 percent response rate in mild to moderate cases and 71 percent response rate in severe cases, with effects lasting 12 months in most cases.
In the mild to moderate cases, 23 dogs were in the study. Peak vertical force (PVF) improved at three and nine months compared to pretreatment values in the high dose group. Canine brief pain inventory (CBPI) scores improved at most of the time points in all dose groups. There was no significant difference in elbow goniometry between treated and untreated elbows. There were no self-reports of any adverse effects of the injection by the owners and none were noted by the examining veterinarian at the time of regularly scheduled re-evaluations.
Injectable therapy for lumbosacral disease
Janssens et al showed epidural injection of methylprednisolone is a treatment option for dogs as opposed to surgery. A series of injections is needed, as another study showed a single injection did not yield long-term improvement. Retrospective evaluation by owner questionnaires found 79 percent of the animals were considered to have improved, and 53 percent were totally cured.
In some cases, 48 months of pain relief were seen. Epidural infiltration with methylprednisolone acetate has a clinical outcome comparable to decompressive surgery and can be safely used as a less-invasive alternative. While further research is warranted, I have had similar success rates in my practice.
Summary
Injectable therapy can be utilized as a targeted approach for managing osteoarthritis and lumbosacral disease. However, we are not curing the disease. We have made it better, but we can improve it even more. With a comfortable joint, we can now build muscle. Taking the patient from the diagnostics and injections to a rehab program is critical. Light leash walks, home exercise programs, and then improving strength and balance through underwater treadmill workouts and other activities are all part of the treatment.
A trial and error approach is sometimes needed to find the right combination of methods to control the pain of osteoarthritis. Having comfort with numerous, but not necessarily all, of these techniques can help the clinician and the patient. As always, further research is warranted.
OA AT A GLANCE
Osteoarthritis is a chronic, progressively destructive disease involving the entire joint. Inflammation is a key component of both joint destruction and pain. Acute pain resolves after the initial injury heals. Chronic pain involves structural changes of the dorsal horn, is more intense than acute pain and more difficult to control. Treatment considerations for osteoarthritis should address inflammation, as well as pain.

A multimodal approach to OA management is needed. Non-steroidal anti-inflammatory drugs (NSAIDS) represent the cornerstone of therapy, but other modalities include nutrition, chondroprotectants, additional analgesics, physical rehabilitation, weight control, exercise, an EPA-rich diet, and many new and emerging options.
Matthew Brunke, DVM, CCRP, CVPP, CVA, CCMT, Dipl. ACVSMR, is a sports medicine and rehabilitation specialist.
References
Fox SM and Millis D. Multimodal Management of Canine Osteoarthritis, Manson Publishing, 2010.
Pelletier JP, Mineau F, Raynauld JP, et al. Intraarticular injections with methylprednisolone acetate reduce osteoarthritic lesions in parallel with chondrocyte stromelysin synthesis in experimental osteoarthritis. Arthritis Rheum. 1994;37(3):414–423. doi:10.1002/art.1780370316
Canapp SO, Cross AR, Brown MP, et al. Examination of synovial fluid and serum following intravenous injections of hyaluronan for the treatment of osteoarthritis in dogs. Vet Comp Orthop Traumatol. 2005;18(3):169-74. PMID: 16594448.
Franklin SP, Cook JL. Prospective trial of autologous conditioned plasma versus hyaluronan plus corticosteroid for elbow osteoarthritis in dogs. Can Vet J. 2013;54(9):881–884.
Ludwig HC, Birdwhistell KE, Brainard BM, Franklin SP. Use of a Cyclooxygenase-2 Inhibitor Does Not Inhibit Platelet Activation or Growth Factor Release From Platelet-Rich Plasma. Am J Sports Med. 2017;45(14):3351–3357. doi:10.1177/0363546517730578
Franklin SP. A Pilot Clinical Study Assessing Treatment of Canine Hip Dysplasia Using Autologous Protein Solution. Front Vet Sci. 2019;6:243. Published 2019 Aug 9. doi:10.3389/fvets.2019.00243
Sasaki A, Mizuno M, Mochizuki M, Sekiya I. Mesenchymal stem cells for cartilage regeneration in dogs. World J Stem Cells. 2019;11(5):254–269. doi:10.4252/wjsc.v11.i5.254
Radiosynoviorthesis: A new therapeutic and diagnostic tool for canine joint inflammation. Donecker JM, Stevenson NR. Fox SM (editor). Multimodal Management of Canine Osteoarthritis (2nd Edition) CRC Press. 2017:75-80.
Doerr CA, et al. Radiosynoviorthesis using Sn-117m colloid to treat canine elbow osteoarthritis demonstrates efficacy and safety. Accepted for poster presentation at the 32nd Annual Congress of the European Association of Nuclear Medicine, October 11-16, 2016, Barcelona.
Aulakh KS, Lopez MJ, Hudson C, et al. Prospective Clinical Evaluation of Intra-Articular Injection of Tin-117m (117mSn) Radiosynoviorthesis Agent for Management of Naturally Occurring Elbow Osteoarthritis in Dogs: A Pilot Study. Vet Med (Auckl). 2021;12:117-128 https://doi.org/10.2147/VMRR.S295309
Janssens L, Beosier Y, Daems R. Lumbosacral degenerative stenosis in the dog. The results of epidural infiltration with methylprednisolone acetate: a retrospective study. Vet Comp Orthop Traumatol. 2009;22(6):486–491. doi:10.3415/VCOT-08-07-0055

12. Gomes SA, Lowrie M, Targett M. Single dose epidural methylprednisolone as a treatment and predictor of outcome following subsequent decompressive surgery in degenerative lumbosacral stenosis with foraminal stenosis.

Vet J.

2020 Mar;257:105451. doi:10.1016/j.tvjl.2020.105451. Epub 2020 Mar 30. PMID: 32546351.