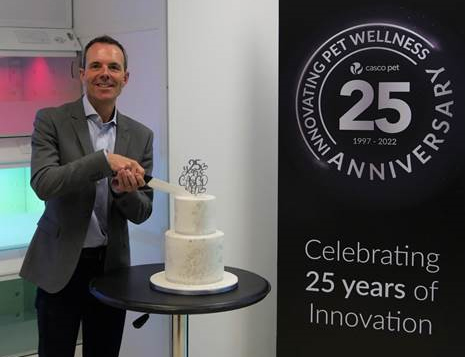 U.K.-based company Casco Pet is celebrating 25 years of providing wellness innovations and housing solutions for animals.
Established in 1997, the company got its start in the pet retail industry before entering the veterinary sphere in 2018. It now works globally with clinics and veterinary schools, with offices and teams in the U.K., U.S., Germany, Portugal, and Australia.
"It is an extremely proud moment to reach such a milestone in Casco Pet's journey," says the company's founder and chief vision officer, Matthew Bubear. "The result of 25 years of pushing boundaries and setting new standards. We couldn't have achieved it without our talented teams around the world and some truly amazing clients who share our values and commitment to innovation and pet wellness."
In honor of the anniversary, Casco Pet is partnering with Harper Asprey Wildlife Rescue, a U.K.-based emergency wildlife hospital focused on rescuing, rehabilitating, and releasing native wildlife species. Specifically, Casco is gifting the charitable organization with clinical housing for Harper Asprey's on-site veterinary clinic.
"We are beyond excited Casco Pet will be upgrading our on-site veterinary practice for us as part of its 25th year anniversary celebration," says Harper Asprey's founder, Anne Brummer. "It will have a massive impact on us and enable our vet team to care for even more wildlife."
"I am so, so pleased with our chosen charity partner for 2022," Bubear adds. "Such a worthy cause, rescuing precious and threatened wildlife."