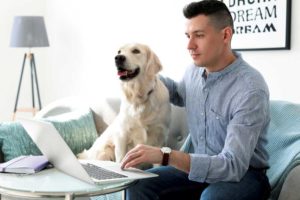 At some point, our profession got it into its collective head to start hating on telemedicine. Perhaps it was the image of non-veterinarians armed with third-tier vet tech degrees hunched over laptops banging out answers to questions they have no business fielding. And in their pajamas, no less!
It's a mental picture my state's association—the Florida Veterinary Medical Association (FVMA)—is advancing this legislative season, as it seeks to limit telemedicine's reach into Sunshine State living rooms. And Florida is by no means alone in its quest to curb the telemedicine industry's growth. Most other state associations also are seeking a legislative solution to the perceived threat posed by online veterinary services.
Telemedicine was front and center at American Veterinary Medical Association's (AVMA's) House of Delegates (HOD) meeting in January, the findings of which they'll likely present at this summer's conference in Washington, D.C. These are the best minds our profession has at its disposal, grappling with issues as fundamental as the nature of the veterinarian-client-patient-relationship (VCPR). 
It all comes down to the hands
In its wariness of telemedicine, professional organizations like AVMA and state veterinary medical associations (VMAs) argue the definition of VCPR is at the heart of the issue. A VCPR, they say, cannot be established without a hands-on physical examination. This literal "laying of the hands" is what cements the VCPR, according to the AVMA's Model Veterinary Practice Act (MVPA). The argument advanced is that animals can't talk, thereby rendering a hands-on VCPR so indispensable.
But is this a genuine ethical argument about quality of care, or is this disingenuously fabricated to serve a protectionist position favoring brick-and-mortar medicine? Need the VCPR be so restrictive? Or is the limitation based on the ability to speak a specious argument in service of the status quo?
I mean, let's be honest: Our profession's chief concern is that clients will substitute online services for much of their veterinary care, thereby exacerbating the recent decline in veterinary visits (as reported by the haunting Bayer Veterinary Care Usage Study). Telemedicine, it is feared, will encroach onto real-world veterinary territory, cutting into our earnings and devaluing our traditional service offerings with its hands-off approach to veterinary care.
The human argument
Which brings us to the human argument. Human babies can't talk, nor can many other human patients. Yet, the American Medical Association's (AMA's) Code of Medical Ethics allows for telemedicine services, nonetheless. Indeed, it allows for physician-patient relationships to be established online as a concession to physician workforce shortages, affordability issues, and other delivery deficiencies. As a result, telemedicine is expressly allowed in 48 out of 50 states.
Not that all doctors are on board. In fact, the American Academy of Pediatrics (AAP) is none too happy with telemedicine. In its policy titled, "The Use of Telemedicine to Address Access and Physician Workforce Shortages," it presents quality of care arguments, stating "the loss of continuity of care, quality of care, and patient safety shows why this telemedicine care model should not be embraced."
Despite the pediatric profession's dissent, telemedicine is gathering steam on the human side. Insurance companies reimburse for it and 75 percent of human physicians have reportedly implemented some sort of telemedicine in their practices. In one survey, more than 50 percent of human patients reported they would change doctors if it meant having access to video exams. With this surge in interest on the human side, our clients' increased familiarity will doubtless pique the need for the same for our pets.
In support of telemedicine
It's not just the AMA—there are those within our industry that would define the VCPR less restrictively. For example, the American Association of Veterinary State Boards (AAVSB) is also working to broaden the VCPR to include a way forward for telemedicine, arguing this relationship "can be established remotely in some cases." Practitioners, it states, should determine for themselves whether to use telemedicine as "a component of, or in lieu of, hands-on medical care."
Then there are the many veterinarians, schools, and other industry stakeholders who view telemedicine, whether it's practiced within the confines of a traditional practice framework or by a network of independent practitioners, as a necessary solution for the industry's growth.
Veterinarians on a mission
Last year, I attended the Veterinary Innovation Summit at Texas A&M's veterinary school, where attendees were introduced to a wide array of telemedicine enterprises talking about how this technology was finally on its way to a veterinary hospital near you––maybe yours. We were impressed enough that few of us left College Station without hooking up with at least one of these companies.
For my part, I dallied with one teletriage service and hired it on the spot. Now, when my clients call our clinic after-hours, they're treated to a trained, credentialed staff's professional assessment of their emergency (instead of a harried ER's––one with a vested interest in capturing my clients' business, no less). It pays for itself many times over and I've never looked back.
It wasn't just the whirlwind romance. The conference also enabled me to look at telemedicine from the point of view of the provider. The benefits are by no means limited to clients—they're for us, too. Telemedicine offers the opportunity for veterinarians to establish a clientele locally or remotely, work at home, or enjoy a flexible schedule.
I mean, how better to put your skills to use when you live with an infant perpetually stuck to your breast? When you've decided to dedicate a year to globe-trotting? When you're starting a new practice and need cash as well as converts? It's great for ambitious associates, too, allowing them to distinguish themselves and demonstrate their indispensability to their bosses. Likewise to help you grow a practice before building or buying your own.
Winners and losers
I find it frustrating our knee-jerk reaction, as a profession, often defends the status quo at the expense of its broader constituency, along with the future of the profession. Here's how I see it:
When our associations limit telemedicine in defense of existing practices, they undermine the future income streams of independent veterinary providers. When they disregard telemedicine for its potential impact on veterinary visits, they're denying our profession the ability to capture an underserved segment of the market and address fundamental affordability concerns. When they interpret the VCPR narrowly, they place limits on our personal judgment and our credentials.
Ultimately, telemedicine offers us two choices: Lead or be led. If veterinarians don't take on telemedicine, non-veterinarians will find a way. Here's another way of looking at it: Will we be the taxi or the Uber? The hotel or Airbnb? We need to be both… or be left behind.
Patty Khuly, VMD, MBA, owns a small-animal practice in Miami and is a passionate blogger at drpattykhuly.com.
Columnists' opinions do not necessarily reflect those of Veterinary Practice News.