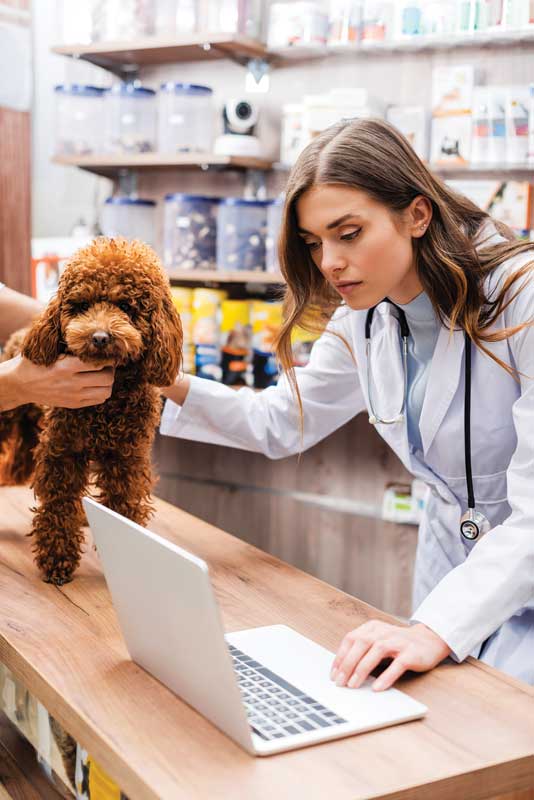 Online pharmacies have been in existence for decades. Yet, when I visit animal hospitals and review their sales, I still find minimal use of this handy tool.  At the same time, online companies such as Pet Meds and Chewy have had exponential growth. So, why are veterinary hospitals falling behind?
Belief systems
I believe the first problem is the push back by veterinary clinics due to a perceived reduction of profitability on medications. As a manager, I had two goals with our pharmacy. My first goal was to save my customers from these online competitors. My team was trained to share cautionary tales with my clients about gray-market products and counterfeits. Now that major manufacturers sell directly to online companies, these tales happen less frequently. A few years ago, the CEO of a large printing company was jailed for printing fake flea prevention packaging for a company out of China selling a counterfeit product.
My second belief: some money is better than no money. If clients were going to insist on buying online because of price, I wanted them to buy from me. I am not a fan of price matching when clients come in with printouts. Some of those companies are questionable, not to mention I think it is incredibly unfair to charge a good client who never asks for a "deal" more money than one who is constantly beating you down on price. If anything, it should be the opposite. Make all your pricing competitive and move on.
In addition, because online pharmacies are much better at automating refill reminders and shipments, the practice more than makes up revenues from better compliance. We know even when clients request written prescriptions, they still don't always get them filled. So, our patient does not get well, and our clients place the blame on the practice.
Tout benefits to clients
There is also the issue of human pharmacies incorrectly filling prescriptions because they do not have veterinary pharmaceutical training. Clients want home delivery, and we can provide it and protect our patients at the same time.
Clients are often just looking for the cheapest price, and some companies are certainly taking advantage of this. Proper client education and marketing our own safety protocols can circumvent a lot of this. Sometimes when practices consider their ability to give clients free doses provided to them by manufactures, the cost to the client nets down below most online providers. We just have to take the time to share this information with our clients.
Years ago, I made a "best deal" chart to share with clients as a quick reference. It had the cost of a single dose, six-pack, 12-pack, and added the free doses. Then it showed the net cost per dose. As consumers rarely take the time to do math, this chart was enlightening for them and saved me many product sales because clients always assume an online retailer is less expensive until you show them otherwise.
So how should we price our online medications? Most online pharmacy providers will help you stay competitive by shopping price on the major retailers' sites. You can be a touch more expensive, but when we take it into account, we have almost no labor costs involved in ordering, stocking, counting, repackaging, and as much as we hate to say it, employee theft of products we stock, by selling online, we can be competitive and still make a profit.
Marketing is key
The big challenge is marketing. How can we possibly compete with Chewy or Pet Meds with the money they spend and the sales funnels they are pushing out to our clients daily? The answer: we do not have to. We have our clients in our building and in our database, and we need to take advantage of both those situations.
Your team is your best marketing tool. Of course, time is limited, and we have a great deal to discuss with our clients during their visits. However, utilizing technology to the fullest results in free time for the team to do the work only people can do, such as connecting with clients and hands-on medical care.
When we move clients onto our online pharmacy, we offer them the convenience of shopping with the comfort of knowing their provider in person.  For the most part, clients love and trust their veterinarians, and they want to support them. Younger generations have an affinity for small businesses and do not care for big-box stores, so we have a great message to share: "Support us because we are here when your pet needs help."
Most practices I visit do not have an online marketing strategy for their pharmacy other than sticking a button on their website homepage. Creating these messages is not difficult.  If you do not know how to approach it, invest in a professional writer to build the case. Keep in mind the benefits of shopping with you are about the benefits to the client and their pet, not about supporting your bottom line. A message you could possibly share: "We know how careful you are with your pets' wellbeing. You research the right collar, the right food, the right bed, and even the right doctor. Be as comfortable with your online pharmacy when you order your pet's medications from OUR PRACTICE RX! You are assured of products that are top-quality, safe, accurately filled by a veterinary pharmacist or technician, recorded in our medical records, and supported by the local team that will be there for you both in sickness and in health. We encourage you to give us a try. Our pricing is competitive. Sign up today at …"  We can also share FDA information to help clients make safe buying decisions.
Another reason online pharmacies are not utilized is they are unwieldy to work with. Choosing the one that makes the process as simple and seamless as possible is the way to go (See "Getting started" for tips on selecting the right one).
I also advise using the online pharmacy as your client would before you make the choice. How many keystrokes does it take to set up the account? Is it easy for the client to request refills?  Is it easy for them to find the medication they are seeking? If the site is confusing, the client will abandon the setup and go to some other retailer.
Another approach is to sign up clients in-house. A very successful practice owner in North Carolina managed to move hundreds of thousands of dollars from in- house to online by offering his clients a few days of medications filled in the practice and the balance filled from his online pharmacy. He explained the online cost was less because there was little overhead cost compared to the overhead in the practice. Clients jumped on the opportunity to save money, and once they were signed on, the practice was able to market other medications and refills through the tool.  He freed up thousands of dollars in inventory and labor costs, not to mention the space taken up by a pharmacy designed to support multiple doctors and a large client base.
Veterinarians should not be reliant on medication sales to support their practice. Prior to monthly preventions coming on the market, practices were "medical services-driven," and product sales were a very small percentage of total income. I look at it like this: Services are our "meat and potatoes," and product sales are "gravy." You are going to be unhealthy if too much of your income is gravy. We have to concentrate on the meat and potatoes, but a little gravy is always a nice bonus. Let us just make it easy to obtain.
GETTING STARTED
When determining how setting up an online pharmacy can work for your clinic, the best place to begin is with a list of questions about how the pharmacy will work within it. These are the questions I recommend asking:
Who do you prefer to work with as your distributor?
How will the payments flow? How do I collect payment and record them?
Will I have to set up another merchant account for my pharmacy?
What is the speed and cost of delivery to my clients?
What products are available to autoship?
Can single doses of preventative medications be auto shipped?
What support is available for both the practice team and the client?
Will it integrate with your practice management software?
Can you write and order prescriptions in your office or do clients have to go online?
Do they offer quarterly price checking with major internet pharmacies?
Will they lower your pricing without alerting you? Or give discounts?
How many products do they offer and do they offer the ones you utilize?
Does the product or Rx look like it came from your hospital? Is your information on the label?
Does it integrate with a portal? Or app? Is that an additional cost?
What fees are involved with setup? Per order? Flat fee?
Will clients get Rx reminders for refills?
How will it integrate with your website?
Debbie Boone, BS, CVPM, Fear Free Certified, has worked in the veterinary profession for more than 35 years. She has experience in the management of small animal, mixed animal, specialty, and emergency practices. Her business, 2 Manage Vets Consulting, helps practices develop team communication and business skills, enhance patient care, improve profitability, and increase practice value. Boone strives to improve the lives of animals by using her expertise to improve workplace culture and the well-being of veterinary professionals. She lives in North Myrtle Beach, S.C., where she spends her off-time in her garden, at the beach, or on the boat.