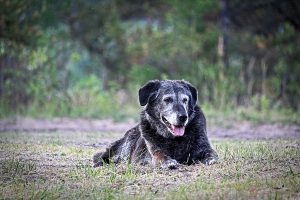 Kansas State University College of Veterinary Medicine is set to study the impact of a lean muscle supplement in geriatric dogs.
Forty dogs suffering from three of the four following conditions will be enrolled in the study:
• weakness;
• weight loss;
• slowed or altered mobility; and
• exercise intolerance.
The study—which will test MYOS RENS Technology's Fortetropin—will be performed under the supervision of Kenneth R. Harkin, DVM, DACVIM (SAIM), professor and section head of small animal internal medicine.
All the dogs will be fitted with an activity collar. After monitoring their activity for two weeks, 20 dogs will be assigned to receive the supplement and 20 will receive a placebo. Activity levels will continue to be monitored and the quality of life assessment, based on the Liverpool Osteoarthritis in Dogs questionnaire, will be used to evaluate results.
"Pet owners often remark their dog is slowing down as they enter their golden years," Dr. Harkin says. "Although osteoarthritis is often tipped as the culprit, the loss of muscle mass associated with old age is an underappreciated cause. Geriatric dogs with muscle mass loss fatigue easily, which by itself can negatively impact their quality of life."
Harkin participated in an earlier study, which had positive results, observing the impact of the supplement on recovery following tibial plateau leveling osteotomy surgery in dogs.
"Numerous testimonials by pet owners suggest that Fortetropin supplementation has a positive influence on quality of life and activity levels in geriatric dogs," he says. "Based on these reports and the positive results from our previous study, I believe a study examining the impact of Fortetropin on geriatric dogs is warranted."