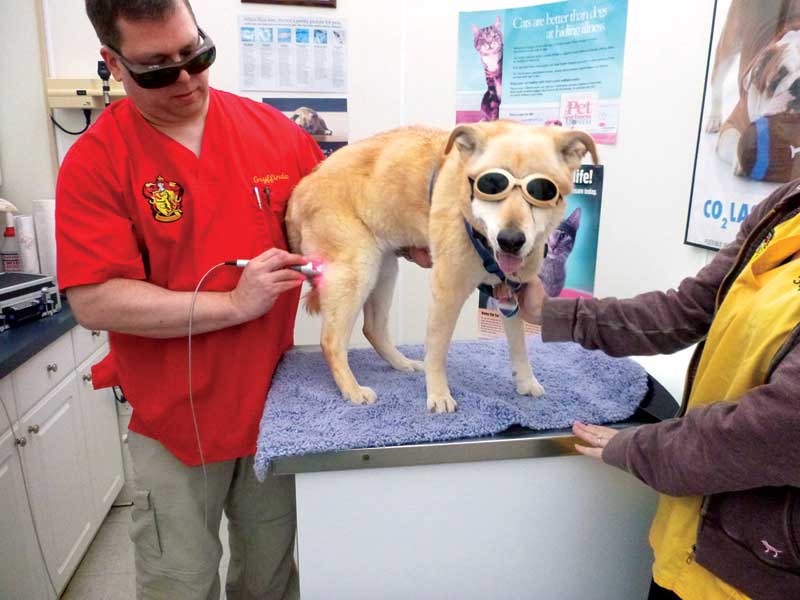 Hindsight is 20/20 and patience is a virtue. I often have to remind myself of these sayings, as the impetuousness of my youth has never really faded. Instead, it's only slunk into the basement where it sits awaiting new opportunities for running free… which is exactly what happened when I began to expand my practice into laser medicine and surgery.
Full disclosure: I like gadgets. I thrill at the melding of advanced science and engineering with the art of medicine and surgery. And I'll be the first to admit my own impulsiveness at my initial laser equipment purchases, which happened before my desire to enhance my education in the field caught up with me. Here's another saying: I wish I knew then what I know now. It's understandable to get excited about the potential laser therapy holds for patients. The results it can achieve when administered properly are why we got into veterinary medicine: to help animals feel as healthy and pain-free as possible. As with any technology with which you are unfamiliar, learning what you need to know to make an informed purchasing decision is a critical first step. I bought my first therapy laser after a lunch-and-learn session. Unfortunately, I jumped right in before doing any research into the nuances of the various products on the market and the appropriate applications of each. Here are the lessons I learned that you might find useful if you're on the verge of bringing laser therapy into your practice.
Look before you leap
It was while attending a conference of the American Society for Laser Medicine and Surgery (ASLMS) that I first heard the term "photobiomodulation," which most accurately describes the use of light therapy, including laser therapy, to elicit photophysical and photochemical events to benefit the patient (Anders et al., 2017). While attending conference sessions and discussing the science behind laser therapy with researchers and other veterinary practitioners, I learned a great deal about the latest work into laser wavelengths and their target chromophores, which facilitate laser therapy treatment for domestic animals. I also discovered the therapy laser I owned at that time, which while within a range considered to be therapeutic, was quite limited compared to newer versatile models offering multiple wavelengths and wider power ranges.
Our understanding of photobiomodulation's physiologic mechanisms has come very far over the past decade. We now know it is the photons of light itself, and not just the benefits of heat from a therapy laser, that facilitates a therapeutic effect (Arany et al., 2014). We are also aware that light of specific wavelengths is absorbed by certain chromophores, atoms, and molecules within the body to produce the photophysical and photochemical events of this therapy (Anders et al., 2017). Further, we are becoming better informed through research that by carefully considering light as if it were a dose of medication (taking into account the amount of energy delivered to a surface area over time), the animal's own target tissue compositions, and their number of mitochondria, as well as the frequency at which light is applied, we might more accurately achieve the clinical results desired (Hamblin et al., 2018).
In pharmacology, we consider pharmacokinetics and dosing over time in our therapeutic drug protocols—perhaps light therapy should be considered in the same light. To elicit a desired cellular response, light must be absorbed in wavelength ranges appropriate for a given chromophore. Laser light in these therapeutic wavelength ranges has a propensity to scatter throughout tissue, which means enough light must be delivered to the target tissue over time to compensate for this. Therefore, a therapy laser should provide not only the correct wavelength for the intended target tissue and its chromophores, but also have adequate power to deliver the desired dose of light within a time both efficacious for the patient and realistic for clinical practice.
There are other aspects I wish I had considered sooner, including wear and tear on the therapy laser itself. While we don't expect our equipment to be indestructible, it should be sturdy for environments and situations where frightened or painful animals—large or small—may cause staff to drop it. It should also be fairly simple to clean in time for the next clinical case. Of particular concern on both these points are the fiber optic cable, the handpiece, and the laser's lens, which are all more fragile than the rest of the unit. It is vital the lens is cleaned between each patient to effectively deliver light. Also, take a moment to think about how your laser will be stored, whether in the clinic or in mobile practice, without inadvertent damage to these components.
While most therapy lasers are small and quite portable, the range of models available means some are larger and heavier than others, such as those with higher power outputs for large animal applications. Whether the unit will be moved from room to room within the clinic or used on the road, get your team involved in the selection process. If the equipment is a comparatively larger and heavier device, your staff will appreciate amenities for facilitating its transport to make everyone's job easier. 
Resources at hand
Learning as much as you can about laser therapy is critical for navigating marketing claims. In addition to understanding laser physics, you must also have a firm grasp about how light interacts with tissue (such as the scattering effect mentioned earlier) and how to safely use the equipment. Excellent information may be found in recently published textbooks (Redondo and Stephens 2019, Riegel and Godbold 2017) or by searching for peer-reviewed research on PubMed. The following publications are also recommended reading:
Journal of Photochemistry and Photobiology B: Biology;
Lasers in Surgery and Medicine;
Lasers in Medical Science;
Journal of Clinical Laser Medicine and Surgery; and
Photomedicine and Laser Surgery.
In addition to texts and publications, attending conferences, such as those conducted by ASLMS, the American Laser Study Club (ALSC), the American Institute for Medical Laser Applications (AIMLA), and the North American Association for Photobiomodulation Therapy (NAALT), help to maintain your knowledge base. Experts on photobiomodulation in research and clinical practice can be found at each to answer questions in person. National veterinary conferences also feature speakers that present seminars on photobiomodulation in practice.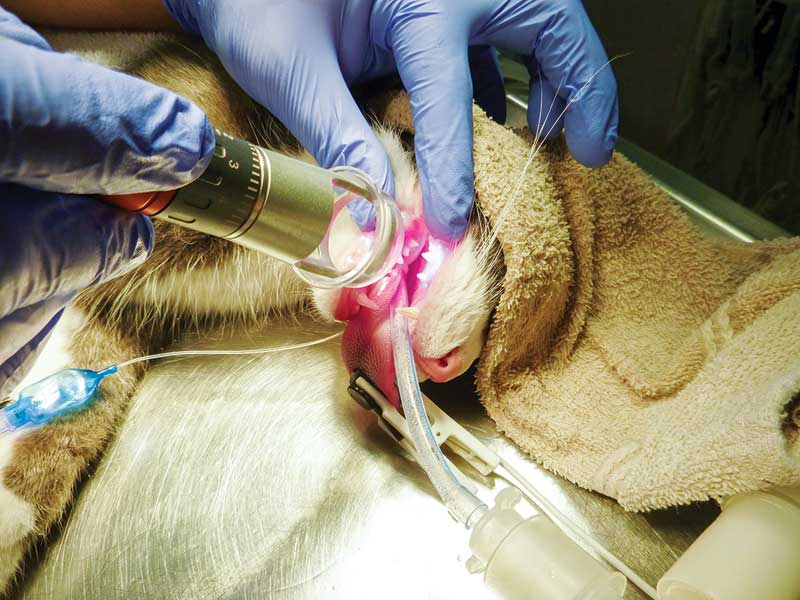 A solid understanding of the safe use of lasers is also extremely important. Even with well-rounded safety discussions provided by equipment manufacturers regarding their products, preventable accidents can still happen (ScienceDirect 2018). It is important to keep in mind these are medical devices with the potential to do harm, particularly to the patient's eyes and skin when proper precautions aren't taken. In addition, anyone giving laser therapy to an animal must be aware of its indications and contraindications to avoid injury. Online coursework offered by AIMLA can provide foundations for the science and safe use of laser therapy. Safety courses may also be found through the Laser Institute of America (LIA). Facilities should have a designated laser safety officer (LSO) to monitor maintenance schedules and the safe implementation of all laser devices within (Bartels 2017).
The number one question often heard from practitioners considering implementing laser therapy is whether it is cost-effective. An article in the November 2019 issue of Veterinary Practice News (bit.ly/2P8uwIg) described pricing strategies that are very close to our own methods, and showed how such a piece of capital equipment could pay for itself within a reasonable amount of time (Hoffmeyer 2019). An important point to remember is that photobiomodulation can be integrated into many treatment plans, from otitis and hotspots, to wound-healing and arthritis, to surgeries and postsurgical rehabilitation. Laser therapy is most cost-effective when clinicians and their teams choose a unit that can deliver their desired dose of light efficiently.
Sharing your cases—successful and otherwise—at conferences or through online discussions goes a long way to adding to our knowledge base regarding treatment parameters, helping to facilitate further enhancement of light therapy for the benefit of all our patients.
A graduate of Ross University School of Veterinary Medicine, Christopher J. Winkler, DVM, VMLSO, Dip. ABLS, is owner of Suffolk Veterinary Group Animal Wellness and Laser Surgery Center in Selden, Long Island, N.Y. He is certified in veterinary laser medicine and surgery by the American Board of Laser Surgery (ABLS), a certified veterinary medical laser safety officer, and a faculty member of the American Laser Study Club (ALSC). Dr. Winkler has appeared nationally as a speaker and wet lab instructor on CO2 laser surgery and is available for consultation and training in small animal laser surgery and laser therapy. He is the editor and coauthor of the new textbook, Laser Surgery in Veterinary Medicine. Special thanks to David S. Bradley, DVM.
References
Anders J.J. et al. (2017). Basic Principles of Photobiomodulation and its Effects at the Cellular, Tissue, and System Levels. In Riegel R, Godbold J. eds. (2017). Laser Therapy in Veterinary Medicine: Photobiomodulation. 1st ed. Chapter 5. Ames, IA: Wiley Blackwell. pp. 36-51.
Arany PR, et al. (2014). Photoactivation of endogenous latent transforming growth factor-β1 directs dental stem cell differentiation for regeneration. Science Translational Medicine. Vol. 6, Issue 238. www.ncbi.nlm.nih.gov/pubmed/24871130 (accessed 27 January 2020).
Bartels K. (2017). Therapy Laser Safety. In Riegel R, Godbold J. eds. (2017). Laser Therapy in Veterinary Medicine: Photobiomodulation. 1st ed. Chapter 4. Ames, IA: Wiley Blackwell. pp. 29-35.
Hamblin M., et al. (2018). Review of light parameters and photobiomodulation efficacy: dive into complexity. Journal of Biomedical Optics. 23 (12). https://www.spiedigitallibrary.org/journals/Journal-of-Biomedical-Optics (downloaded 14 December 2018).
Hoffmeyer, A. (2019). Eleven years later and still going strong: Capital equipment with staying power. Vet. Pract. News. 31(11). p. 38.
Redondo, M.S., Stephens, B. (2019). Veterinary Laser Therapy in Small Animal Practice. 1st edition. 5m Publishing Ltd. Sheffield, UK.
Riegel R, Godbold J. eds. (2017). Laser Therapy in Veterinary Medicine: Photobiomodulation. 1st ed. Ames, IA: Wiley Blackwell.
ScienceDirect. (2018). A review of medical laser accidents: A simple burn to death by laser. www.sciencedirect.com/science/article/abs/pii/S112017971830810X (accessed 27 January 2020).