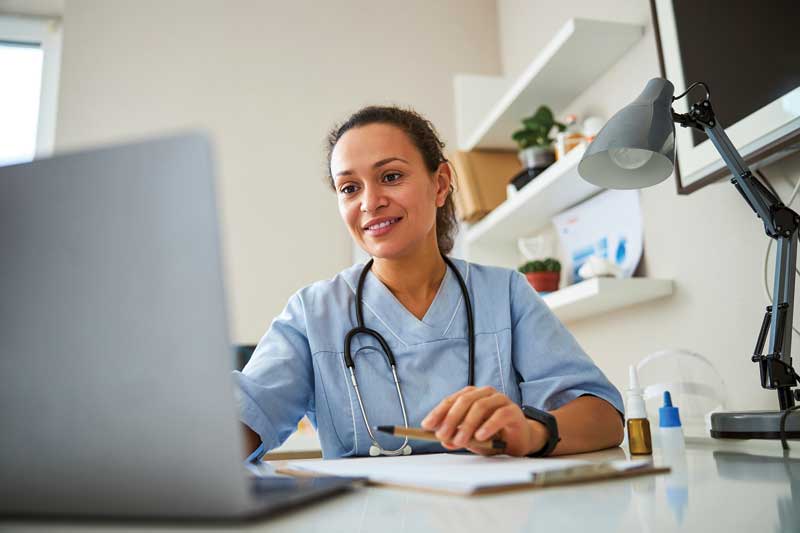 The recent increases we have seen in new patients and visits may be starting to slow. Some practices already report declining numbers of new clients and new patient visits, so filling the appointment book may become more of a challenge. While this could be a nice respite from the tense working conditions, it is not a sustainable business model for a veterinary practice.
Whether you have been in business for years or are planning on launching your new brand in 2023, there are steps you can take to prepare your practice's brand for its online launch. Increasing awareness, reaching existing or new clients, and aligning with your business's key performance indicators (KPIs) are all incentives for launching or relaunching your brand's online presence.
Online platforms judge our content based on relevance, quality, consistency, and the types of content we share. An online presence should be intentional and thoughtful. It is common to jump on social media and start posting content. Brands able to hit all those factors in their content have looked at the formula and done their homework. Developing this type of strategy is not difficult. It does require a little bit of thought and planning, but once in place, it can be monitored, managed, and tweaked as needed. It is never too late to rethink and relaunch a brand with a consistent, thoughtful strategy.
What is a brand?
The common definition of a brand is "a public image, reputation, or identity conceived of as something to be marketed or promoted."
In the veterinary industry, there are many types of brands: House call veterinarians, brick-and-mortar veterinary practices, online veterinary CE educators, keynote and presentation speakers, industry partners, technician relief services, pet sitters, social media personalities, and many more.
In that context, a career or professional reputation is a brand cultivated and used when new jobs or opportunities are sought. It is no longer the norm that only veterinary practices are the end-all business entities within the veterinary industry.
Before you even develop a veterinary brand online, identify what it is you want to do and why. What is your unique offer? What is it you are creating a brand around? Are you a relief technician and want to start your relief service in your local area? Are you a practice manager who wants to moonlight doing social media for veterinary practices? Are you a veterinarian who has invented a new product and wants to launch it in the industry?
Maybe you have a skill outside veterinary medicine suitable to serve within veterinary medicine, and you are looking to develop this into a new business opportunity. Once you identify what you are offering, then you must look at who it is you are offering it to.
Who is your ideal target audience?
You cannot launch a brand or create content if you do not know whom you are talking to. If you sporadically create content without an intended audience, no one will understand what you are communicating to them. They will not know it applies to them, and it will be unclear what it is you are trying to accomplish.
Consider each social media platform you elect to use as being for a particular purpose and should intentionally speak to a specific audience. Having a clear picture of who the audience is, and where they spend their time online, will help you decide the type of content you need to create to connect with them.
Identify your audience by doing a quick search in your practice management software. Pull the reports showing who has been in the last three, six, or 12 months. What types of owners and pets came in for examinations? If you are not a veterinary practice, what clients have you worked with in that same period? If you are launching a new brand, you must consider what types of clients you hope to work with.
What is your brand message?
According to Hubspot, "Brand messaging is the way your brand communicates its unique value proposition and personality through its verbal and nonverbal messaging. Your messaging can inspire and motivate them, making them want to buy your product."
Your brand message must be unique to you and your audience, connecting with them on the level most meaningful to their needs. When creating your brand message, begin with identifying your audience's biggest pain points or objections to using a service like yours.
What hurdles are you going to face getting clients? When creating a social media management business for veterinary practices, I had first-hand knowledge and a clear understanding that practice owners and managers are too busy to update their social media pages consistently. Clients are not getting the quality information, news, education, communication, or relationship building that could be possible if there were more dedicated time to create content for them thoughtfully.
Cookie-cutter or copy-and-paste content communicates you are too busy. Your brand messaging is not only for social media; brand messaging needs to reach across websites successfully, be seen during face-to-face interactions, be heard through our on-hold messaging, and read from our texts and emails with clients.
Your on-hold messaging is a great place to share your brand message and practice news; do not forget about this fantastic communication resource. Do not short-hand text messaging to clients. It is tempting to move quickly and abbreviate our sentences or communication styles in the name of brevity. Clients want to be communicated with, they want to know about their pets, but they do not want to feel like they are an imposition on your time.
Creating the best content
Once you have identified your target audience and have established your brand tone, you can begin making content.
Start on your audience's pain points and anticipate questions they may frequently ask about your products and services. If pet owners are concerned about costs, start with content about your payment plans, third-party billing options, competitive prices, and the value of the services provided. Share approved pictures of the patients being seen in the practice or recent resolved cases. Share news and updates on the services and products offered.
An often-overlooked content treasure for veterinary brands is blogging. It is easy to make blogging complicated, but it doesn't need to be. A blog post can be shared on social media to get readers back to your website. Linking to products or webpages mentioned in the blog post will help people find additional value from your blog.
Write a two- or three-paragraph blog post, edit it carefully, create a couple of pictures related to it, and post it on the website. Mass-produced or copied and pasted blogs do not truly reflect your brand or brand voice. Blog posts are a great way to share your experience, nuggets of wisdom, or humor with your readers, and they will appreciate the sincerity.
Post your content regularly. Consistency is king. Allow your audience to trust you will continue to show up in their feed with content that connects with them. The platforms will also learn your content will show up, be relevant, and keep their wider audience population on their platform consuming content.
Wrap it up and launch it
It is time to kick off a great brand (re)launch for next year! You have plenty of time to get it ready with a little bit of thought and planning. Once you know what your brand is going to bring the world, you can identify how you want the world to view and think about your brand by developing the brand message.
Continue preparing for your success by identifying who you serve with your brand and get a deeper understanding of who they are and what their pain points are. Create relevant content that supports your audience. Consistently schedule your content to publish on the platforms your audience uses the most, then watch the analytics. Adjust content ideas based on what the reporting indicates your audience is more interested in seeing.
Don't overcomplicate your brand. Being present is much more important than being perfect on social. The biggest detriment to successful brand management is failure to launch. Do not suffer from analysis paralysis. Go get a piece of scratch paper and start figuring out what your brand message is and who is going to be the most positively impacted by it. You have time for this, and it is vitally important for the future of your brand. Good luck and have a prosperous New Year!
HUNGRY FOR MORE?
VPN PLUS+ members can learn about the various social media platforms to utilize for effectively connecting with an audience. Check it out here!
Not a member yet? Visit veterinarypracticenews.com/myvpnplus to subscribe.
Rhonda Bell, CVPM, CCFP, PCM-Digital, CDMP, is founder and co-owner of Dog Days Consulting, a social media and brand management company. She spent 15 years as a practice manager working the day-to-day challenges of the veterinary practice and experienced firsthand the stresses, joys, communication dilemmas, and wonders of working in veterinary medicine. She now dedicates her work and energy to helping practices succeed online and to coaching team members with the skills that will hopefully prolong their careers.