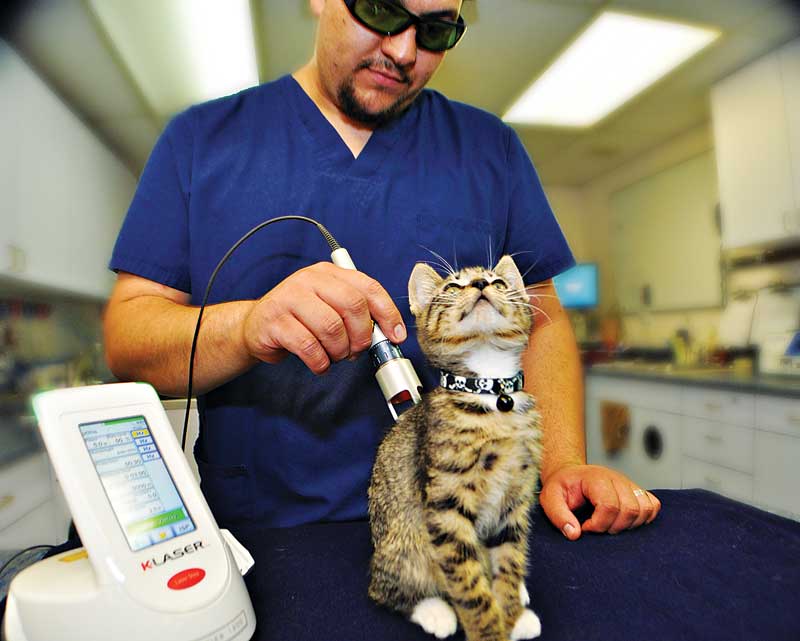 Veterinary professionals say laser therapy can provide clinically significant benefits and expand options for delivering compassionate care with fewer drugs and less surgery.
K-Laser's Cube IV is a standard and well-used piece of equipment at Vista Hills Animal Hospital, a clinic with about four veterinarians and a dozen staff.
"We probably use that laser on average between five and eight times a day," said Randy Shinaut, DVM, owner of the El Paso, Texas, clinic.
The clinic uses the laser following routine spay and neuter procedures as well as major surgeries, and to treat skin conditions, arthritis, and much more.
"If it's in pain, inflamed, or infected, you use it," Dr. Shinaut said.
Shinaut's credo covers a broad spectrum of problems, and he's among a growing number of practitioners who are finding an increasing number of uses for laser therapy, according to Aaron Bakken, sales director for Franklin, Tenn.-based K-Laser.
"You are going to be able to use it on 80 percent of the animals that walk into a clinic," he said.
His list includes trauma, musculoskeletal issues, surface area rehabilitation, internal inflammation, infections, topical bacterial or fungal infections, and post-surgical.
K-Laser offers clients a step-by-step process, or script, for when to use laser therapy.
A Companion Animal Therapy Cass IV Laser is a ubiquitous presence at Hillview Veterinary Clinic in Reynoldsburg, Ohio.
"We use the Class IV Therapy Laser for a variety of concerns," said Joshua M. Halper, DVM, owner of the clinic. "Mainly for acute and chronic pain relief."
Dr. Halper's laser therapy usage list also includes muscle, ligament, and tendon injuries; sprains and strains; ulcerations and open wounds; post-surgical and soft-tissue trauma; and lick granulomas. He also orders the therapy often for skin wounds, such as dog bite trauma, he said, adding, "It's wonderful on skin wounds."
The top use for laser in Shinaut's clinic is for orthopedic purposes, such as to treat chronic musculoskeletal arthritis, he said, adding that it takes about three to four laser sessions before improvement can be assessed.
"What we generally see is they feel better, they move easier, they are much more comfortable, and the nice thing, many it times will decrease the use of nonsteroidal anti-inflammatories," he said.
Sector growth
Laser therapy's flexibility is what has led the way to its acceptance and growth in the veterinary field, according to Bakken.
He estimates that nearly half of all veterinary operations now own a piece of laser therapy equipment.
"I would say we're somewhere in the range of 45 to 50 percent," Bakken said. "It's been a nice, steady increase for the last three years or so. It's been a real consistent 10 to 15 percent growth per year in sales."
The U.S. and Canada are the top adopters of laser therapy, based on K-Laser sales, but the company is also seeing growth in Asia and Australia, according to Bakken.
"Europe has been good for quite some time," he said.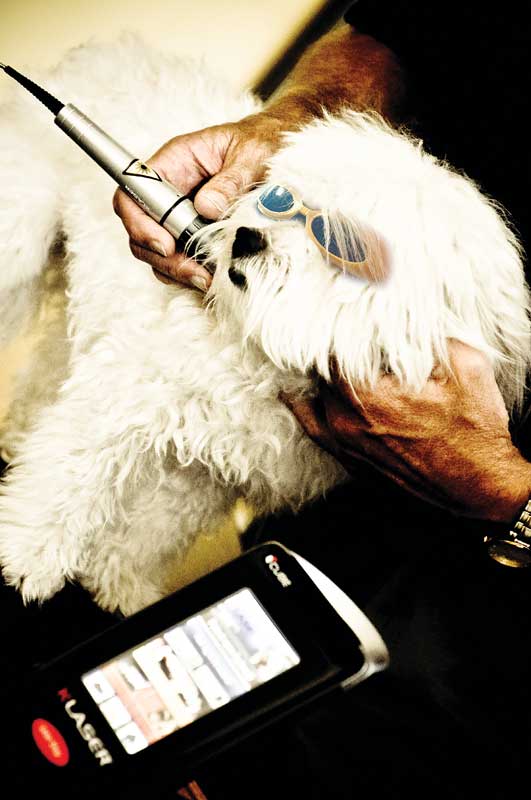 For some clinics, one laser isn't enough.
"We have seen a number of practices, which added laser a few years back that have since become so busy with their laser services that they needed to add a second unit to keep up," said Kristen Grady Rogers, national sales manager for Murrieta, Calif.-based Grady Medical Systems Inc.
Rogers attributed ease of use for ongoing growth in the laser therapy market.
"Laser therapy is becoming easier for practices to incorporate, with many of the top brands offering veterinary-specific dosing calculators to direct the doctor on the ideal length of treatment for a variety of conditions," Rogers said.
Numerous practices also are upgrading their old units to offer the latest treatments, according to Mark Mollenkopf, president of Rochester, N.Y.-based Cutting Edge Laser Technologies.
"We're doing a fair amount of upgrades of old technology," he said. "I would say that 50 percent of our business is coming from upgrading older technology."
Most upgrade requests come from clinics that purchased Class IV lasers soon after they became available on the market.
"Those lasers, although effective, pose a risk of creating some collateral tissue damage," Mollenkopf said. "Where a lot of business is coming from now is upgrading those early adopters."
The newer lasers provide multiple wavelengths and higher peak power and short pulse duration, which eliminate the risk of collateral tissue damage, he said.
Return on laser investment
Halper said the equipment's return on his investment was part of the reason he made another purchase.
"We got very good return on our investment," he said. "In fact, we're on our second therapy laser because we wore out the first one," Halper said.
That's best way to ensure the greatest ROI? Make sure the laser is being used for all applications, Mollenkopf said. Also, partner with a company that has easy-to-use technology to ensure staff buy in and use it frequently, as well as find a seller that provides good support, he added.
Don't skimp, is Bakken's advice.
"The first thing you want to do is make sure to invest in the right piece of equipment," he said.
Power should be a major consideration in a purchase, because greater power enables better absorption in the tissue, he said.
"There're some lasers on the market that are basically glorified laser pointers that don't offer a therapeutic dose," Bakken said.
Rogers' approach to ROI is three pronged: "Incorporate the laser as a one-time treatment after surgery, sell packages of treatments for both chronic and acute conditions, and provide monthly maintenance treatments for patients with arthritic and other chronic conditions," he said. l
"We probably use [our] laser on average between five and eight times a day," said Randy Shinaut, DVM, owner of the El Paso, Texas, clinic, adding that staff use it following routine spay and neuter procedures as well as major surgeries, and to treat skin conditions, arthritis, and much more.
KEYS TO SUCCESSFULLY IMPLEMENTING LASER THERAPY INTO YOUR PRACTICE
K-Laser in Franklin, Tenn., offers tips designed to help practices achieve success with laser therapy.

Step 1: Develop core competency

Ensure all staff experience a treatment first-hand so they can describe what it feels like.

Talk about the laser equipment daily with your staff 
and patients.

Place the laser prominently in the treatment room, ready for use.

Include laser therapy in the recommended patient treatment plan; treat it as an important component of care—not an optional service.

Create a simple tiered pricing structure.
Step 2: Market it in and around your practice

Identify clients who are open to new treatments—they are the most likely to adopt laser therapy and promote its virtues.

Instruct staff to phone interested clients and explain laser therapy and how it could benefit their pet.

Instruct staff to talk with your clients about laser therapy and why their pet would benefit from it while they're in the waiting area.

Keep laser therapy marketing materials in plain view 
of patients.
Step 3: Market to your current customers

Create a dedicated web page about laser therapy; detail what it is, how it works, and why you use it. Include video content and customer testimonials.

Email and direct mail clients with information about laser therapy and encourage recipients to call or visit your website to learn more or schedule an appointment.

Identify the customers who are most pleased with laser therapy; ask them to share their experience with their friends on social media.

After a patient receives laser therapy, provide the client with a referral card and ask them to share their positive experience with a friend.
Step 4: Market to new customers

Mention your laser therapy equipment prominently on your website and clearly explain its benefits.

Enlist the help of media, such as local print publications and television and radio outlets.

Ensure the clinic's website is designed based on search engine optimization best practices and that the 
search engines can tell you're a local business with a physical location.

Keep your press release and social media messaging relevant, unique, and engaging.