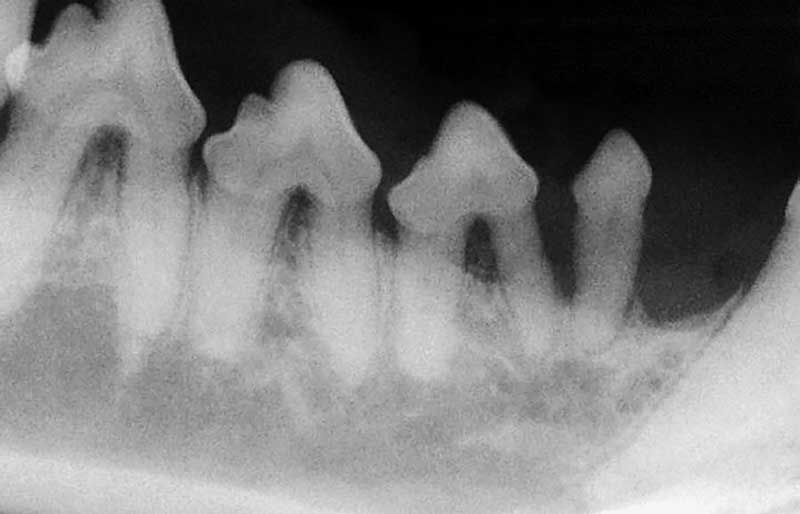 Recently, I was reviewing records of a patient I will be seeing in the near future. The patient had a CT scan performed at an academic institution. The radiologist's interpretation mentioned "multifocal dental disease." Unfortunately, this is not a definitive diagnosis. A more appropriate description of the tomographic changes of dental structures might include description of the presence or absence of periodontal bone loss, and presence or absence of endodontic disease.
Telling a veterinary dentist a patient has "dental disease" is like telling an internal medicine specialist a patient has a medical condition. The term is not specific enough to rationalize its use, or to even keep it in our vocabulary. There are many types of "dental disease," and our patients would be best served if we used our knowledge of orofacial diseases to specifically describe the disease in question.
Periodontal disease is the most common in dogs and cats. In a retrospective study of physical examination findings of 31,484 dogs and 15,226 cats, dental calculus and gingivitis were the most common abnormal findings.1 There are various stages of periodontal disease (Table 1).
Gingivitis is the first stage of periodontal disease (PD1). Unlike the following stages, gingivitis is easily reversible with treatment. Gingivitis can be considered the "canary in the coal mine."2 Visual evidence of redness at the gingival margin, edema, and bleeding can rebound if the cause of inflammation (plaque) is removed.
In contrast, stages 2 through 4 of periodontitis are not easily reversible. When discussing the periodontium and effects of microorganisms on its attachment structures, I recall an analogy of one of my mentors, Colin Harvey, BVSc, FRCVS, DACVS, DECVS, DAVDC, DEVDC, who proposed the periodontium can be likened to the button and zipper on the front of a pair of jeans.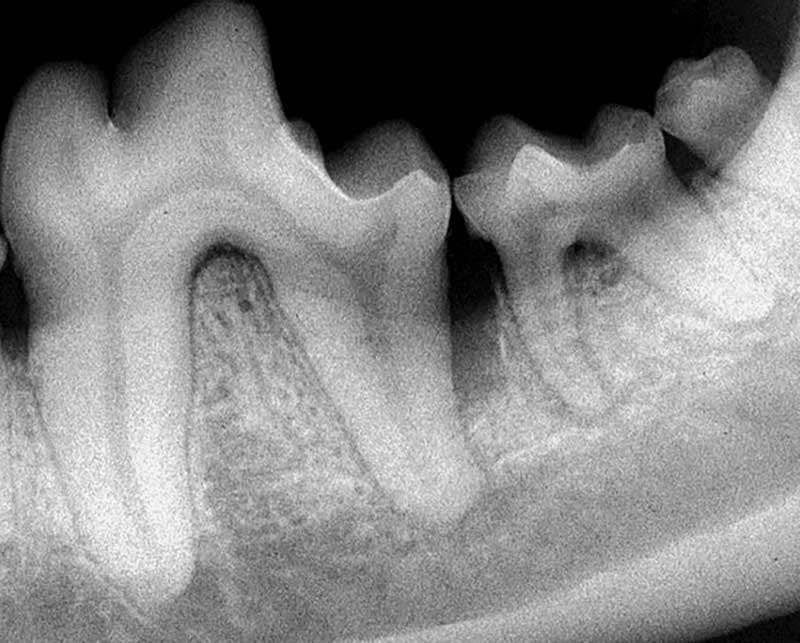 The gingiva serves as a well-attached barrier protecting the deeper tissue. In this analogy, the gingiva and its associated connective tissue is the button. The periodontal ligament is the soft tissue attachment spanning the gap between two hard tissue structures: the cementum of the root and the alveolar bone. In this analogy, the periodontal ligament is the zipper. Once the protective collar of gingiva is compromised, the deeper attachment structures are more readily undone.
What causes the jeans to unzip? The mouth is a warm, moist environment laden with bacteria, and the nutrients bacteria need to thrive. Crowns of the teeth become covered with a glycoprotein layer called the pellicle, which snares passing bacteria and contributes to a biofilm called plaque.
Antibacterial properties of the saliva often keep the proliferation of bacteria in check due to production of lysozyme, lactoferrin, and immunoglobulins, but this same saliva contains calcium carbonate and calcium phosphate that can be incorporated into the plaque, forming an adherent, rough surface of calculus.
In the absence of regular oral care, the biofilm thickens and becomes more complex. Anaerobic environments can be achieved within areas that were previously aerobic due to anaerobic niches created by the microscopic structure of calculus and the avascular nature of the enamel surface. There is no replenishment of oxygen to these areas except by diffusion.2
Periodontitis is not simply an infection, but rather is more commonly due to the effects of the body's response to the presence of certain bacterial antigens. The same degree of biofilm and calculus buildup can cause different severities of inflammation in two different patients. Therefore, just like in people, there is a complex equation affecting whether an individual patient is prone to periodontal disease, including genetics, anatomic relationships, occlusion, and inflammatory predispositions.
Stages of periodontal disease
Periodontal disease in dogs and cats tends to be a slowly progressive disease you may see presented at varying stages of severity. Table 1 shows the staging nomenclature used by the American Veterinary Dental College.
Types of periodontal bone loss
Periodontal bone loss can be lumped into two categories: horizontal and vertical bone loss. Horizontal bone loss is a term describing alveolar bone loss occurring along the alveolar margin of the mandible or maxilla, resulting in root exposure and furcation exposure of multi-rooted teeth (Figure 1). Vertical bone loss is alveolar bone loss occurring along the long axis of a root (Figure 2).
These two processes may occur simultaneously around alveolar bone of the same tooth, or even the same root. Of the two processes, vertical bone loss is easier to combat than horizontal bone loss, since there are often three walls of bone surrounding the vertical defect that can retain osteoconductive or osteoinductive substances. In next month's column, I will discuss practical approaches to periodontal disease.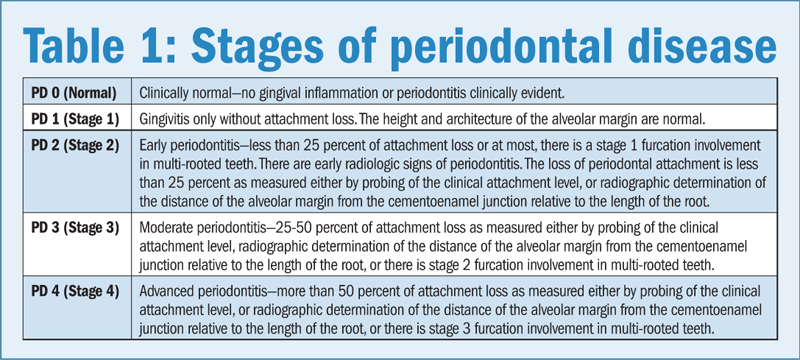 John Lewis, VMD, FAVD, DAVDC, practices and teaches veterinary dentistry and oral surgery at Veterinary Dentistry Specialists and Silo Academy Education Center, both located in Chadds Ford, Pa.
References
Lund EM, Armstrong PJ, Kirk CA, et al. Health status and population characteristics of dogs and cats examined at private veterinary practices in the United States. J Am Vet Med Assoc. 1999; May 1;214(9):1336-41.
Harvey CE. Management of periodontal disease: understanding the options. Vet Clin North Am Small Anim Pract. 2005; 35(4): 819-836.