Suggested Veterinary Products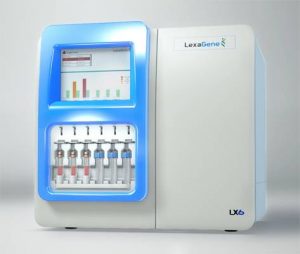 LexaGene Holdings Inc., a biotechnology company that develops instrumentation for pathogen detection, plans to unveil a model of its low-cost LX2 beta prototype at the American Association of Veterinary Laboratory Diagnosticians conference, Oct. 19-20 in Kansas City, Mo.
The company's polymerase chain reaction-based technology is designed to be placed in-clinic, where it can screen samples for multiple targets simultaneously and return results in one hour. The LX2 system is low cost, leaves a small footprint and takes less than a minute to initiate automated sample processing.
LX2 beta instrument features include:
Ability to accept two distinct reagent panels for syndromic-based testing, where each panel is capable of detecting 28 targets (up to 56 targets total) at once
Capability to process two samples at once within a footprint that measures 16 x 20 x 22 in.
A one-time disposable cartridge per test
"Incorporating this technology into a veterinary practice will provide better patient outcomes since the technology also looks for antimicrobial resistance, which will allow clinicians to make more informed decisions on prescribing the appropriate antibiotic," said Jack Regan, PhD, LexaGene CEO. "Furthermore, by bringing the testing in-house, practices will tap into a valuable revenue stream that will drive adoption rates."
For more information, visit the company's website here.