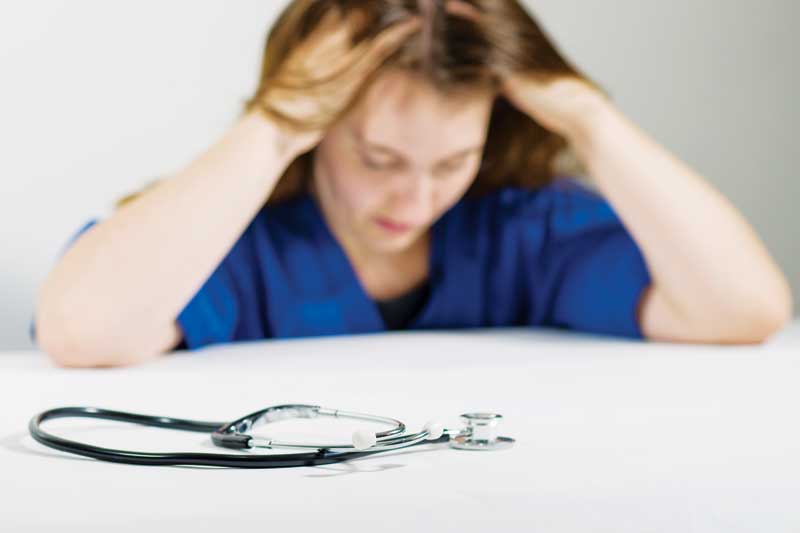 There is no denying the COVID pandemic has changed the way we conduct our everyday lives at home, in public, and at work. The on-the-fly changes we made in our veterinary practices were countless the first several months of COVID. From pre-shift temperature checks for team members to curbside care for clients, we are still grappling with what our new normal will look like long-term.
The everyday stressful situations teams struggle through are innumerable, from handling significantly increased call volume to extraordinarily impatient and demanding clients, team members wrestle with the fear of contracting COVID through co-workers or clients and have additional anxiety of potentially exposing loved ones. All the while, team members carry the emotional burden of being an essential worker by staying on the frontlines, helping clients with their beloved pets, unwilling to turn a blind eye to patients in need.
The substantial changes in client care and protocols, along with the increase in volume of cases we have seen during COVID, equate to more stress, more sick patients, more loss, and more fatigue for team members. In an industry full of professionals who are already predisposed to compassion fatigue and burnout, COVID has amplified the factors that contribute to post-traumatic stress disorder (PTSD). The demands of the job, combined with worldwide suffering and death, make for a PTSD breeding ground in ourselves and our teams. It is no wonder we are left in a thick, long-lasting daze and are left feeling exhausted physically, mentally, and emotionally.
What to look for
PTSD occurs when a person has experienced or witnessed a traumatic event, such as abuse, assault, accidents, or disasters. People suffering from PTSD may experience flashbacks of traumatic events, severe or debilitating anxiety, fear, difficulty concentrating, nightmares, insomnia, and a variety of other mental and physical symptoms.
PTSD is occurring in people who experience trauma in the workplace related to the short- and long-term effects of the COVID pandemic. You may know team members or clients who have experienced or currently are experiencing PTSD, or you may be experiencing it yourself.
In addition to PTSD, veterinary professionals are coping with widespread compassion fatigue. This is common among primary healthcare workers, including team members in a veterinary practice. Indeed, experiencing trauma and absorbing the emotional stress of others creates a secondary traumatic stress in the primary healthcare worker.
When we care for our patients, the accumulation and burden of trauma, emotion, and stress can sometimes leave a person feeling burned out and indifferent to the suffering of others, including our patients and our clients. This kind of burnout can result in compassion fatigue. Symptoms can look very similar to those of PTSD and may include suffering from chronic physical ailments, recurring nightmares, or flashbacks, but compassion fatigue can also manifest as a lack of self-care, isolation, and bottled up emotions.
Knowing the signs and symptoms of PTSD and compassion fatigue is the first step to combating their effects, helping someone else work through their struggles, and preventing it from spreading through your practice.
Creating a healthy environment
Practice owners and managers wear many hats and step into a variety of roles within their practices. While the roles of mental health counselor and/or therapist are typically not within our scope of training and expertise, when we have the right tools, we can help facilitate an environment that promotes positive mental health and wellbeing. Education on how to identify team members who may be struggling and exhibiting symptoms of PTSD and/or compassion fatigue is the first step. (ProQOL.org is a great resource with training tools to help with an individual or, better yet, an entire team.)
Encourage healthy habits at home and at work to help keep our teams mentally and physically healthy. Model healthy physical and mental health habits so your team can see what this may look like. Ensure you are practicing good self-care and check in with your team to make sure they are as well.
These healthy steps can be as easy as avoiding candy and sweets and instead requesting fruit and veggie trays when vendors or clients offer to have food delivered to your practice. Likewise, encourage the team to take a walk around the building or block during their meal breaks.
Additionally, vacation is great way to give team members a well-deserved break, and sick leave should be utilized for mental health sick days as well as physically ill sick days. Schedule plenty of time between shifts for each employee—finishing a late-night closing shift and having to come back in to work early the next morning can be a recipe for disaster, as everyone needs good rest! Consider incorporating fun games during the workday, such as curbside bingo or a scavenger hunt. These are a few ways to keep things light and encourage your team to have a good laugh.
Of course, a lightened mood and gut-busting laughter aren't the only ingredients for a healthy-minded team. Education regarding the realities of PTSD and compassion fatigue within the world of veterinary professionals allow for important opportunities for your team to speak freely and open up. Talk with your team about these conditions, their symptoms, and the reasons why our profession is at high risk. These conversations can take place during team meetings and performance reviews, as well as after difficult cases and patient loss.
Make your team aware of some of the symptoms they may be experiencing or feeling and remind them it is OK to ask for help. Offer an Employee Assistance Program (EAP) for team members to utilize when they need help. It is confidential and usually low-cost or free to employees whose employers offer the program. Open-door policies for team members to talk with management is a must. Maintaining an open line of communication builds trust and can help those who need help feel they will be received with open arms.
It's a delicate matter
Although we want our team performing at the top of their game, PTSD and compassion fatigue can cause decreased performance. If this is the case, a tough conversation with the employee is inevitable and management should proceed with caution. The importance of a thorough, interactive process is commonly overlooked and undervalued in practices. As managers, one of our most critical jobs is as a human resources manager (HRM). This role requires engaging in conversations with employees about delicate situations.
We should ask about assistance an employee may need, be it helping to manage emotions on the job, making accommodations for physical or mental health care, or even, potentially, discussing qualified leaves of absences and offering resources for the possibility of paid leave. An engaging process is not a single one-and-done conversation; often it requires meeting in person or calling, texting, or emailing an employee about accommodations, doctors notes, return-to-work status, and, at times, continued decreased performance.
When it comes to mental health and employment, labor attorneys and HRM consultants are a must. Stay out of trouble by consulting with your practice attorney and HRM professional. Keep them abreast of the specifics of employee situations and follow their legal advice carefully. Some states and even cities have more strict laws above and beyond federal laws, and your practice attorney and HRM professionals will be able to guide you through the process of conversations with employees, proper documentation, and paperwork. Further, they will partner with you to proceed in a way that supports the employee while also protecting the business.
PTSD and compassion fatigue, along with burnout, are real, and, because of the pandemic, we will be seeing these conditions much more in our team. Be sure you and your team are prepared to identify the signs, prevent it, communicate about it, treat it, and properly handle when someone in your practice has one of these conditions.
Early in the pandemic, you likely thought it was not a matter of if but of when one of your team members either showed symptoms, was exposed to, or tested positive for COVID. Today, it is not a matter of if, it is a matter of when one of your team members experiences PTSD or compassion fatigue. Are you ready for it—and will you rise to the challenge?
Andrea Crabtree BS, CVPM, SPHR, PHRca, CCFP, is the owner of FurPaws Consulting in Orange, Calif. She works with veterinary practice owners and practice managers all over the country to develop their team, as well as to expand and develop their practices. When Crabtree is not busy traveling to, or working in a veterinary practice, she can be found speaking at veterinary events and webinars or recording for PAWSitive Leadership Podcast, which she co-hosts all doing what she loves—teaching, coaching and training. Her passion for veterinary medicine also keeps her busy with the SoCal Veterinary Manager's Network she co-founded in 2011. She is a member of Southern California VMA, VHMA, and VetPartners. She graduated from Cal Poly Pomona with a BS in Animal Health Science in 2004. She became a Certified Veterinary Practice Manager in 2011, received her Professional in Human Resources in 2016, California Professional in Human Resources in 2017, and accomplished both her Certification as a Senior Professional in Human Resources and Certified Compassion Fatigue Professional in 2019.