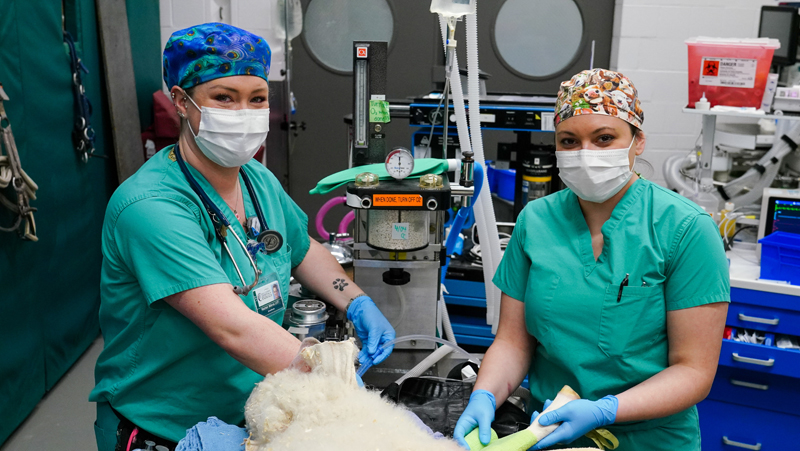 Keeping pace with the growing demand for skilled veterinary professionals, Cornell University College of Veterinary Medicine has increased capacity for its Veterinary Technician Preceptorship program.
The six-week program has expanded its enrollment capacity this year, adding rotation training options and growing from one offering each summer to two. Additionally, the program has joined forces with Cornell's Wildlife Medicine Preceptorship, providing students at the Janet L. Swanson Wildlife Hospital the option of participating in anesthesia, surgery, internal medicine, and rehabilitation rotations.
During their time at the Cornell University Hospital for Animals (CUHA), preceptorship students will choose two rotations, with options including large animal surgery, large animal medicine, large animal anesthesia, small animal surgery, small animal internal medicine, small animal anesthesia, oncology, and exotics.
The program offers participants access to continuing education opportunities, state-of-the-art equipment, and the mentorship of LVTs and clinical faculty members, as well as exposure to a variety of patient species (including large and small animals, exotic pets, and wildlife). It includes courses in CPR, parasitology, dentistry, and more.
"Cornell's Veterinary Technician Preceptorship Program is enriching and supportive—it does more than check a box for future LVTs, which is why veterinary technician students from across New York and Pennsylvania apply," says Kalli Anderson-Dyer, an LVT in the dentistry and oral surgery service.
Launched in the early 2000s, the program began with a group of six students and was led by Laura Barlow, an LVT in the oncology service. In the following years, enrollment expanded to accommodate between 12 and 20 students.
Since 2010, approximately 75 participants have successfully completed the program.
For more, click here.