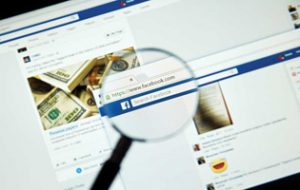 Social media is an important tool for any business today, including veterinary medicine. According to Statista, more than 81 percent of the U.S. population has at least one social media account. Importantly, 68 percent of U.S. adults use Facebook, and of that group, 74 percent of them access Facebook daily. When Americans access their Facebook accounts, they spend nearly 20 minutes per session on the platform.
Facebook continues to dominate the social media space. Here are the numbers of users on popular social media platforms as reported by Statista:
Facebook: 2.1 billion
YouTube: 1.5 billion
Instagram: 800 million
Twitter: 330 million
LinkedIn: 260 million
SnapChat: 255 million
Pinterest: 200 million
Approximately 90 percent of the people who use many of these other social media platforms also use Facebook. As most veterinary practices have limited time and resources to devote to their communications and marketing efforts, Facebook should be their social media platform of choice.
Communications/marketing plans
To be most effective, Facebook and other social media activities should be just one part of a comprehensive communications and marketing plan. Other tools should include electronic newsletters, brochures, community activities, an engaging website, and more.
All of these tools help engage consumers, which is important. Gallup research reports that, "a customer who is fully engaged represents an average 23 percent premium in terms of share of wallet, profitability, revenue, and relationship growth compared with the average customer."
They will also speak more highly of your business and are more likely to recommend you to others.
Advantages of Facebook
Facebook's unique platform allows you to share educational or amusing content and regularly connect with your audience in an easy, friendly, two-way conversation. It also allows your clients and friends to serve as marketers for you by sharing your posts, effectively providing an endorsement of your business to others. The more engaging your content, the more likely others are to share it with their friends, helping spread your posts and your name.
Choosing your content
In order to maximize your engagement and reach on Facebook, it is important to know which methods work best. We have found a fair amount of consistency in what works among our primary care, specialty care and emergency care veterinary clients over the past five years.
What doesn't work
Sales pitches are rarely successful. During National Pet Dental Health Month, posting about a dental cleaning sale usually won't get you much traction on Facebook. Making the focus of the post about the importance of dental health to a pet's overall well-being will likely get you more traction, even if you briefly mention your sale as part of the post.
What does work
The following types of posts often generate significant success:
Infographics;
News stories that include your practice;
Recalls and alerts;
Stories about the practice's team;
Pet care and information; and/or
Cute and clean videos.
Infographics
In our experience, infographics are one of the most engaging tools to use on Facebook. At Veterinary PR, we create infographics with important information for pet owners. The information stays the same on the infographics, but we customize the colors, logo, and contact information for each client. This infographic below about lilies and cats is a great example of how an infographic can be used with Facebook to engage your audience.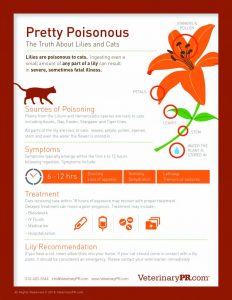 We use this infographic several times each year: Valentine's Day, Easter, Mother's Day, and Thanksgiving. This year, at Valentine's Day, this infographic was shared on the Facebook page of an emergency hospital client for Valentine's Day. It reached an audience of 4,569 people, received 193 reactions (likes, loves, etc.), and had 86 shares. We spent $10 to help boost this post (I will talk about Facebook boosting a little later on), but of the 4,569 people reached, 3,428 were reached organically, and only 1,252 were reached through boosting the post.
When the same infographic (customized to the client) was used for a Facebook post at a large primary care practice, it reached an audience of 3,360 with 89 reactions and 30 shares. When it was shared by a suburban cat clinic at Thanksgiving, it reached an audience of 2,645 with 124 reactions and 61 shares. This infographic is consistently effective in reaching pet owners.
One of the most effective infographics we ever created was for the first canine influenza virus outbreak in March 2015. This infographic (seen below) was shared on the Facebook page of a Chicago emergency hospital client and quickly reached an audience of 29,000 and was shared by 509 Facebook users. It was also shared by local media, further expanding its reach. We continue to use it for clients when their communities face an outbreak. It regularly reaches thousands of Facebook users.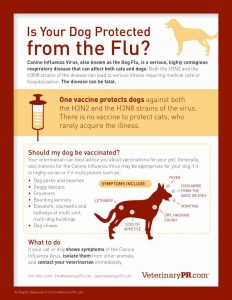 News coverage
There's an old saying in the news industry: "Children and animals line up here, everyone else go away." These topics interest people. We regularly place veterinary clients in stories with their local newspaper, television, or radio news programs. We then share the stories on social media, the website, in an electronic newsletter, etc.
Around the New Year, much of the Midwest suffered through bitter cold and heavy snow. We arranged an interview for a client with a local newspaper to discuss how to keep pets safe in tough winter conditions. The client is based in a town of less than 6,000 people. We shared the newspaper story featuring our client and their cold weather tips for pet owners on their Facebook page. The post reached an audience of 8,502 with 308 reactions and 79 shares.
For another client, a television appearance in February to discuss canine influenza virus reached 4,764 Facebook users and earned 2,471 views of the video. In addition to allowing you to tell your story and engage your audience, media coverage also helps provide credibility for you and your hospital. Clients consistently tell us these efforts are worthwhile.
Recalls and alerts
Sharing information about recalls or community alerts for lost pets are often posts your Facebook followers are willing to share. These posts can reach thousands of Facebook users in your area.
One of our most successful Facebook posts was for an emergency room client. As happens with many of you, a dog that was hit by a car was brought to their hospital. It did not have tags or a microchip. We posted a picture of the dog on Facebook and asked for help in identifying its owner. The post reached a Facebook audience of 150,187 with 5,327 reactions and 20,416 shares. We never expected to have that type of reach. While we didn't achieve our goal of identifying the owner, we did help make the community aware of this client's compassion and good work.
Team members
Facebook is a great way to familiarize clients with your veterinarians. This is especially helpful in building a level of comfort with clients who may have to see more than one veterinarian at your practice during the course of their pet's life. A recent client posting introducing a new veterinarian reached an audience of 2,392 with 114 reactions and six shares.
These posts should be engaging and concise. If you want to share more details on the topic, include a link to a webpage that has that information.
Cute and clean videos and news stories about animals
Not every Facebook post has to be about your practice. Sometimes, just a cute video or animal story will garner lots of activity. Just make certain that you watch the entire video or read the entire story and are clear on the source of the item you are sharing to avoid problems.
Advertising
Facebook's easy-to-use advertising service can greatly boost a post's number of views. Advertisers can customize their ad audience based on users' self-described age, gender, relationship status, education, workplace, job titles, location, and interests. Advertising is available for all kinds of budgets as well. Built-in measurement tools help analyze the improved reach of your sponsored posts. You can have a very effective advertising program for a very reasonable amount of money.
But…
A common question we get is: "Aren't we opening ourselves to problems with people attacking us on Facebook?" Theoretically, yes, but the reality is that most people following you on Facebook won't do that. In fact, the good news is that with a solid Facebook following, those who know you best will come to your defense should someone comment negatively. Additionally, because Facebook is more of a two-way conversation, it's easier to have a low-key discussion about a problem and quickly move it off-line. Here is where the next topic becomes especially important.
Who should manage your Facebook page?
As a communications professional, I like to equate communications work to that of other professions. A good communications professional will be on top of the latest technology and trends just as you are in communications and public relations. The best will have a clear understanding of what the audience will hear in your messaging and develop communications that support your business goals. So, we recommend Facebook be part of a comprehensive plan carried out by an experienced communications/public relations professional.
That may not be feasible in every practice. Where it is not, the inclination may be to turn the social media efforts over to the younger team members. While they will be great in understanding how to use it, they may not have the knowledge or maturity to post the most appropriate items or respond in the most effective way. So, a team approach might be most beneficial in those circumstances.
Conclusion
Social media should be a key part of a comprehensive communications plan. Not every post will get thousands of views, but that's all right. The key is to be a regular presence on Facebook (we recommend three to five posts each week) and build an engaging relationship with your current and potential clients and the community.
Virginia Mann is the president and chief influencer of Veterinary PR, a marketing communications and public relations firm serving the animal health and welfare and veterinary communities.