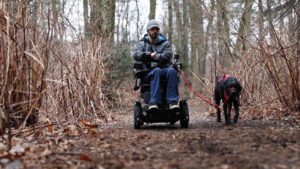 A new educational campaign highlights the importance of keeping service dogs healthy from fleas and ticks.
Through Bravecto Cares, Merck Animal Health will donate a portion of every Bravecto sale to National Education for Assistance Dog Services (NEADS) World Class Service Dogs from now until June 30. The funds raised will be used to support the training of NEADS Service Dogs.
"Merck Animal Health knows how important it is to protect our pets, especially those that work for us," says Mark Pelham, DVM, companion animal professional services, Merck Animal Health. "More than just a nuisance, fleas and ticks can carry illness, such as Lyme disease, to our pets and our families. We are proud to collaborate with NEADS, an organization that shares our dedication to keeping pets healthy as part of their extensive service dog training program."
According to NEADS, being in top health is a major factor for a world-class service dog.
"The health of our dogs is as important as their task training—if they are not at optimal health, they will not be at ideal performance and can potentially put their handlers at risk," says Cathy Zemaitis, NEADS director of development.
As part of the campaign, Merck is sponsoring a contest giving 50 winners a one-year subscription to a monthly pet care box with toys and treats for their pets. For more information, click here.