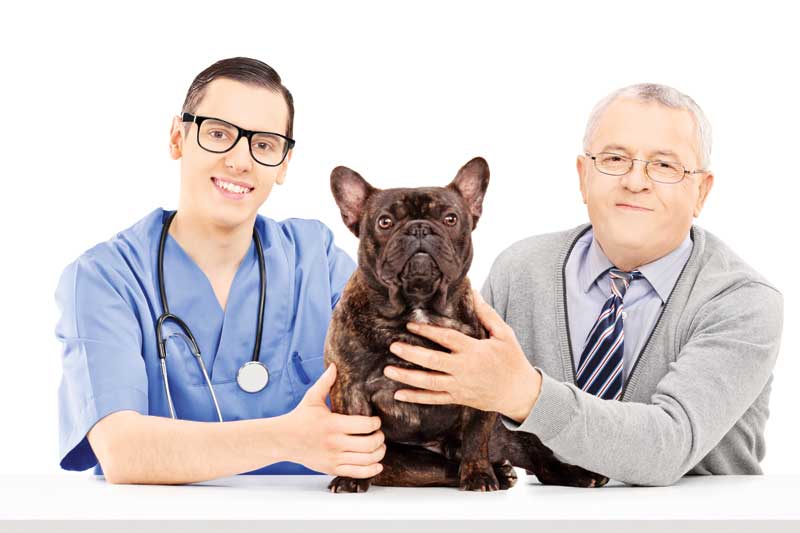 In the U.S., roughly 179 million households include pets. With the addition of 2.05 million U.S. farming operations and the millions of livestock being raised, the growing demand for veterinary services is a no-brainer.
Estimates find there are about 31,000 veterinary practices in the U.S. However, the average clinic owner is in his or her 60s, and it is estimated that in the next 10 years, 10,000 practices will be for sale.
The vast potential for industry growth seems like a great opportunity. But problems persist. Student debt is a major concern for graduating DVMs, and with one-third of veterinary practices expected to be for sale in the coming decade, the second concern is the seemingly impossible task of finding veterinarians interested in buying those practices.
Where are the potential owners?
For students, the opportunity to work for a corporate practice with set hours, pay, and benefits can be a relief when facing student debt after graduation. Corporate practices also have provided graduates paid internships throughout their schooling, all but securing their employment status.
However, the reality of working at most corporate practices sets in quickly. Quotas, salary caps, and decisions made based on what's best for business versus what's best for the individual patient can hasten new graduate burnout.
Angela Woodward, DVM, owner of Vet Partners Pet Hospital in Plymouth, Minn., experienced this burnout firsthand. She joined a corporate practice early in her career with the opportunity to open a corporate clinic in her hometown. It was a perfect chance to get back to her roots and practice quality medicine while receiving reliable pay and benefits.
The appeal waned rapidly.
"They took away the power to make decisions based on a client/patient level with the doctor; then they took away the profit doctor model and wanted to cut my salary in half," Dr. Woodward said. "Staffing was also an issue, with unrealistic labor and cost-of-good goals.
"It was less about being a doctor and more about running a business," and that led Woodward to consider alternative options.
"The freedom to practice great medicine, interact when and where with clients, and offer products not dictated by corporate management is what led me to open my own clinic," she said.
Misconceptions about ownership
After graduation, students often are dogged by debt and a career where income may not cover all that debt initially. Therefore, the idea of adding yet more debt, like that associated with purchasing a clinic, seems laughable and unrealistic. Couple that with the idea that ownership destroys work-life balance and the fears of management responsibilities and failure only further justify their decision to avoid the topic of ownership altogether.
Melissa Maddux, DVM, CEO of Erupt and lecturer at the University of Tennessee College of Veterinary Medicine and Lincoln Memorial University, has studied the analytical data of student debt, practice ownership, and other financial metrics for years. Her experience, coupled with ongoing interactions with veterinary students, has fed her passion for helping students understand their future options.
"The average student debt has decreased from $142,000 to $138,000 in just the last year, but it has split into more of a bimodal distribution with a growing number of graduates (7 to 12 percent) with no debt and a growing number of graduates that greatly exceeds the mean (some even over $500,000), and fewer in between," said Dr. Maddux. "While there isn't much we can do to decrease the debt in the debt-to-income ratio, we can help increase the income."
Practice ownership plays a large role in increasing earnings, Maddux said.
"We see the biggest impact in earnings within the first 10 years of graduating if you get into practice ownership earlier in the game," she said. "A $2,000 increase in starting salary can offset $50,000 in student debt. If you can increase your starting salary early in the game, it will make a huge difference."
One of the ways to increase a starting salary quickly is through practice ownership.
"About 10 to 20 years after you graduate, you start to develop skillsets that are a lot more valuable, and your earning profile begins to match that skillset and look similar to that of a practice owner," Maddux said.
But those who become practice owners early, within the first 10 years of graduating, "can capitalize on the labor of the experienced veterinarians you've hired while learning from them and building equity in your practice."
Kent Julius, DVM, owner of Legacy Veterinary Hospital in Frisco, Texas, worked as an associate for a few years before opening his practice. Initially, he experienced income loss, he said.
"I took a 50 to 75 percent drop in income when first opening my clinic and had to make adjustments in order to survive," he said. "But I opened my practice with zero clients. It's easier to buy an existing practice because you know what the client base is.
"After owning for a few years, it balanced out, and I now make significantly more than if I had stayed an associate; it allows me to pay off my student loans much faster," he added.
"Looking at real mean income in 2016 dollars, the biggest difference we see is in income, which comes at around 32- to 38-years-old for owners versus nonowners," Maddux said. "As a nonowner veterinarian, their income is roughly $82,000 to $84,000. As an owner at the same age, their income is roughly $105,000."
Work-life balance
Naturally, ownership requires more time and effort than working at a corporate clinic.
It isn't a matter of work-life balance; it's about work-life blend, Dr. Julius said.
"There's this focus on leaving work at work so that you can start your personal life, this idea that you put your vet hat away at a certain time," he said. "If you love what you do, it isn't work. Our work is so fulfilling that treating animals can make me just as happy in my personal life as other things do."
He emphasized a healthy blend of work-life ratio because "Nothing is fun doing it for 16 hours a day because you can and do burn out."
When comparing working as an associate versus owning a practice, especially in a corporate setting, Luther Groth, DVM, owner of Vet Partners Hospital in Edina, Minn., said he knew when he became an owner that the team he hired would be vital.
"I knew if I became successful enough with a good team around me, I could take a sabbatical or leave for a family function if needed, and my clinic would continue to operate," he said.
"We work in a highly emotionally charged environment, and we need balance between work and life," said Dr. Groth. "Being an owner gives me the freedom to balance it all out. I did not have this at the corporate hospital."
Operating a business
In college, DVM students are investing hundreds of hours and thousands of dollars into their veterinary education, which leaves very little time for business education. Andrew Keller, University of Minnesota veterinary class of 2020 and Veterinary Business Management Association vice-president, is in his second year of the program and is maxing out his time with 29 credits and working in a clinic. While the University of Minnesota College of Veterinary Medicine and other schools across the nation offer some sort of professional development classes, Keller said it isn't enough.
"I'd like to take a business class, but it would be extremely difficult to fit in the program as it's built," he said. "More prerequisites of business, such as accounting or economics, would be beneficial for all students and help them build everyday personal and business skills."
Tony Dank, DVM, owner of Anthony Dank Veterinary Services in Duluth, Minn., took business-related courses as an undergrad, and it made a difference.
"I took ag management classes," he said. "They taught me to look at depreciation and asset values and how that applies to my business. They helped me gain the skills necessary to run a business."
Becoming an owner
While becoming a practice owner within the first 10 years after graduation has proved to provide the biggest benefit to income, the often-repeated recommendation is to work as an associate for a few years before pursuing ownership. This way, new graduates can gain the skills necessary to manage a business while growing their confidence in practicing medicine.
"Banks will usually ask students to wait to purchase for two to three years so they get the experience of working as a veterinarian before jumping into the purchase," said Maddux, "They want students to purchase early, but it's a lot to ask of a student with no veterinary experience or practice management experience."
Another barrier is that many potential owners simply don't know where to start. However, there are groups working on providing the necessary resources to potential owners to help guide them to their goals of ownership.
For example, veterinary Hospitals Association, located in South St. Paul, Minn., is developing an associate-to-owner partnership program, which is specifically designed to help veterinarians through the process of becoming owners. The program aids in securing loans, negotiating purchasing agreements, and providing business management services as the purchasing veterinarian gains 100 percent ownership in their clinic.
Current owners also suggest that potential owners (and new veterinarians in general) find a mentor.
"If you want to own a private practice, find someone who has done it before successfully," said Julius. "Learn from them because they've been through it all, and independent practice owners want to help and love sharing their success and advice with others."
"Don't be afraid," said Groth. "The work, effort, and stress of owning are well worth it. If your goal is ownership, develop yourself in nontraditional veterinary areas like business acumen and management, and develop a network of people you can partner with like an association or other veterinarians who can mentor you."