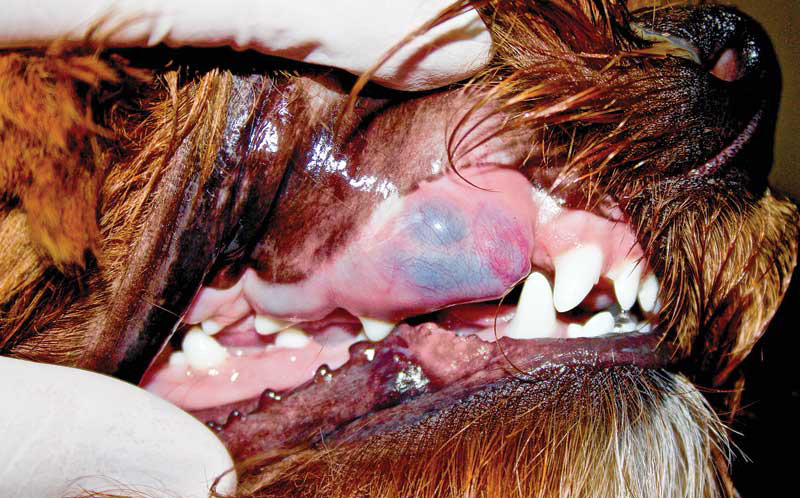 In last month's column, we discussed a type of cancer in dogs called papillary squamous cell carcinoma (PSCC). Though PSCC can occur in dogs of any age, if a young dog is presented with a verrucous tumor of the rostral mandible or maxilla, it is often a PSCC.
However, other tumors can occur in dogs less than one year old. Odontogenic tumors can manifest at a young age. A tumor that looks clinically similar to PSCC and also occurs frequently in the rostral mandible is acanthomatous ameloblastoma, previously called acanthomatous epulis. This tumor, though technically benign, is locally invasive and can be a threat to life due to bone invasion.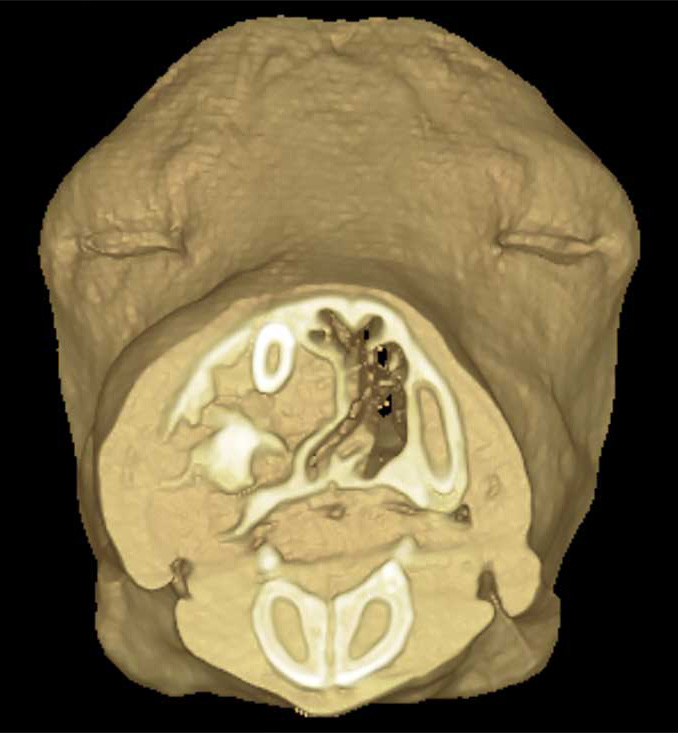 In addition to acanthomatous ameloblastomas, conventional ameloblastomas (also called intraosseous or central ameloblastomas) can occur in young dogs. These are often multicystic.
On radiographs conventional ameloblastomas may show multilocular radiolucencies within the bone, whereas acanthomatous ameloblastoma often arise from the extraosseous gingiva and may result in displacement of teeth and invasion of underlying bone.
We recently had an opportunity to help Bocce, a six-month-old golden doodle that presented with difficulty breathing while sleeping, with symptoms similar to sleep apnea. A large, palpable, and fluctuant swelling was noted over the right maxilla (Figure 1).
Bocce's primary care veterinarian, Dr. Larry Hirshenson, obtained skull radiographs, and he and his radiologist suspected an odontogenic cyst or cystic odontogenic tumor. We performed a cone-beam CT scan (CBCT), which revealed an unerupted right maxillary canine tooth (tooth 104) surrounded by a huge cystic area encompassing the entire right nasal passage caudally to the choana. Tooth 104 was unable to erupt due to a mineralized density in its path that prevented eruption (Figure 2).
Immediately after obtaining the CBCT, we performed surgery to diagnose and treat the cause of Bocce's decreased nasal airflow. Biopsies confirmed Bocce had a rapidly growing dentigerous cyst, which formed due to lack of eruption of tooth 104. The canine tooth was unable to erupt due to a benign tooth-like accumulation of hard tissue called an odontoma.
Odontomas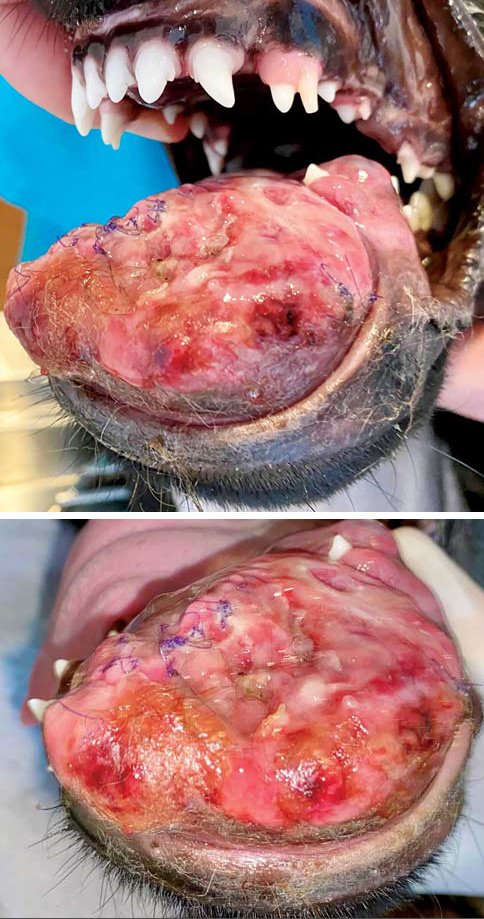 The term "odontoma" sounds like a neoplastic process, but it actually is not. Instead, it is a hamartoma, a non-neoplastic malformation of normal cells in an abnormal arrangement. Odontomas are often described as being either compound or complex. Complex odontomas consist of an unrecognizable milieu of hard and soft tissue, whereas compound odontomas contain more differentiated tooth-like structures that in the past were referred to as "denticles."
Odontomas do not typically require wide surgical margins, but rather removal of any cystic lining and tooth-like structures. In Bocce's case, that involved raising a mucogingival flap on the lateral surface of the right maxilla. A window was made in the bone to remove the odontoma, the canine tooth, and the cystic lining.
We recently saw an aggressive osteosarcoma (OSA) of the mandible in Luther, a five-month-old German shepherd. This was easily the fastest growing tumor I have seen in my 24 years of practice. Between the day we performed the incisional biopsy and a week later when the patient presented for a curative-intent mandibulectomy, the tumor more than doubled in size (Figure 3 A, B).
Osteosarcoma of the jaws occurs more frequently in mature dogs than in juvenile dogs (the mean age has been reported as nine to 10 years). However, just as in humans, osteosarcomas can occur in young patients. Luckily, in Luther's case, we were able to achieve clean surgical margins, which has been determined to be the main prognostic factor in dogs and humans.
Mandibular osteosarcomas have been reported to have a better prognosis than osteosarcomas at other sites, regardless of adjunctive treatment. And just as we might expect from a puppy, it only took a few days for Luther to adapt to his new situation after mandibulectomy (Figure 4).
Viral papillomas
There us one more juvenile oral tumor I would like to mention. Viral papillomas are commonly seen in dogs less than a year of age. They often present as light pink, raised lesions on the lips and tongue. These lesions are clinically very recognizable and often resolve on their own. They are contagious to other dogs and may be transmitted at dog parks, day care facilities, and other situations of prolonged contact. Viral papillomas can occur in older dogs, too. When they do, I consider the possibility of underlying immune compromise. I have seen a few cases of viral papillomas in older dogs with lymphoma. If you have seen this, send me an email at info@siloacademy.com.
When puppies and kittens come to your practice for their initial examinations and vaccinations, discuss with owners the importance of socializing their pets to get them accustomed to having their mouth examined so owners can be vigilant for any new lumps or bumps in the mouth.
Recommended reading
Soukup J, Lewis J. Oral and maxillofacial tumors, cysts, and tumor-like lesions. In: Lobprise HB, Dodd JR. Wiggs's Veterinary Dentistry, 2nd Ed. (2019), p. 131-153.
Farcas N, Arzi B, Verstraete FJ. Oral and maxillofacial osteosarcoma in dogs: a review. Vet Comp Oncol. 2014;12(3):169-80.
Straw RC, Powers BE, Klausner J, Henderson RA, Morrison WB, McCaw DL, Harvey HJ, Jacobs RM and Berg RJ. Canine mandibular osteosarcoma: 51cases (1980–1992). JAAHA 1996; 32: 257–262.
John Lewis, VMD, FAVD, DAVDC, practices dentistry and oral surgery at Veterinary Dentistry Specialists and is the founder of Silo Academy Education Center, both located in Chadds Ford, Pa.