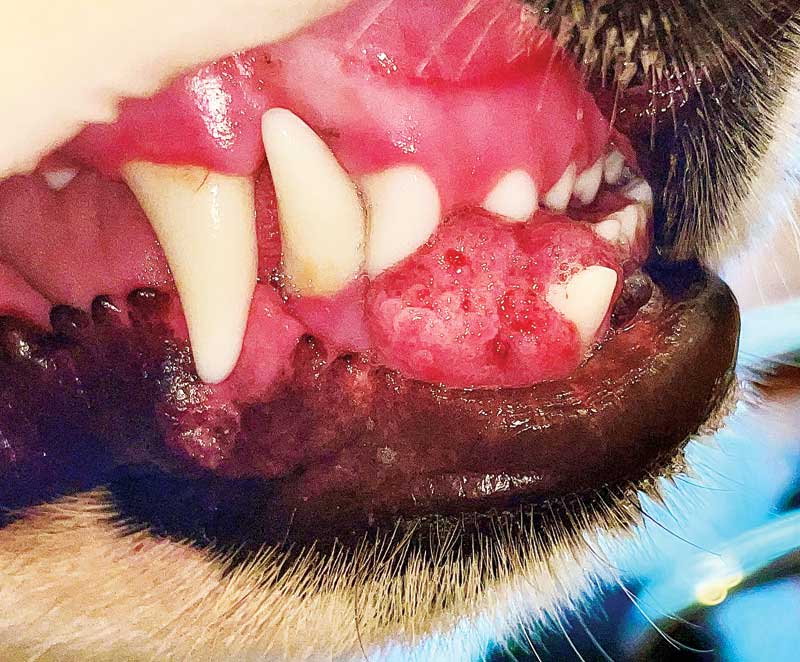 We generally think of oral cancer as a condition that affects middle-aged and older pets, but there are some types of neoplasia that are more common in young pets. Oral papillary squamous cell carcinoma (PSCC) in dogs is one of those tumor types to keep on your list in young dogs. Though PSCC can be seen in dogs of any age, if you see a readily bleeding, pink, proliferative, verrucous mass in a young pup, it may very well be PSCC.
The adjective "papillary" is an important distinction, because PSCC is very different from conventional oral squamous cell carcinoma. Conventional SCC can metastasize to regional lymph nodes, and less commonly, to the lungs. To my knowledge, however, PSCC has not been documented to metastasize.
Documentation
One of the first documentations of PSCC was in a case series described by Ogilvie and colleagues in 1988. In these three cases, the tumors were located on the gingiva of three young dogs. The tumors invaded bone in two of the three dogs.
Surgical excision was unsuccessful in eliminating two of the tumors, which is surprising, since the PSCCs I have dealt with have been some of the least likely tumors to recur after surgery. Surgery and radiotherapy were utilized in the three cases mentioned in the case series, and recurrence was not observed in any case, with 39 months of follow-up in one dog, 32 months in a second, and 10 months in a third. Superficially, the authors reported the masses resembled papillomas due to their verrucous appearance, though papillomavirus antigens were not detected by immunohistochemical methods.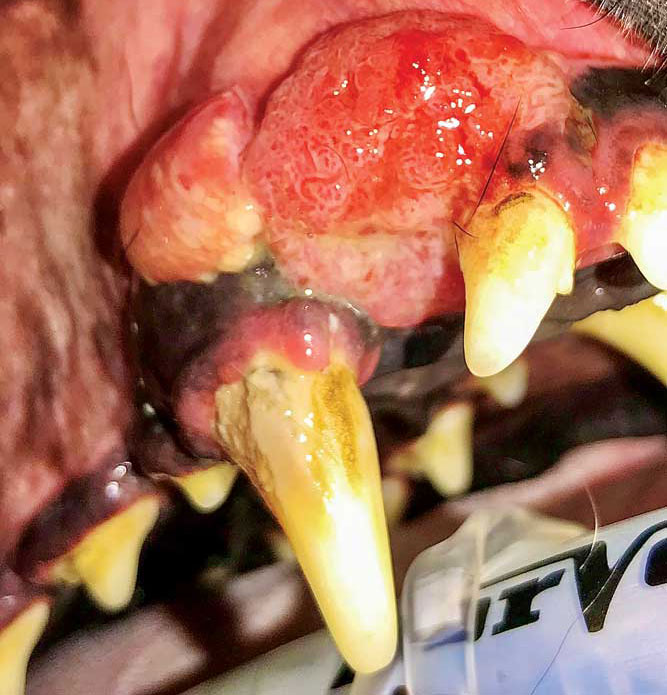 Electron microscopy failed to identify viral particles in two of the tumors. High and low molecular weight DNA extracts from two of the tumors contained no detectable papillomavirus genome when probed under conditions of either high or low stringency by Southern blot hybridization with a cloned canine oral papillomavirus genome.
Another manuscript published in the Journal of Veterinary Dentistry reviewed medical records of nine dogs diagnosed with oral papillary squamous cell carcinoma. The study compared signalment, tumor location, tumor size, computed tomographic (CT) features, evidence of metastatic disease based on cytologic examination of lymph node aspirates and thoracic radiography, treatment, surgical margins, histologic features, and treatment outcome.
Dogs included in the study were predominantly large breed dogs with a mean age of 3.9 years, ranging from 0.5 to 9.0 years. The most common location for PSCC was the rostral maxilla. Invasion of underlying bone and lymphadenopathy were evident on CT scan in most dogs. No evidence of metastasis was found on mandibular lymph node cytology and thoracic radiography in any of the patients.
Histologic analysis revealed similar morphologic findings for all surgically resected tumors. Surgical excision with 1-2 cm margins was complete in all cases, with a mean tumor-free interval of 12.1 months.
A manuscript in the Journal of Comparative Pathology by Nemec and colleagues described a retrospective study of clinical and pathological characteristics of 12 dogs with canine oral PSCC. The majority of the dogs were greater than six years of age (median age nine years). All tumors arose from the gingiva, with 66.7 percent affecting the rostral aspects of the jaws. The gross appearance of the lesions varied, with one having an intraosseous component only.
The majority of the tumors were advanced lesions, but had no evidence of regional or distant metastases. Microscopically, two patterns were seen: (1) invasion of bone forming an indentation in the bone or a cavitating cyst-like structure within the bone, (2) histologically malignant growth, but lack of apparent bone invasion. Imaging showed either a cyst-like pattern of bone loss or an expansile mass showing an infiltrative pattern of bone destruction on imaging.
The authors concluded there are two distinct biological behaviors of canine oral PSCC.
Treatment
How do we treat canine oral PSCC? Mandibulectomy or maxillectomy is often curative, and since metastasis is not typically a concern, if clean margins are obtained with surgery, no further treatment may be needed. How wide of a margin should we take? Although 1-2cm margin of gross and radiographically unaffected tissue have been described, I've found that 1 cm margins are usually curative, but further studies are needed to better define a desired margin.
Since these tumors occur commonly in the rostral maxilla or mandible, crown reduction and vital pulp therapy of the opposing canine tooth (or teeth) may be warranted to prevent the tall crown of the canine tooth from impinging on the healing surgery site. If owners are reluctant to have a maxillectomy or mandibulectomy done, nine out of 10 dogs had a complete response to full-course radiation therapy.
Next month, we will discuss other oral tumors that can affect young patients.
Recommended reading
Ogilvie GK, Sundberg JP, O'Banion MK, Badertscher RR 2nd, Wheaton LG, Reichmann ME. Papillary squamous cell carcinoma in three young dogs. J Am Vet Med Assoc. 1988 Apr 1;192(7):933-6. 
Soukup JW, Snyder CJ, Simmons BT, Pinkerton ME, Chun R. Clinical, histologic, and computed tomographic features of oral papillary squamous cell carcinoma in dogs: 9 cases (2008- 2011). J Vet Dent. 2013 Spring;30(1):18-24.
Nemec A, Murphy BG, Jordan RC, Kass PH, Verstraete FJ. Oral papillary squamous cell carcinoma in twelve dogs. J Comp Pathol. 2014 Feb-Apr;150(2-3):155-61. 
van der Steen F, Zandvliet M. Treatment of canine oral papillary squamous cell carcinoma using definitive-intent radiation as a monotherapy-a case series. Vet Comp Oncol. 2020 Sep 25. doi: 10.1111/vco.12646. Epub ahead of print. PMID: 32975025.
John Lewis, VMD, FAVD, DAVDC, practices dentistry and oral surgery at Veterinary Dentistry Specialists and is the founder of Silo Academy Education Center, both located in Chadds Ford, Pa.