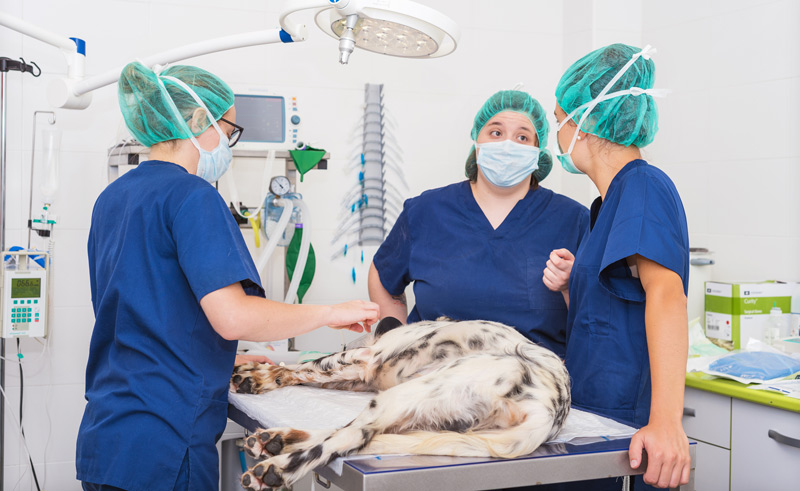 Does it feel like your veterinary team revolves in and out of your door as if it were a department store?
Statistics indicate the veterinary industry has high turnover. Because of this fact, veterinary teams are in a continual flux of morphing, turfing, training, norming, and, eventually, performing.
Let's dissect this in bite-size pieces to help managers and team members understand what this means and how to mitigate some of the challenges:
Veterinary team turnover by the numbers
"Fully staffed" illusion
Reasons for turnover
Morphing to performing
Veterinary team turnover by the numbers
You may not be surprised to learn veterinary hospitals experience a high rate of team turnover. You may feel the frequent "revolving door" and team training within your practice.
To calculate veterinary team turnover, you will need to collect some data. For our purposes, gather the data for the previous 12 months.
Putting pen to paper, determine the total number of separations in that time (both voluntary and involuntary, regardless of the reason). Include the team member who was hired and did not show up or was employed for two weeks. Next, calculate the average number of employees in that time.
As an example, on average you had 1 practice manager, 4 veterinarians,
6 veterinary technicians, 4 receptionists, 1 office manager, 3 veterinary assistants, 3 kennel aids, and 2 groomers. An average of 24 team members. Last year, there were 8 separations (2 veterinary technicians, 1 veterinarian, 2 assistants, and 2 receptionists and 1 no-show).
Divide total separations (8 in this example) by the average number of employees (24) and multiply by 100 to convert to a percentage. In this calculation, the annual veterinary team turnover is 33.3 percent.
What is your turnover rate? Make sure you are calculating all separations.
In the American Animal Hospital Association's (AAHA) 2020 Compensation & Benefits Survey, average veterinary team turnover was 23 percent. Higher turnover was seen for receptionists at 32.5 percent. Veterinary managers had the lower rate at 10.3 percent. Associate veterinarian turnover came in at
16 percent and veterinary technician burn and churn was at 23.4 percent.1
Employee turnover rates vary greatly from one industry to another. Typically, hospitality services (which veterinary medicine can be considered, to a certain degree) experience a high rate of separation as well as retail stores. According to the United States Bureau of Labor Statistics, the average turnover is about 12 to 15 percent, annually.2
Fully staffed, Hallelujah!
A team may be "fully staffed," breathing easy in the idea of all scheduling slots filled with trained, trusted, and efficient team members. Unfortunately, with the average U.S. turnover of employees around 13 percent, being fully staffed may be short lived.
Reasons for general turnover include an employee:
Going back to school
Staying home with an elderly parent or child
Spouse taking a job in another town/state
Retiring
Increased veterinary team turnover may be a result of burnout, fatigue, low wages, lack of onboarding, little career advancement, or poor culture.
Reasons for veterinary team turnover
My friend and colleague, Ed Carlson, CVT, VTS (nutrition), pointed out in his VPN Plus+ article, "Tech Talk: Is there really a veterinary technician shortage? A profession in crisis," we have been battling technician turnover for decades!
"The veterinary technician profession continues to grapple with such issues
as lack of job satisfaction, low wages, lack of professional respect, limited career advancement, and veterinary technician underutilization. Results from multiple surveys conducted over the past 30 years support these trends," he states, referring to American Veterinary Medical Association (AVMA) and National Association of Veterinary Technician in America (NAVTA) surveys.3
Increased veterinary team turnover may be a result of:
Burnout (related to the work environment)
Compassion fatigue (trauma experienced in delivering care)
Low wages, compensation for skills
Lack of onboarding and adequate training
Little career advancement
Poor culture
Morphing, storming, norming to performing
Regardless of the reason, when there is turnover, there will be stages of adaptation. It is difficult to predict how long a stage may last. That depends upon the transforming team, culture, level of communication, organizational structure and approachability with managers and leaders.
While managing a veterinary team in rural Colorado, I came across a magnificent piece on teams transitioning. It described the stages of morphing to performing. The following is an adaptation for veterinary teams. Flexing and adaptation skills are great qualities of a team.
1) Morphing, the addition of a new team member or introduction of new concepts (shift in culture, redirection of vision, mandates because of a global pandemic or new ownership). Embracing the new team member, shift or ownership may take time. Morphing may include polite interactions, "testing the waters" in change or sense of anxiety and uncertainty.
This stage may come to completion when the new team members feel a part of the team or the paradigm shift has occurred, or leadership has been accepted into the fold.
2) Storming, the stage in which there may be "territorial turfing," team members coveting their duties in a sense of insecurity or unknowing of defined job duties or fear of losing their status on the team. Team members may feel overwhelmed by how much needs to be accomplished, spinning their wheels without a sense of relief. Authority may be scrutinized. Managers and leaders stepping up to the plate to exemplify the hospital's values in support of the individuals on the team will help during this transition.
This stage may come to completion when duties and common values are defined, shared, and embraced.
3) Norming, a point in which the team is breathing easier, building a stronger workship (a relationship based in work) within the veterinary community, providing services to clients, and caring for pets. Team members respect each other for their individual contributions in the delivery of the best care possible. Clear expectations in the delivery of patient care and client experience are known and brought to fruition.
This stage may come to completion when teams are communicating openly, meeting the daily mission of the practice and feeling connected, demonstrating cohesiveness.
There may be a longer lapse between storming to norming, based upon the challenges and obstacles. Managers and leaders supporting their team in problem solving and offering resources may transform quicker.
4) Performing, aahhh, relief! The team is functioning well, paradigm shift is now reality or ownership has proven to be supportive, appreciative, and established in shared values. During this stage, team members feel comfortable in asking for help, seek feedback, and express gratitude for a job well done. The practice's values, vision and mission are in the forefront of daily delivery of patient care and client experience. Structure in policies and procedures guides the team towards increased efficiency. Training systems are in place along with on-boarding increasing the staying power of new hires.
This stage sets the team up for success when team members do leave and there continues to be a flux in team dynamics. High-performing teams realize change is inevitable and the shift will be managed with a light at the end of the tunnel, for now.
5) Mourning or adjourning. There may be moments of mourning (when an esteemed team member leaves, for various reasons) or a temporary team disbands. Allowing for the grief is understandable. Supporting the remaining team members in the transition is beneficial. Managers continuing to be optimistic in the face of the shift leading through example, realizing an upcoming morphing is in the future.  
Is there an end to team turnover? The realistic answer is no; however, it's how the team manages the morphing to performing that shows grit! Additions to the team because of practice growth or turnover is a constant. Leading and managing during the stages are imperative. There is hope! Organizations up to the challenges will succeed. Teams involved and offering solutions will persevere.
Rebecca Rose, CVT, certified career coach, founder, and president at CATALYST Veterinary Professional Coaches, has a diverse background in the veterinary community. She has worked in and managed clinics, collaborates with industry partners, and facilitates engaging team workshops. Rose's enthusiasm for professional development in veterinary medicine is contagious, as she encourages and supports veterinary teams in reaching their highest potential. She can be reached via getCATALYST@CATALYSTVetPC.com.
References
1 Compensation & Benefits, 9th Edition, AAHA Press 2020
2 Bureau of Labor Statistics, Turnover Survey, https://www.bls.gov/jlt/
3 Tech Talk: Is there really a veterinary technician shortage? A profession in crisis, Ed Carlson, CVT, VTS (nutrition); VPN Plus+, Feb. 19, 2021.
4 Forming, Storming, Norming and Performing, Mind Tools Content Team, http://www.mindtools.com/pages/article/newLDR_86.htm
Additional resource: Colorado Veterinary Medical Association VOICE, #4 The Technician Edition, Technician Shortage? What do the Numbers Say? Denise Mikita, MS, CVT and Rebecca Rose, CVT, 2019 https://catalystvetpc.com/wp-content/uploads/2021/02/The-Technician-Shortage.pdf