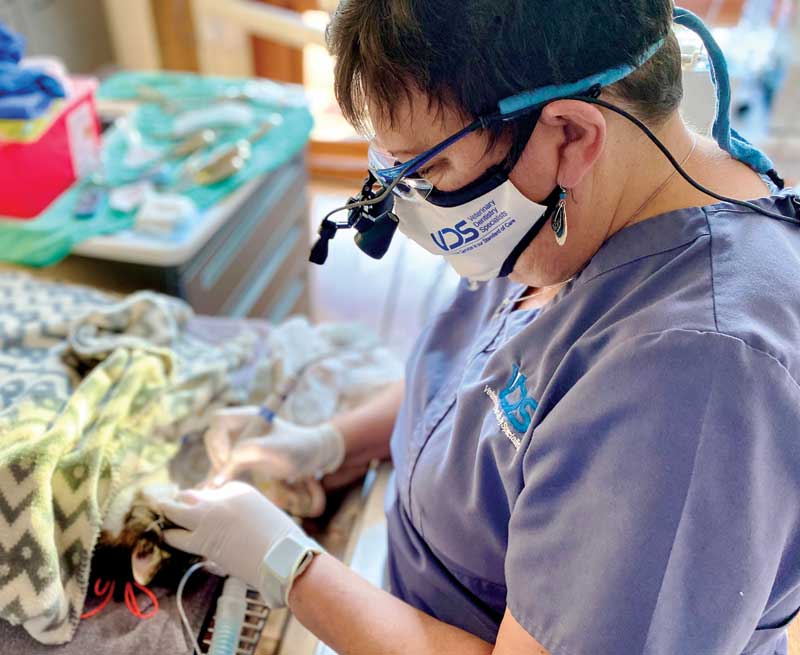 February was National Pet Dental Health Month, though anyone who works in general practice will tell you that every month is dental health month due to the prevalence of periodontal disease! A study published in 1999 summarized examination findings of 31,000 dog visits and 15,000 cat visits to general practices found the number one abnormality among all age groups was dental disease.1
This February, it's appropriate to discuss the important role of technicians in veterinary dentistry. Technicians are often on the frontline, performing professional dental cleanings and obtaining dental radiographs. In most of our patients, dental cleanings are more than just a "prophy." "Prophy" is shorthand for prophylaxis, and most of our patients are beyond the point of prevention and into the realm of active treatment of periodontal disease, also known as periodontal debridement.2 After a thorough subgingival periodontal debridement and supragingival scaling of the crowns, the teeth are polished to remove microetching that might have occurred during the scaling procedure. Technicians also play an important role in diagnosis and treatment by alerting the clinician of any findings noted during cleaning and obtaining intraoral radiographs. Technicians are often the first to assess the anesthetized oral cavity, and they play a huge role in obtaining diagnostic information with dental charting and diagnostic quality radiographs.
Further, veterinary technicians play the critical role of administering and monitoring anesthesia to our patients. A dental procedure is often perceived as a less-involved procedure that may not require all the anesthetic precautions that, for example, ovariohysterectomy surgery might require. However, the opposite is true. The average age of a dentistry patient is much older than the average age of a spay patient. Though age is not a disease, increased age often brings concurrent medical conditions that increase anesthetic risk. An understanding of the individual patient's needs is imperative going into any anesthesia, especially long and involved dental procedures.3 Having appropriate technician help in dentistry increases efficiency. In our veterinary patients, efficiency results in less time under anesthesia.
Anesthesia is a necessary aspect of the dental procedure. Non-anesthetic dental procedures are touted as a safer alternative, but they are more appropriately characterized as tooth grooming rather than a true dental procedure. No self-respecting dog or cat will allow you to accomplish a thorough subgingival cleaning without anesthesia. This is an important point, because the critical part of the cleaning, from a systemic health standpoint, is the subgingival component. When a pet owner asks about non-anesthetic options, discuss the shortcomings of non-anesthetic procedures and encourage a full assessment of risk vs. benefit of anesthetic procedures, seeking to mitigate risk with the help of specialists when it is deemed necessary.4,5
Veterinary technicians who have found a love for a special aspect of practice can become specialists in their chosen field. At our dentistry and oral surgery practice, patients benefit from the advanced care provided by veterinary technician specialists (VTS) in both anesthesia and dentistry. The benefit of specializing is this: the ability to focus on a particular aspect of veterinary medicine that allows for a level of mastery and honing of skills. When we do what we love, we provide the best care possible for our patients.
Technicians also play a critical role in discussions of aftercare with pet parents. As veterinary dentists, we can do some amazing oral surgeries and periodontal therapies, but if the home care is not there, failure may still occur. Technicians take the time to ensure that clients have an understanding of what needs to be done in the immediate postoperative period and beyond. Take the time to create thorough discharge instructions that describe what was done and what needs to be done by the owner at home. Then take the time to discuss these instructions with the owner. Discuss an appropriate time to start home care in the form of daily brushing and tips/tricks on how to accomplish it.6 If you don't have enough staff to accomplish quality client dental education, outsource it. There are digital options that can help.7-9
The general practice puppy visit is another opportunity for technicians to shine. Save a pet's teeth for life and improve systemic health by teaching daily brushing techniques at a young age when dogs and cats might be more amenable to training. Teach puppy owners the chew options that are acceptable and avoid fractured teeth. Explain with real-world pictures of why real bones, nylon bones, cow hooves, antlers, rocks and ice cubes are not recommended. Teach pet owners how to look in the mouth so oral tumors can be identified while still at an operable size. Saving lives is not just for ER/ICU technicians! There are many opportunities to enrich and save pets' lives in the field of dentistry and oral surgery. Please accept this huge "thank you" to all technicians who enhance and elevate the care of our patients!
John Lewis, VMD, FAVD, DAVDC, practices dentistry and oral surgery at Veterinary Dentistry Specialists and is the founder of Silo Academy Education Center, both located in Chadds Ford, Pa.
References
1 Lund EM, Armstrong PJ, Kirk CA, Kolar LM, Klausner JS. Health status and population characteristics of dogs and cats examined at private veterinary practices in the United States. J Am Vet Med Assoc. 1999;214(9):1336-41.
2 Miller BM, Lewis JR. Veterinary dentistry. In: Bassert JM. McCurnin's Clinical Textbook for Veterinary Technicians, 9th ed. Elsevier; 2018: 1336-1339.
3 Lewis K. Technicians Are on the Frontline of Veterinary Dentistry. J Vet Dent. 2016 Sep;33(3):145. doi: 10.1177/0898756416674305. PMID: 28327069.
4 https://afd.avdc.org/category/for-pet-owners/
5 https://www.veterinarypracticenews.com/anesthesia-free-dentistry-provides-false-sense-of-security/
6 https://www.veterinarypracticenews.com/confessions-of-a-veterinary-dentist/
8 https://www.avma.org/events/national-pet-dental-health-month
9 https://www.avma.org/resources-tools/pet-owners/petcare/pet-dental-care