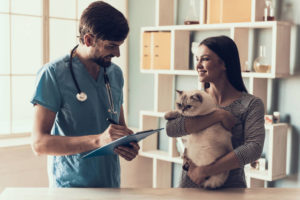 A new bill introduced to the California legislation could repeal an original ban on veterinarians recommending cannabis to their clients.
The bill, SB 627, would allow licensed veterinarians to discuss the use of and recommend medicinal cannabis or related products on an animal patient for any condition for which these products provide relief.
The bill would also prohibit a veterinarian who makes a recommendation under these provisions from being punished, or denied any right or privilege, for recommending these products. Currently, The Veterinary Medicine Practice Act authorizes the board to revoke or suspend the license of a person to practice veterinary medicine, or to assess a fine, for discussing medicinal cannabis with a client while the veterinarian is employed by or has an agreement with a Medicinal and Adult-Use Cannabis Regulation and Safety Act (MAUCRSA) licensee and is distributing advertising for cannabis in California.
Further, the bill would permit pet owners to purchase medicinal cannabis or medicinal cannabis products on a veterinarian's recommendation.