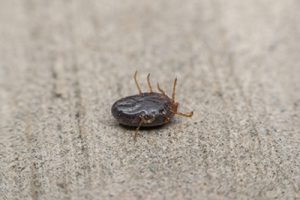 The New Jersey Department of Agriculture has confirmed the presence of the longhorned tick, Haemaphysalis longicornis, in Union County after an infestation was first found last August on a Hunterdon County sheep.
H. longicornis is native to China, the Korean Peninsula, and Japan, and also has populations in Australia, New Zealand, and Russia, as well as on multiple Pacific islands.
In South Korea, it has been linked to the spread of severe fever with thrombocytopenia syndrome (SFTS) virus, described in a Centers for Disease Control and Prevention report as "a newly emerging infectious disease." SFTS symptoms include fever, thrombocytopenia, leukocytopenia, and elevated serum enzyme levels, according to the CDC.
The tick has been associated with rare human disease, such as spotted fever rickettsiosis, according to Andrea M. Egizi, an author of a study on the New Jersey longhorned tick infestation, published in Rutgers Center for Vector Biology.
Thus far, no New Jersey longhorned ticks have been found to be carrying disease, according to the New Jersey Division of Fish and Wildlife.
H. longicornis has the potential to infest dogs, cats, livestock, and more. It can transmit theileriosis to cattle, which can cause blood loss and occasional death of calves; Lyme bacteria, spotted fever group rickettsioses, Ehrlichia chaffeensis, and Anaplasma bovis have been detected in H. longicornis.
According to Entomology Today, researchers and public health officials at the Hunterdon County Division of Health, the New Jersey Division of Fish and Wildlife, and the Tick-Borne Disease Laboratory at Rutgers partnered to contain the infestation, identify the ticks' territory, and develop an eradication plan. Last month, it was discovered that H. longicornis survived the winter, and ticks were found on the Hunterdon County property, according to the National Veterinary Services Laboratory.
How H. longicornis arrived in New Jersey in the first place remains a mystery. The sheep from the August 2017 discovery had no travel history or nearby domesticated animals. The distance between Hunterdon and Union counties is about 40 miles.
"It is currently unknown whether the New Jersey collections represent a limited or established population, but because this species could present a significant threat to human and animal health in the United States, vigilance is encouraged," wrote the Rutgers study authors.