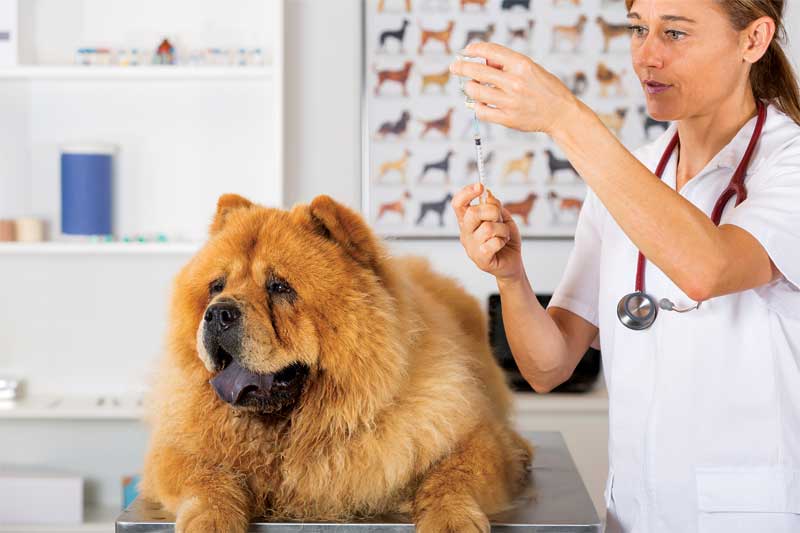 Vaccines are a staple in preventive medicine, and every year more are added to the arsenal. Here's what's going on now in this sector of the profession.
Canine influenza virus
Two bivalent vaccines are now available to fight canine influenza virus: Nobivac Canine Flu Bivalent from Merck Animal Health and Vanguard CIV H3N2/H3N8 from Zoetis.
It's hard to know how many flu cases are seen annually.
"Diagnostic testing for canine influenza can be difficult due to the timing of viral shedding," said Madeleine Stahl, DVM, associate director, scientific marketing affairs for Merck Animal Health based in Madison, N.J. "Peak viral shedding precedes clinical signs with both strains. The incidence is also likely underrepresented because infection resembles that caused by other viral and bacterial pathogens in the canine infectious respiratory disease complex and testing is often not conducted."
Both H3N8 and H3N2 canine influenza strains are seen regularly, according to Karen Stasiak, MSN, DVM, veterinary medical lead, biologicals at Zoetis based in Parsippany, N.J.
"I think a lot of times people feel like maybe one is replacing the other and that's definitely not the case," she said. "We do see both strains border to border and coast to coast. I think because of these continued outbreak situations we've shown that we're not going to be able to contain this to regional or local areas. If dogs are vaccinated for Bordetella, they need to be vaccinated for flu."
According to the American Veterinary Medical Association, nearly all dogs exposed to canine influenza will become infected, and close to 80 percent will exhibit clinical signs of disease, although most of these cases will be mild.1
"When dogs get sick with flu, [the virus] in and of itself can cause illness and severity of disease that can lead to mortality, but it also allows for secondary infections as well, that may increase the severity or the mortality for the dog," Dr. Stasiak said.
Primary immunization with the Nobivac Canine Flu Bivalent requires two doses, two to four weeks apart, plus an additional dose two weeks after the second dose. Vanguard CIV H3N2/H3N8 requires one initial dose, then a booster in three weeks.
Dr. Stahl urges veterinarians not to delay recommending immunization for at-risk dogs.
"Vaccination needs to occur at least one month prior to potential exposure," she said. "For those who procrastinate—those who are waiting for an outbreak to occur before they start vaccinating against canine influenza—it's too late to implement an effective vaccination program. Because dogs do not maintain a long duration of immunity against influenza, it's important to continue to vaccinate social dogs annually with a single dose of the bivalent vaccine."
Stasiak said there is no recommendation at this time as to whether dogs should be revaccinated annually with Vanguard CIV H3N2/H3N8.
"I think we're sort of turning a trend in veterinary medicine where frequency of revaccination has been largely based on historical precedent, whereas now we feel veterinarians really need to revaccinate based on many factors, including the patient's specific factors, the type of vaccine you're giving, etc.," she said. "I do think that decision is going to rest in the hands of veterinarians, as it should, and so I think that's going to have to be determined on an individual basis."
Novel vaccine to prevent cancer
Imagine a day when preventing cancer is as easy as preventing distemper or parvovirus. Current research aims to make that dream a reality as researchers continue to shed light on the power of immunotherapy.
Stephen Albert Johnston, Ph.D., of Arizona State University recently was awarded a multiyear grant of $6,421,402 to conduct an interventional canine clinical trial to evaluate the effectiveness of a multivalent frameshift peptide (FSP) vaccine to prevent cancer in dogs.
"The basic idea is that while all cancers are personal at the DNA level, we found that when the tumors make RNA, they make some common mistakes and these mistakes, called neoepitopes, are good targets for the immune system," said Dr. Johnston, director of the Center for Innovations in Medicine at the Biodesign Institute and a professor in the School of Life Sciences at Arizona State University in Tempe. "We think we can put together a vaccine that will have the immune system anticipate almost any tumor that could occur. We're the only ones that are looking under RNA rather than DNA for the types of neoepitopes, but we're pretty sure they're there. We're not sure it will work, but we think someone should try it."
As of press time, Johnston was hoping to start enrolling dogs (up to 800 total) in the clinical trial beginning in May at three sites: Colorado State University, University of Wisconsin, and University of California, Davis. With more funding, he hopes to open one to two more sites and enroll as many as 1,600 dogs. Trial participants must be 6 to 10 years of age and not have cancer.
Johnston expects the trial last anywhere from two to five years, and aims to open related trials in parallel.
"We're also going to be applying the concept of finding these neoantigens for other kinds of cancer vaccines, including therapeutic vaccines for dogs that already have cancer and for focused preventive vaccines," he said. "For instance, golden retrievers have a very high incidence of osteosarcomas. We think we can design a vaccine that might be tailored just to give to dog that have a high probability of getting osteosarcomas."
Canine osteosarcoma vaccine
In late 2017, Aratana Therapeutics announced that it had received USDA conditional licensure for its canine osteosarcoma vaccine, Live Listeria Vector (AT-014), intended for the treatment of dogs 1 year of age or older diagnosed with osteosarcoma.
"Our canine osteosarcoma vaccine is a novel immunotherapy that Aratana licensed from human pharmaceutical company Advaxis using their live Listeria vector platform," said Ernst Heinen, DVM, Ph.D., chief development officer for Aratana Therapeutics based in Leawood, Kan. "The therapeutic is a lyophilized formulation of a modified live, attenuated strain of Listeria monocytogenes carrying a tumor-associated antigen that activates the dog's immune system to find and destroy the cancer cells expressing the target antigen."
Data from a clinical study suggests that the immunotherapy might delay or prevent metastatic disease in dogs with osteosarcoma, and prolong overall survival, according to Dr. Heinen.
"The single-arm study evaluated 18 client-owned dogs that had primary tumor removal and four doses of carboplatin chemotherapy, followed by the therapeutic vaccine one dose every three weeks for three total doses," he said. "Median survival time was 956 days compared to 423 days for a historical control group (p≤ 0.05)."2
Next, Aratana will make the vaccine available at approximately 24 study sites across the U.S. to gain additional safety data for a future filing to the USDA.
"The study has started enrolling dogs and we anticipate this extended safety study will enroll approximately five times as many dogs as a previously completed safety study that evaluated approximately 30 dogs," Heinen said. "Aratana's primary objective with the extended field study is to gather the necessary data to achieve a full licensure and separately, to help oncologists learn more about the safety profile of the therapeutic."
Dogs enrolled in the study must complete four to five visits to the study clinic over an approximate two-month span. Dogs must be at the clinic two hours before treatment and six hours after treatment for monitoring. Dog owners must purchase the canine osteosarcoma vaccine from their veterinary oncologist; any other costs are at the discretion of the study clinic. To find a study location, call 844-272-8262.
Valley fever vaccine
Although valley fever is a regional concern, pets and people who contract this disease face a lifetime of costly medical treatments. For dogs especially, this can be a death sentence when owners elect to euthanize rather than face the ongoing cost of expensive drugs.
Researchers at the University of Arizona are currently working on developing the first-ever vaccine to prevent valley fever in dogs.
"The dog is a stepping stone to the vaccine in people," said Lisa Shubitz, DVM, research scientist at the Valley Fever Center for Excellence at the University of Arizona's College of Medicine in Tucson. "I think that if we can show that this live avirulent vaccine is both safe and efficacious in dogs, it would be very worthwhile to go forward and try to get this approved for use in humans."
Demand for the vaccine would be regional in the Southwest U.S., mainly Arizona, California, Southern Nevada, Southern Utah, and New Mexico, but Dr. Shubitz thinks people traveling with their dogs to the Southwest might also want to vaccinate.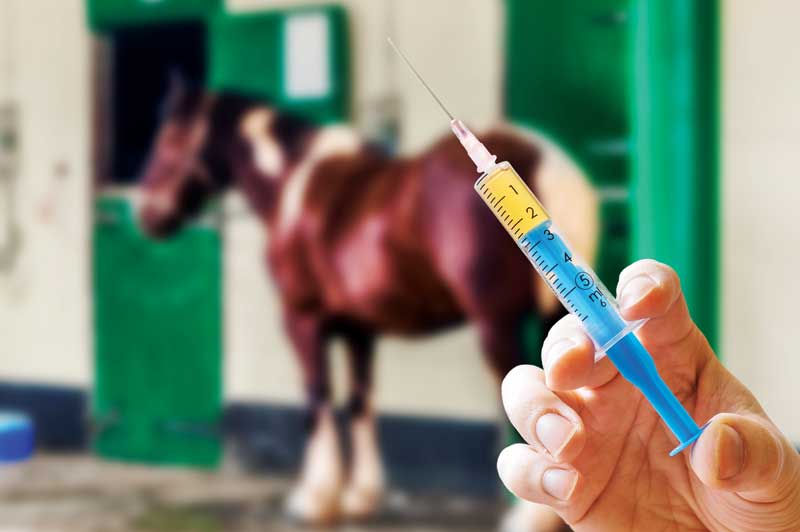 "I think there's a high regional demand and then the demand by people who come here with their dogs for other reasons, people who show dogs here, or hunters who come down here and hunt in the winter," she said. "Dogs that hunt are at higher risk. If awareness existed that the disease is down here and people know they're coming to an area where valley fever is endemic and that they could give a vaccine to prevent it, I think it would have use. Many people come here from cold climates for the winter and they bring their animals with them."
Formulation studies are currently underway.
"We would hope by the end of the year we have something in a bottle that would be ready to test that's a final formulation or close to it," Shubitz said.
STRANGLES VACCINES WITHIN REACH
Scientists from the Animal Health Trust (AHT), the Swedish University of Agricultural Sciences, the Karolinska Institute, and Intervacc AB, have developed a new protein-based vaccine to protect horses from strangles.

" … Our Strangvac vaccine protected over 80 percent of horses," said Jan-Ingmar Flock, Ph.D., CEO of Intervacc AB, vaccine manufacturer.

"The vaccine was designed using information from sequencing the DNA of Streptococcus equi and highlights the potential that the genome-era heralds for improving the health of animals and people," said Dr. Andrew Waller, head of bacteriology at AHT.

"Transfer of the manufacturing process and production of commercial batches are underway toward the registration and launch of Strangvac, and we anticipate that it will be available for use during 2020," Flock said.