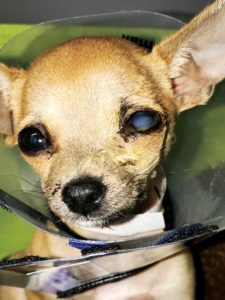 BDLD: four letters often listed at the top of the sheet of an emergency room visit as the presenting problem. One of the most common scenarios of the big dog/little dog is a new pup that is brought home to an already established canine hierarchy. The pup attempts to eat the big dog's food, and before anyone can intervene, its head is literally in the mouth of its housemate. Mandibular fractures, maxillary fractures, ocular trauma, and broken teeth are common with BDLD, with the little dog receiving the brunt of, if not all, the trauma.
Unlucky Lucy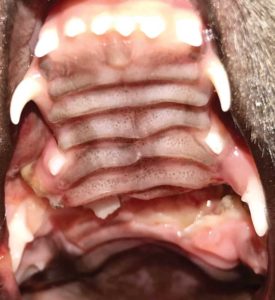 Lucy, a 13-week-old intact female Chihuahua, was presented recently to our hospital after she initially presented to her general practitioner three days prior, and to a multispecialty practice two days later. Lucy was bitten by a larger dog and showed evidence of epistaxis and pain, but no evidence of altered mentation. Her left eye was cloudy due to corneal trauma and possible uveitis (Figure 1). Lucy's primary care veterinarian placed her on oral amoxicillin, buprenorphine, and eye drops. Her appetite and water intake, however, were minimal, so Lucy's parents took her to the emergency service of a multispecialty hospital. There, the veterinarian identified the extent of the maxillofacial injuries on a physical exam, and as soon as a large oronasal defect was diagnosed, the patient was sent to our dentistry/oral surgery practice on day three post-trauma.
Initially, when presenting to her primary care veterinarian, the extent of Lucy's orofacial injuries were not fully appreciated, which is commonly the case when puppies with painful mouths may not tolerate a full awake examination. Conscious examination at our facility revealed severely comminuted maxillary fractures, epistaxis, fractured deciduous teeth, and a large oronasal communication that spanned the width of the maxilla at the level of the deciduous maxillary third premolar teeth (Figure 2). Appetite was still poor.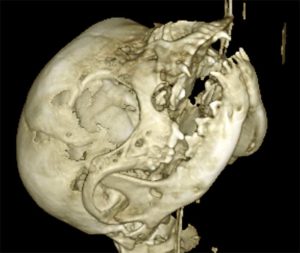 We placed Lucy under general anesthesia and performed a cone-beam computed tomography (CBCT) scan. The image showed transverse comminuted fractures of the maxillary, nasal, and frontal bones at the level of the maxillary third/fourth premolar teeth (Figure 3). There also was marked overlying subcutaneous edema, hemorrhage, and emphysema. The temporomandibular joints and mandibles were within normal limits. CBCT also documented a conscious examination finding of a large open fontanelle without trauma to the calvarium.
We explored the areas of intraoral trauma and removed floating pieces of bone that appeared to have lost their blood supply. An adult tooth bud of the right maxillary third premolar was within the fracture line and mobile, so this also was removed. The soft tissue defect of the patient's hard palate was closed using a 4-0 poliglecaprone 25 in a simple interrupted pattern.
An esophagostomy feeding tube was placed in the patient to provide nutrition and ease of administration of medications.
Required follow up
Lucy was rechecked frequently by her primary care veterinarian, and eventually her appetite returned. Her esophagostomy tube was removed, and after five weeks of healing, she returned to our facility for a conscious oral examination. Clinically she was doing well—prior swelling had resolved (Figure 4). Lucy's mom did report nasal congestion and decreased nasal air flow. No oronasal defects were seen, but an anesthetized examination was recommended in the future to further assess the repair.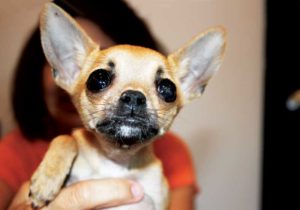 Young dogs with significant maxillofacial trauma may have a long road ahead of them, since multiple surgeries may be necessary to repair palatal defects and to deal with sequela of trauma to the forming permanent teeth beneath the gingival margin. Lucy's nasal structures will be reassessed with a repeat CBCT in the near future to see if anything can be done for suspected nasal stenosis secondary to trauma.
John Lewis, VMD, FAVD, DAVDC, practices dentistry and oral surgery at Veterinary Dentistry Specialists and is the founder of Silo Academy Education Center, both located in Chadds Ford, Pa.