Suggested Veterinary Products
The University of Pennsylvania School of Veterinary Medicine (Penn Vet) will soon sport a robotics-controlled imaging system for use in the standing and moving horse. Penn Vet says it is the first veterinary hospital in the world to own the revolutionary technology, which was created by Four Dimensional Digital Imaging (4DDI) of New York City. The equipment will be installed in New Bolton Center's high-speed treadmill building in December.
The Equimagine imaging system consists of four robots that can perform multiple modalities: CT, fluoroscopy, tomosynthesis, digital radiography and a high-speed radiographic camera and will be able to operate at up to 16,000 frames per second. The system will be used in conjunction with a high-speed treadmill.
Existing CT systems require the horse to be anesthetized, and are limited to the parts of the animal that fit into the cylindrical machines, Penn Vet noted. The Equimagine system's robotics-driven design provides an unlimited range of motion and unencumbered access to the horse's entire anatomy. The quality and resolution of the real-time images created with the system far exceeds existing technology, according to Penn Vet.
"This will revolutionize equine imaging," said Barbara Dallap Schaer, VMD, Dipl. ACVECC, Dipl. ACVS, medical director of New Bolton Center, Penn Vet's large-animal hospital. "The open structure of the scanner will allow us to capture high-quality CT images of the standing horse that we have had difficulty imaging before. We will be working to develop protocols to diagnose problems in the lower neck, back, pelvis, and upper part of the legs."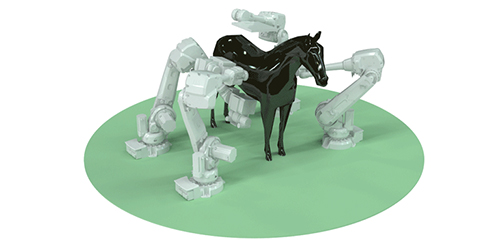 Four Dimensional Digital Imaging (4DDI)
The open structure of the scanner will allow Penn Vet's New Bolton Center to capture high-quality CT images of the standing horse.
The new four-dimensional imaging is much more detailed and can help to identify not only a fracture, but also its specific characteristics: location, depth and breadth, according to Dean Richardson, DVM, Dipl. ACVS, chief of surgery at New Bolton Center. He anticipates using the new technology to help prevent injuries, especially in racehorses.
"We believe that the technology will allow early identification of horses with incomplete 'occult' fractures in areas that can proceed to catastrophic failure," Dr. Richardson said. "We also are interested in working with other researchers around the world examining the relationship of the three-dimensional structure of a horse's bone and its risk of fracture."
A dedicated specialist from 4DDI will work with New Bolton Center clinicians during the first year to develop the capabilities of the system.
The acquisition was funded in part by a gift from the estate of Mimi Thorington. Additional gifts will be sought to integrate the new technology into the clinical and research programs at New Bolton Center.