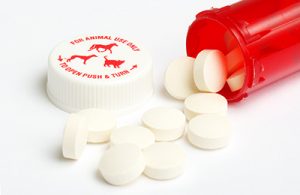 Following a plea agreement, former Orange County veterinary drug salesman Sean Gerson, 49, received a 30-month prison term for his part in spearheading an online pet drug ring. Gerson's sentencing follows a six-year federal investigation into his involvement with multiple websites, illicitly selling veterinary drugs.
Last September, Gerson conceded to heading a criminal group that imported, transported, and sold foreign-branded, misbranded, and unapproved prescription animal drugs and parasiticides, with most business conducted online under his company, Vaccination Services. He had been involved in the illicit trade since 2002.
Gerson also admitted to intentionally defrauding/misleading the U.S. Food and Drug Administration, selling unregistered and foreign-branded products to undercover law enforcement agents, and amassing at least $2.5 million from the illegal sale and purchase of pet drugs and parasiticides.
As part of his plea deal, Gerson agreed to surrender $2.5 million in assets and pay a $200,000 fine in addition to his prison sentence.
To read more, click here.