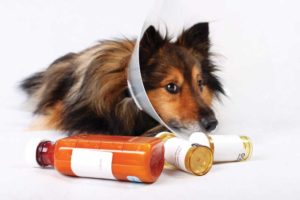 If you're not nervous about your hospital's pharmacy, you should be. Consider the following: King of pet e-commerce, Chewy.com, is a subsidiary of PetSmart and was valued at $4.75 billion after the company went public in April 2019.1 To tap into the lucrative millennial market, Walmart launched an online pet pharmacy and will have 100 veterinary clinics inside its stores within 12 months.2 Amazon offers Wag, its private-label dog food, with free shipping for Prime members. Millennials are Amazon's most frequent shoppers, with 79 percent purchasing items in the past month, while 64 percent of American households are Amazon Prime members.3
As if running a small business isn't hard enough, now e-commerce giants and mega-retailers want to steal your veterinary hospital's pharmacy business. To beat their marketing muscles, you need proactive business strategies. Here are approaches that will get results:
Send refill reminders. Just as you send reminders for vaccines, refill notices for preventatives and long-term drugs are a must. If a client buys six months of preventatives today, she may forget to reorder.
Prompt clients with texts, emails, and app notices to refill medications. Texts are best because they have a 99 percent open rate.4 Health-care emails only have a 33 percent open rate.5 Print on prescription labels, "Refill this medication through our website, app, or text (555) 555-5555."
Talk to the client—don't fax back. If you sign and return the fax to the internet pharmacy, you may never refill this prescription again. 1-800-PetMeds uses online marketing, television advertising, direct mail, email marketing, live web chat, refill reminders, and mobile app with an "ask-the-vet" feature. The company's reorders (known as refills) totaled $241.8 million, representing 85.3 percent of all its sales.6
Before calling the client about a prescription for heartworm preventatives, confirm the pet has had an exam and heartworm test within 12 months. If the patient is overdue, you have an opportunity to make an appointment.
If the pet is up to date, explain, "We received a request from <internet pharmacy> for Max's heartworm preventatives. Dr. <Name> checked your dog's medical record and confirmed he has had an exam and negative heartworm test within the last 12 months, which is necessary for him to take medication safely. To help you choose the right pharmacy for Max, our hospital offers safe, guaranteed drugs we buy directly from the pharmaceutical company. We know the drug representative personally, get regular training on medications, and offer competitive prices. Let me tell you about our savings on <brand name>. If you love home-delivery, we have an online store, and I can help you place your first order now." Use the veterinarian's name to reinforce the importance of the doctor-client-patient relationship.
Have your own online store. Partner with veterinary distributors to let your clients get home-delivery of medications and diets with auto-ship benefits. You set product prices, and clients pay your retail price plus shipping, handling, and applicable taxes. Products with rebates and free doses are eligible. A study of 100 practices with more than 6,000 patients compared compliance of home-delivery users to nonusers.7 Pet owners in the home-delivery group bought 8.9 more doses of parasiticide per patient.
Set up auto-shipments. If the pet owner never runs out, he won't be tempted to price-shop. Use an auto-ship strategy for over-the-counter and prescription drugs. If a client buys six months' worth of heartworm preventatives, set up one auto-ship refill in five months when one dose will remain. Implementing an auto-ship strategy would increase compliance for 12-month dispensing. Because a heartworm test will be due at the completion of one automatic refill, you will send reminders for the exam, heartworm test, prescription renewal, and other preventive services.
Shift food to home-delivery. During exams, help clients set up their first online order with recurring shipments. Tell pet owners, "Here's your starter bag. Let's get you signed up for home delivery and place an order today. It will arrive on your doorstep in three to five days." Home delivery appeals to busy working professionals, seniors who don't want to drive or carry heavy bags, and millennials who order lots online.
Look at the footprint food storage consumes in your practice. Let's say your food room is 400 sf, and you shift half of your clients to home-delivery. Keep 200 sf for food storage and remodel the other 200 sf into an exam room. Veterinary architects estimate clinical areas such as exam rooms generate $1,045 annual revenue per square foot.8 The 200 sf previously used for food storage now generates $209,000 annually in medical income.
Don't be a quitter and assume "this too will pass." Tally the sales you're losing. If you call the client and don't win back the prescription, make a copy of the internet or retail pharmacy request. Write the dollar amount the client would have spent with your hospital. At the end of the month, add up the pharmacy sales you lost. This wake-up call may persuade you to hurry along your business strategies to get your pharmacy back. Nothing motivates like money!
Wendy S. Myers, CVJ, has been training veterinary teams for more than 20 years as owner of Communication Solutions for Veterinarians in Castle Pines, Colo. She helps health-care teams improve telephone and communication skills that result in getting more pets the medical care they need. Myers shares her expertise through conferences, online courses, and monthly CE credit webinars. She is a certified veterinary journalist and author of five books. You may reach her at wmyers@csvets.com
or www.csvets.com.
References
1 Chewy. Wikipedia. Available at: https://en.wikipedia.org/wiki/Chewy_(company). Accessed June 18, 2019.
2 Gibson K. Attention, pet owners: Walmart will see your furry friend now. CBSNews.com. Posted May 7, 2019. Available at: https://www.cbsnews.com/news/walmart-online-pet-pharmacy-and-in-store-veterinary-clinics-compete-against-petsmarts-chewy-com/?fbclid=IwAR0zwT_LA GlpeetltPEHIZJ_MCLQOZA7nNYn2CKl093Pk5EHwYMFZfnsVk. Accessed June 20, 2019.
3 Leadem R. 17 Incredible Amazon Prime Facts and Stats. Published June 25, 2018. Available at: https://www.entrepreneur.com/slideshow/304271. Accessed March 28, 2019.
4 Burke K. 63 texting statistics that answer all your questions. Text Request. Published May 24, 2016. Available at: www.textrequest.com/blog/texting-statistics-answer-questions/. Accessed March 14, 2019.
5 Brudner E. Email Open Rates by Industry: See How You Stack Up. Published June 14, 2019. Available at: https://blog.hubspot.com/sales/average-email-open-rate-benchmark. Accessed July 2, 2019.
6 2019 Annual Report. PetMed Express Inc. Available at: https://www.1800petmeds.com/images/aboutus/PetMedExpressAnnualReport2019.pdf. Accessed June 18, 2019.
7 Home Delivery: Essential Services for Improving Patient Outcomes and Pharmacy Performance. VetSource, 2017. Available at: http://vetsource.com/wp-content/uploads/2018/05/Vetsource_Home-Delivery-White-Paper_2018.pdf. Accessed March 28, 2019.
8 Where Does Your Facility Generate Revenue? DVM360.com Published Aug. 1, 2005. Available at: http://veterinaryhospitaldesign.dvm360.com/where-does-your-facility-generate-revenue