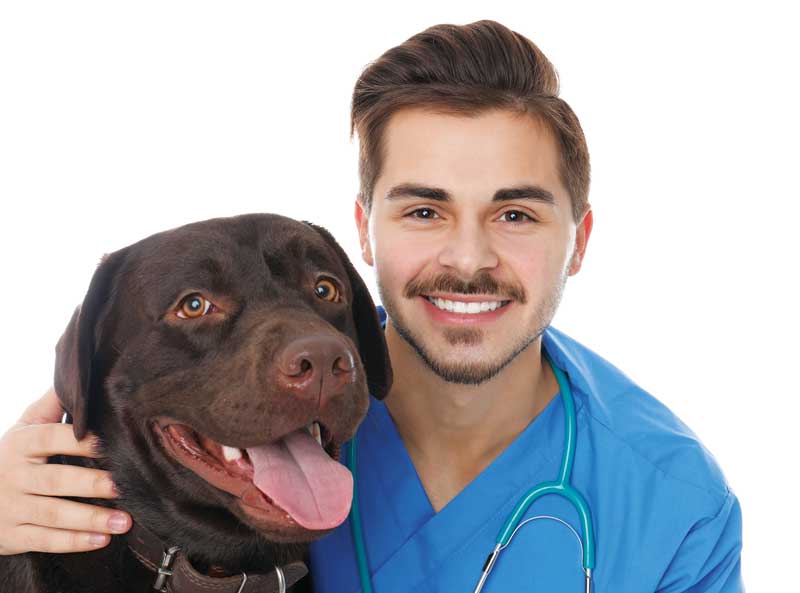 Dr. Smith has been struggling to hire an associate veterinarian for months. She's working extra hours, including Saturdays, to meet the demand and is exhausted. The trickle of applicants for the job is disappointing. Dr. Smith can patch her temporary doctor shortage by using technicians as physician assistants.
Established in the mid-1960s, physician assistants are licensed to help deliver primary medical care under the supervision of a physician.1 In 2020, there will be a projected shortage of 20,400 primary care physicians in the U.S., with physician assistants and nurse practitioners helping to lessen the gap.2 The U.S. Labor Department forecasts a "faster-than-average" 18 percent growth in jobs for veterinarians between 2018 and 2028.3 Despite signing bonuses, student-loan payoff assistance, shortened workweeks, and enticing salaries, private and corporate practice owners are grappling to hire associate veterinarians.
Just as physician assistants are filling the gap in human health care, veterinarians should consider the same strategy. With more than 1,000 hospitals in the U.S. and Canada, Banfield Pet Hospitals initiated technician appointments to streamline patient care and utilize technicians at the top of their skill sets. The corporate group expected to complete 30,000 credentialed technician appointments in 2019.4 Leveraging support staff can provide huge financial payoff. A survey found that for every credentialed technician a practice employed, the hospital generated $161,493 more in gross revenue.5
Make the most of the talent you have
Here's how to leverage technicians and assistants to work at the top of their skill sets:
Step 1: Identify types of appointments technicians and assistants will see. Evaluate employees' education, experience, and skill sets. Follow state guidelines on which duties they may perform (bit.ly/39ISy5j). Veterinarians focus on diagnosing, prescribing medications, and performing surgery (see the article on the opposite page titled, "Leverage your team: What technicians can do"). The National Association of Veterinary Technicians in America (NAVTA) defines a veterinary technician as a graduate from a two-year college program accredited by the American Veterinary Medical Association (AVMA).6 Most states require a technician to pass a credentialing exam. On-the-job trained or noncredentialed employees are classified as veterinary assistants.
Step 2: Determine what you'll charge for technician appointments. Consult your state's practice act to see whether you may charge fees for technician and assistant appointments or only those with a licensed technician.
Some practices don't charge for technician appointments, assuming they'll earn profits on the services delivered and save on doctors' time. Others don't charge a technician appointment fee if a doctor performed an exam within two to four weeks. For example, the veterinarian did a comprehensive exam on a puppy's first visit, and three weeks later the puppy receives vaccines from a technician. A hospital may waive the technician appointment fee for specific services, such as drawing blood for preanesthetic screening prior to surgery because the lab test needed to be done closer to the surgical date or if tests or vaccinations were split because the patient was too stressed during the first visit. Once you make a list of all duties technicians and assistants will perform, decide on fee versus no-fee visits.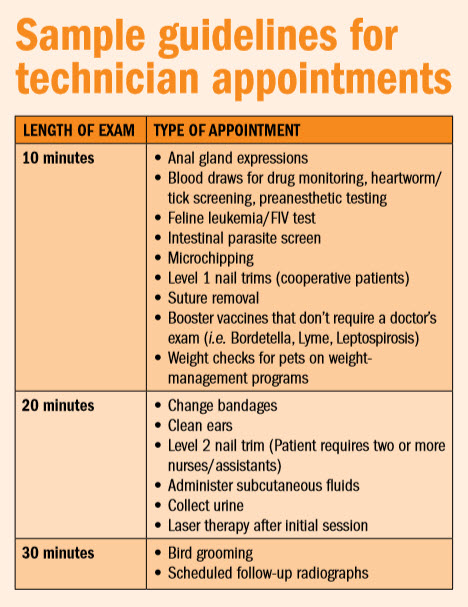 Because labor is among your practice's top expenses, I advise charging for technician and assistant appointments. The key is demonstrating value for services your nursing team provides. To show value, technicians and assistants should begin appointments as nurses would in physicians' offices: getting patients' vital signs, asking brief history questions, and updating medical records. Licensed technicians also should wear name tags or embroidered uniforms with their credentials, reinforcing their role in the medical team. Reserve the term "exam" for services veterinarians provide, while using "health assessment" for appointments with technicians or assistants. "Health assessment" is terminology used in the nursing profession.4
Consider two options for pricing technician appointments: 1) Charge a percentage of the doctor exam fee, or 2) Calculate your rate based on technicians' average hourly wage. Let's say your exam fee is $60. The health assessment would be half or $30 if provided by a licensed technician or a third or $20 if delivered by an assistant. The 2019 average hourly pay for a technician was $15.8 If staff costs are 20 percent of revenue, a technician needs to generate $75 per hour in income. When calculating your total staff costs, include employee benefits of CE allowance, uniform reimbursement, health insurance, worker's compensation, and other benefits. Divide $75 income per hour by 60 minutes for a rate of $1.25 per minute for technician time. Use a similar calculation to determine assistant appointment fees.
Create tiers of technician appointments based on time and complexity of the service. A Level 1 technician appointment is 10 minutes and used for quick tasks such as nail trims. The technician appointment fee would be $12.50 ($1.25 per minute times 10 minutes) plus the cost of the nail trim. A Level 2 20-minute appointment for a bandage change would be $25 plus the bandage charge. A Level 3 30-minute bird grooming appointment would be $37.50 plus the service.
Have a staff meeting before implementing fees so you may explain the "why" behind the charge to employees. They'll also need to know, should clients question fees.
Step 3: Create guidelines for technician appointments. During a staff meeting, distribute guidelines so everyone knows which appointments will be deferred to technicians and assistants (see the article to the right titled, "Sample guidelines for technician appointments"). Everyone must follow the scheduling guidelines. Imagine four cooks making soup, and no one is using the same recipe—disaster!
Step 4: Set hours for technician appointments. Based on your staffing levels, you may not be able to offer walk-in technician appointments. Clients will experience longer wait times if they visit during mornings when technicians are consumed with prepping surgical patients and providing nursing care to hospitalized patients.
Set specific times when technician appointments are available. If inpatient or surgical technicians will handle these appointments, book them after surgical procedures are finished. Technician appointments might be offered between 1:30 p.m. to 3:00 p.m. and 5:30 p.m. to 7:00 p.m. Survey clients about their preferences for technician appointment times. That said, most pet owners will want to visit late afternoon (after school) and early evening (after work).
Create a technician column in your schedule just as you have for doctor appointments. Designate which inpatient or surgical technician(s) will handle appointments each day. If no technician appointments are booked, employees continue their treatment or surgical duties.
Some practices see three to four hours of technician appointments daily. These visits multiply revenue, free up doctor time, and increase employee satisfaction because they're practicing at the top of their licenses or skill sets. Like Dr. Smith, you may find this strategy fills gaps in doctor coverage and becomes a valuable income source.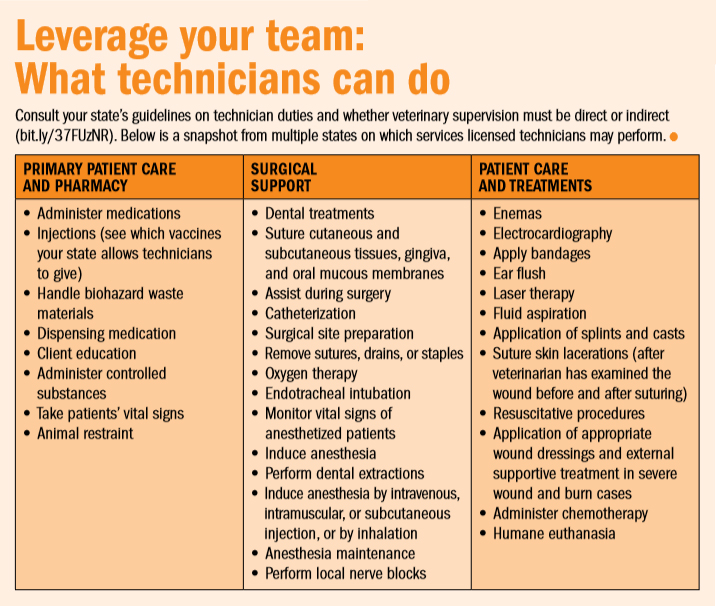 Wendy S. Myers, CVJ, has been training veterinary teams for more than 20 years as owner of Communication Solutions for Veterinarians in Castle Pines, Colo. She helps health-care teams improve telephone and communication skills that result in getting more pets the medical care they need. Myers shares her expertise through conferences, online courses, and monthly CE credit webinars. She is a certified veterinary journalist and author of five books. You may reach her at wmyers@csvets.com or csvets.com.
References
1 Cawley J. Physician Assistants and Their Role in Primary Care. AMA Journal of Ethics. May 2012. Available at: https://journalofethics.ama-assn.org/article/physician-assistants-and-their-role-primary-care/2012-05. Accessed Jan. 2, 2020.
2 Projecting the Supply and Demand for Primary Care Practitioners Through 2020. Health Resources & Services Administration. Available at: https://bhw.hrsa.gov/health-workforce-analysis/primary-care-2020. Accessed Jan. 3, 2020.
3 Lau E, Fiala J, Wogan L. Does Hot Job Market Mean There's a Veterinarian Shortage? Professional Grapples With Responding to Swings In Demand. VIN New Service. Available at: https://news.vin.com/vinnews.aspx?articleId=55451. Accessed Jan. 3, 2020.
4 Banfield to Offer Technician Appointments. Veterinary Practice News. Published Oct. 15, 2019. Available at: https://www.veterinarypracticenews.com/banfield-to-offer-technician-appointments. Accessed Jan. 3, 2020.
5 Rose R, Mikita D. Leveraging Your Team to its Max. Veterinary Practice News. Published March 4, 2019. Available at: https://www.veterinarypracticenews.com/leveraging-your-team-to-its-max. Accessed Jan. 3, 2020.
6 NAVTA FAQs. Available at: https://www.navta.net/page/faqs. Accessed Jan. 6, 2020.
7 Guide to Good Nursing Practice Health Assessment. Available at: https://www.nchk.org.hk/filemanager/en/pdf/health_assessment_e.pdf. Accessed Jan. 6, 2020.
8 How Much Do Veterinary Technician Jobs Pay Per Hour? ZipRecruiter. Available at: https://www.ziprecruiter.com/Salaries/How-Much-Does-a-Veterinary-Technician-Make-an-Hour. Accessed Jan. 6, 2020.