Suggested Veterinary Products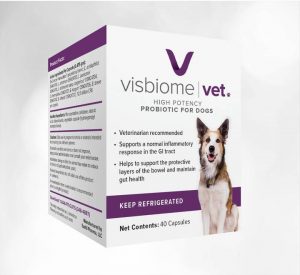 ExeGi Pharma announced two new clinical partnerships with the University of Georgia College of Veterinary Medicine and the University of Tennessee to study the company's Visbiome Vet probiotic in domestic dogs.
Both studies will evaluate the probiotic's effectiveness in managing canine gastrointestinal disorders.
Visbiome Vet is an eight-strain probiotic compound with a high concentration of beneficial bacteria (112.5 billion bacteria per dose); the product has been the subject of four controlled clinical trials thus far.
The University of Georgia will research effects of the product on diarrhea levels in dogs postsurgery. The placebo-controlled study will evaluate the incidence and severity of diarrhea, as well as changes to the canine microbiome.
The second study, conducted by the University of Tennessee Institute of Agriculture, will evaluate reduction of severe diarrhea in canine acute gastroenteritis after consumption of Visbiome Vet. This placebo-controlled study will compare the safety and efficacy of Visbiome Vet to dietary changes with a specifically formulated medical diet, or antibiotics (metronidazole).
"Gastrointestinal disorders are a common cause for pet owners to seek the medical care of a veterinarian," said Al Jergens, DVM, PhD. "Modulating the gut microbiome with high potency probiotics may prove to be a valuable tool to help these pets manage clinical signs of GI disease, including diarrhea."
Visbiome Vet is available exclusively through veterinarians and veterinary pharmacies.