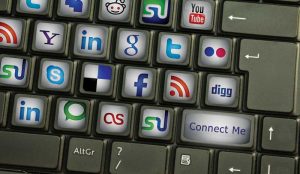 Whether you actively use social media to market your skills or casually (as the majority of us do), every time you post on a site, you are leaving a lifelong impression. As such, what is your online outreach saying about you and your career?
Rules of etiquette
When considering rules of social media etiquette, it's as simple as asking yourself, "Is this thoughtful or thoughtless? Is this considerate or inconsiderate?" Here are just a few examples of what we mean:
Thoughtless: Taking screenshots of a client's pet off the clinic's computer and posting them for comment on Facebook. Even though no specific client information was shared, consider how the client would feel if she saw them.
Thoughtful: Having a client with a service dog in for an exam and asking his or her permission to post a picture of the two of them. You also can use this as a talking point with your team members on ways to improve care for these special animals and people.
Inconsiderate: Posting on a management site, "How does ABC Veterinary Clinic get away with offering deep discounts for employees? I'm not insinuating they are doing something illegal, but I know for a fact they aren't entering it on the employee's payroll as taxable income."
Considerate: Posting a message on someone's personal page when they are having a difficult time. You could write something along the lines of, "It appears you may be struggling with some internal turmoil and may be going through a difficult time. I'm available if you want to talk to someone." Staying free of judgment and offering support is hugely important to coworkers as you may not fully understand what is going on with them.
Facebook
When was the last time you critically evaluated what you post on your Facebook page? Hopefully, your answer is not too long ago. If not, consider the following.
We rarely use this word, but always consider your Facebook page and posts as public! Further, always consider how your posts will be viewed as professional or lack thereof. And never (another word we tend not to use often) post comments about drug use or slanderous/derogatory statements about employers or coworkers (past or present). In fact, err on the side of caution whenever in doubt.
Consider the following as reported on jobsite, Career Development Blog. "A Mr. W, who was a former employee at telecoms company EE, made frequent references to the workplace as 'Dante's Inferno.' He was subsequently reported to the company by his 'Facebook friend' (who also happened to be his work colleague) for both being in breach of the company's social media policy and because the comments were influencing other staff who also were his online friends. Mr. W was given warnings, but continued to make comments about how he disliked where he worked—even though the company wasn't mentioned by name. He failed to stop posting adverse comments and even made harassing and bullying Facebook comments against the colleague he suspected of reporting him. The tribunal held that Mr. W's dismissal as a result of his Facebook postings was fair."
Five dos and don'ts for Facebook
Even though Facebook may be more casual than LinkedIn, it's wise to choose a professional-looking profile picture.
Fill out the biography with short and concise information highlighting your activities within reason.
Connect with organizations, links, and news reflecting your interests and industry to establish positive connections.
Aim to post information that appeals to a wide audience since you probably have more than one follower.
Finally, choose a tone and words you would feel comfortable using in person since you never know who is reading your page.
LinkedIn
LinkedIn is perhaps the largest networking website for professionals (such as yourself), businesses, job seekers, and those looking to fill positions within their company.
Networking guarantees you are working beyond your current circle of friends and colleagues. As such, consider how someone will recognize you from your profile photo. When connecting with veterinary professionals through LinkedIn and before we meet for coffee or at an event, we view their LinkedIn profile (and/or Facebook page) to see what they look like and to learn more about them.
Filling out your profile fully helps others to see who you are; doing so also can generate a well-rounded résumé. Consider how your past experiences contribute to the skills you currently possess. Also, think about the first impression your profile makes to a potential employer.
Always keep in mind, LinkedIn is considered a network of business professionals and your presence on this platform is different than it is on your Facebook page. Choose connections that will build your career network. When you connect with someone, you are essentially endorsing that person and 
vice versa.
Crafting your résumé and cover letter
You have six seconds to catch the eye of a manager reading your résumé, and 10 to 15 seconds to retain his or her attention with your cover letter. If you want a job, you must make an incredible statement about yourself, your skills, talents, and offerings in less than 30 seconds! Remember, you are your greatest asset! Let your knowledge, creativity, skill, and personality shine!
Creating a good first impression via email
Consider how many emails you send in a day. With each one, you are making an impression, and some are certainly first impressions. You never know when an email recipient may become a possible employer or new colleague.
Answer objectively the following questions:
1) If your email address is luvsbunnies@gmail.com, what is that saying about your level of maturity?
We strongly recommend you use at least your last name and credentials, thus giving a professional impression.
2) Is your email going to the correct person?
It takes just a moment to verify an address, saving potential embarrassment if it's incorrect.
3) Does the subject line properly identify the email's content?
While it's great to have a written record of important conversations, it can be difficult to later find the email thread using a search if the subject line is not appropriate.
In addition, when the email threads get too long and confusing, create a new subject line properly identifying the new conversation.
4) Are you presenting yourself as a professional before the recipient even reads what's written in the body of the email?
The elephant in the room
Are managers looking at your Facebook and LinkedIn page when hiring? There are right and wrong ways a hiring manager can incorporate the inclusion of social media into the process. However, if it happens, what will your social media image say about you?
Is it time for a social media overhaul?
Now is a great time to objectively review the posts on all your social media platforms, as well as the pages you frequent. How are you portraying yourself as a professional? If you aren't, we recommend you take heed and clean it up. Invite a trusted family member or a fellow professional to objectively review the image you have created on social media. Make your lifelong impression one worth having!
Resources
Professionalism in your social media, Rebecca Rose, CVT, CATALYST VetPC, April 2018, catalystvetpc.com/professionalism-in-your-social-media/
Implications of abusing social media the workplace, Jobsite, April 2015, bit.ly/2Qci6lu
Facebook Etiquette Dos and Don'ts, PC World, 2008, bit.ly/2Q98tE1
Social media recruiting understand the legal guidelines, Melanie Berkowits, Esq, Monster, bit.ly/2Pz9OAe
The best and worst profiles on LinkedIn, bit.ly/2KY9DfH
Rebecca Rose, CVT, director of possibilities at CATALYST Veterinary Practice Consultants, has a diverse background in the veterinary community, working in and managing clinics, collaborating with industry partners, and facilitating engaging team workshops.
Denise Mikita, MS, CVT, CATALYST's manager of possibilities, brings extensive knowledge in practical clinic experience, organizational management, and team dynamics. Combined, the authors have more than 50 years' experience in elevating veterinary teams. In addition, they have sat on veterinary councils, led state and national professional organizations, and have volunteered for animal welfare groups. Rose and Mikita can be reached via getCATALYST@CATALYSTVetPC.com.