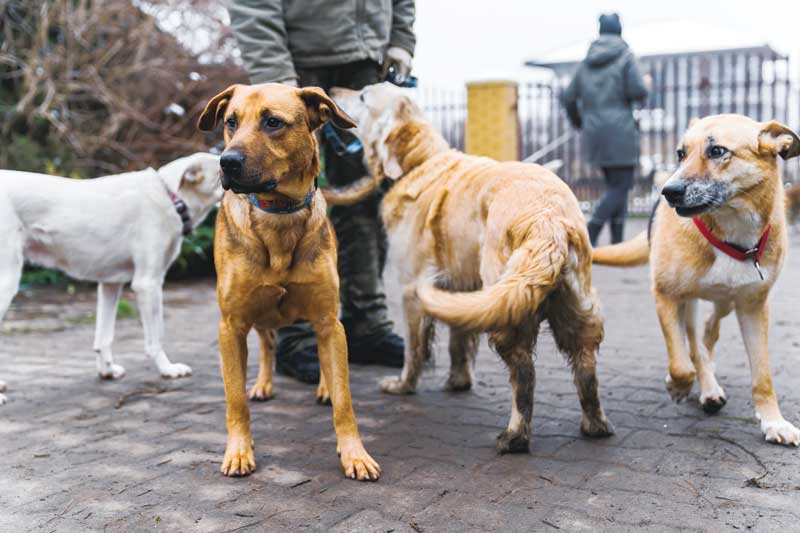 Rabies pre-exposure prophylaxis (PrEP) recommendations were recently amended by the Centers for Disease Control and Prevention (CDC); they replace the previous three-dose PrEP schedule with a two-dose one. They, in part, base this decision on various risk categories, now divided into five subtypes. Further changes in the recommendations include titer monitoring, how often and for whom, and the minimum acceptable titer limit.
Are these recommendations medically sound? Are they in the best interest of those at risk of exposure? What does the evidence say?
A global risk
In 2018, the World Health Organization (WHO) characterized rabies as a "neglected zoonotic disease," annually responsible for killing approximately 60,000 people. Thanks to massive vaccination campaigns in dogs and some wildlife populations, general rabies exposure awareness in many groups, post-exposure prophylaxis (PEP) for individuals with suspected exposures, and
with PrEP for individuals with high-risk exposure, rabies is preventable.1 Prevention remains paramount for a disease that is almost universally fatal.
For the general world population, especially in rural, underserved communities, where canine rabies remains rampant, and often medical care access and affordability are lacking, rabies remains a key global public
health threat.
For those in the veterinary community, regardless of where we live or work, our exposure generally relates directly to the type of work we conduct. Recommendations for PrEP have been re-evaluated to consider not just those with veterinary risk, but those in all communities and various risk levels. Further, the three-dose protocol travel vaccination requirements for endemic locales necessitated beginning vaccinations up to three weeks or more in advance. The updated protocols improve travel protection.1
Before 2022, the PrEP standard included a three-booster rabies protocol and recommended checking blood titers every two years. Boosters were recommended if titers dropped lower than 0.5 IU/ml , but this level was only loosely based on immunological studies.2 Updated recommendations globally provide lower overall vaccination costs, are less involved to ensure compliance, and conform to the WHO's recommendations.
New recommendations
The CDC's Advisory Committee on Immunization Practices (ACIP) recently amended the rabies PrEP recommendations. What does this mean for you and your staff? Does scientific evidence support this decision, or is the basis made due to healthcare cost concerns, accessibility, and poor compliance?
In May 2022, the CDC published a Morbidity and Mortality Weekly Report (MMWR)3 that amends previous rabies pre- and post-exposure prevention and monitoring. Long overdue for evaluation; the last time this issue was revisited was in 2008.
The CDC's acknowledgment there was a lack of adherence to the rabies PrEP and PEP guidelines was a motivating element in the review. This failure to adhere is secondary to:4
Out-of-pocket costs are often necessitated for PrEP vaccinations and titers. Members with some insurance (liability/disability) through the American Veterinary Medical Association (AVMA) Trust may be eligible for rabies vaccination and titer testing reimbursement.
Risk categories–previously not well understood or clear regarding recommendations for at-risk groups.
Titer monitoring non-compliance.
On risk categories
The CDC has amended the categories of risk of rabies exposure. Five categories now define risk, and these then dictate the degree of vaccination and titer monitoring recommended (Figure 1).5 Veterinarians and veterinary staff fall into category three.
For veterinarians and those with related risks, the recommendations include:
PrEP: Two doses at days zero and seven
One-time titer check after one year up to three years or single booster three weeks to three years after the initial two-dose vaccinations
Detailed recommendations can be found in the CDC's MMWR report,3 including information on the "management of long-term immunogenicity6 for hypothetical patients" who are compliant, not in compliance with vaccination/titer recommendations, and are exposed based on risk category three status. The chart reviews actions recommended given rabies exposure for a variety of scenarios.
So why bother getting PrEP? It may help protect individuals with higher exposure risk from unknown exposures and allows for a more simplified PEP course with known exposures.6
What does the evidence say?
In a retrospective study by Parize et al.,6 researchers evaluated 498 individuals vaccinated with the two-dose protocol. Results suggested 17.2 percent of those immunized with only one dose had insufficient antibody response compared to only 0.5 percent of participants after a booster. The researchers inferred obtaining a subsequent booster after the primary vaccination may replace monitoring via titers over time. This study had several limitations, was retrospective, and had several limitations due to the observational nature of the study.
However, in most cases, randomized controlled trials are not options for research related to rabies for ethical reasons. Thus, observational studies must be evaluated individually and cumulatively when considering the overall evidence.
In a systematic review and meta-analysis by Langedijk et al.,7 36 studies were reviewed. The reviews sought to evaluate the antibody response to rabies vaccination after boosters. Results showed while lower antibody levels were produced for the intradermal route (ID) (newer vaccines and recommendations) compared to the intramuscular route (IM), both modalities demonstrated sufficient antibody response after immunization boostering. Since antibodies may persist for long periods, regardless of the titer status, in combination with PEP, successful prevention of clinical disease
is achievable.
Finally, the researchers discuss several study limitations and note that while the 0.5 IU/mL threshold is used by the WHO and CDC as the titer cut-off, we do not have sufficient studies available to determine if this level correlates with ideal protection.
A more recent systematic review and dose-response meta-analysis by Xu et al.8 reviewed 80 studies. Findings demonstrated multiple dosing schedules via either ID or IM injections effectively provided immunity. However, they noted that various factors play a role in the dosing schedule and modality (ID vs. IM) utilized. The individual's risk level, needs, costs, dose availability, and the time needed to complete the schedule play a role. Their study also indicated that older individuals show a less robust antibody response and may warrant additional boostering or titer monitoring. Suggesting that a blanket statement of two doses and one booster without any titer monitoring may vary with an individual's risk level, age, and immune status.
Because systematic reviews and meta-analyses represent the highest levels of evidence (Level 1), the evidence does support the CDC's recommendations since the end goal is not ultimate protection but is to provide some protection in high-risk environments with the expected outcome to include PEP. The quality of the evidence varies with moderate (B) and high (A) grading of recommendations assessment, development, and evaluations (GRADE) noted.9–11
What knowledge gaps still exist?
Further research must ensure these newer recommendations remain protective for those at risk. This research should include:
Evaluating gaps in assessing non-inferiority of new rabies PEP and PrEP protocols–three vs. two doses; monitoring titers vs. a single booster.
Assessing if recommendations for the immunocompromised and subsequent monitoring and PEP remain effective.
Continued research to improve vaccine shelf-life and temperature stability. Considerations for vaccines effective against other lyssaviruses in endemic areas of concern should also be considered.
Long-term serial titer monitoring should be undertaken to ensure the new protocol without boostering or checking titers past three years is sufficient to maintain immunity for sufficient durations–with current evidence, it is unclear if further boostering will be needed.
º The study by Langedijk7 only followed those boostered for 10 years. Titers dropped significantly after the first year and then slowly over time. Further monitoring to determine when approximately titers wane below the recommended threshold would provide additional information and may suggest boostering 10 to 20 years down the line holds a benefit.
º The author's titers were monitored every two years as a National Veterinary Response Team member, Vaccination with the three-dose protocol started in 2000 permitted sufficient titers until 11/2021 when titer levels dropped below the threshold, and a booster was administered. Recheck titers six months later showed an appropriate 10-fold rise in antibody levels, considered protective. However, current studies do not yet extend past 10 years, making it hard to determine when subsequent boostering may be warranted.
Studies to further evaluate the threshold titer level of 0.5 IU/ml should be undertaken to determine if this titer level truly represents adequate protection.
The WHO's 2018 recommendations and the updated 2022 CDC protocols aim to ensure more efficient rabies vaccination schedules and provide dose-saving and cost-saving vaccination protocols while improving access to PEP for life-saving measures. WHO recommendation updates from 2010 to 2018 include changes in dose, PEP and PrEP regimen durations, and post-exposure treatment with immunoglobulin therapy. Furthermore, they suggest switching from IM for PrEP to ID injections aids in vaccine affordability, access, and ease of administration. The CDC's evaluation and recommendations parallel the WHO's findings with regards to dosing frequency, boostering, and titer requirements. However, the CDC does not incorporate ID vaccine delivery as a recommended method at this time.
The bottom line
Based on current evidence, the CDC determines this two-dose schedule with a booster at one year and no later than three years after the initial two vaccines is protective. These changes were deemed warranted partly due to healthcare costs and poor compliance. Additionally, rather than testing blood titers and then re-boostering if values are low, they state simply boostering the vaccine provides an acceptable alternative. This may save costs for many.
However, since these recommendations are novel, we lack comparison studies of the two-dose protocol with one booster or one titer vs. those who received the three-dose protocol and have been obtaining titers diligently every two years. However, are these new recommendations enough to protect those at acceptable risks, such as veterinarians and related personnel in risk category three?
Ultimately, we must decide what works for each individual by evaluating our risk levels. We must establish protocols for our staff and work within the cost constraints and insurance requirements of all involved. However, rabies is almost 100 percent deadly, and further research is needed to ensure these recommendations do not have negative consequences.
Since, regardless of vaccine status, you will receive PEP if direct contact with a rabies-confirmed or suspected patient occurs, the CDC posits routine titer monitoring is unwarranted at this time. Suppose one still elects to use titers for monitoring purposes, even when properly vaccinated. In that case, the CDC still recommends using > 0.5 IU/mL as protective, which aligns with current guidance from the WHO.4 In the scheme of things, will these updated protocols make much of a difference in the veterinary community's vaccine compliance? It is too early to tell.
Regardless, we must keep in mind a One Health perspective. Environmental, human, and animal health are all intertwined, and recommendations pertaining to a likely fatal zoonotic disease have broad-reaching implications for many. Could these recommendations for other populations at risk improve access and protection? Quite possibly the updated guidelines demonstrate high-level evidence to support use with the caveat that PEP will be utilized. If one is concerned about their exposure risk, checking titers routinely or boostering due to concern for waning titers remain appropriate options at any time.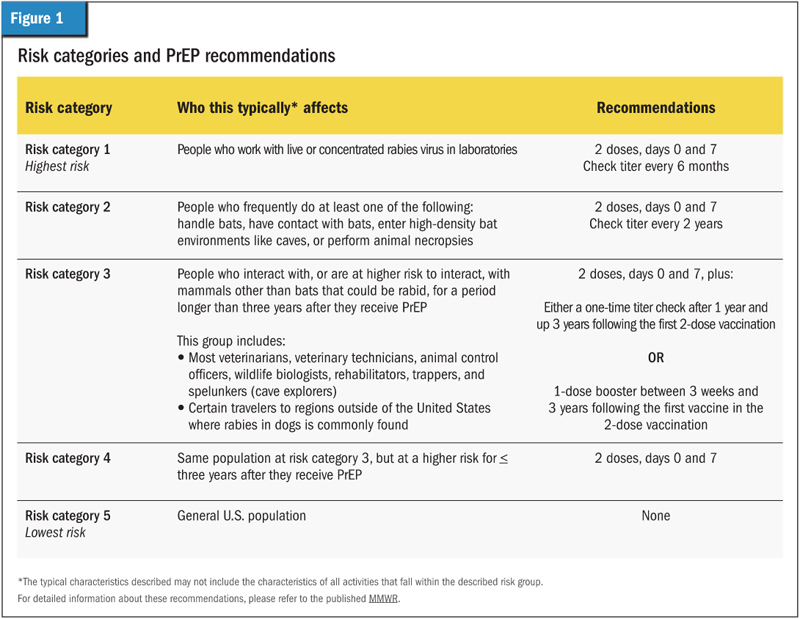 Erica Tramuta-Drobnis, VMD, MPH, CPH, is the CEO and founder of ELTD One Health Consulting, LLC. Dr. Tramuta-Drobnis works as a public health professional, emergency veterinarian, freelance writer, researcher, and consultant. She is a member of the Evidence-Based Veterinary Medical Association (EBVMA), with different members writing this column. While all articles are reviewed for content, the opinions and conclusions of the author(s) do not necessarily reflect the views of the EBVMA or Veterinary Practice News. For information about the association, visit https://www.ebvma.org.
References