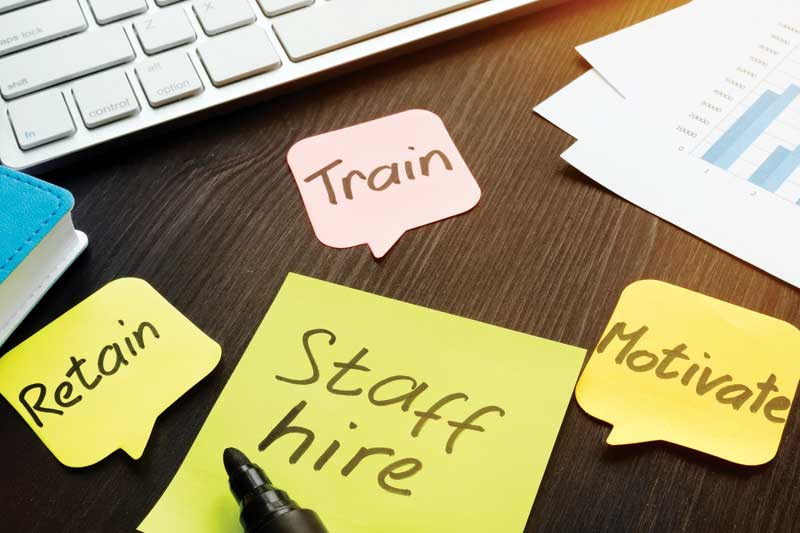 Veterinary team retention is good for the veterinary hospital, client satisfaction, and patient care.
That seems to be a winning combination. We know turnover within the veterinary community is higher than other industries,1 but for today, let's focus on keeping the team members you currently have.
Winning combination for team retention
Keep your team engaged, growing, and satisfied.
Core values and common purpose
Implement training programs
Establish career goals
Compensation and benefits
Shared values and common purpose
When was the last time your team explained their personal motivators and the things they love about delivering veterinary medicine? Rarely is a team allowed the time to share such important, relevant concepts about the work they do together. However, it is their shared values (motivators, beliefs, joy, and passion) that is the foundation of the team's existence. Beyond the human-animal bond, your team has a unique set of values. Get the most out of it! Values are the ties that bind and build satisfying careers.
Ask your team to simply fill out the following statements and questions to get the ball rolling. Ask them about their beliefs in being a veterinary professional. Collate the responses to fully define shared values. It's a powerful exercise.
In regard to:

serving pets, I believe….
serving veterinary clients, I believe…

being a part of an efficient, skillful veterinary team,

I believe….

my personal time and satisfaction, I believe….
my personal career passion, I believe…
my personal career wellbeing, I believe….
I hold _______ in high regard when it comes to my time.
I hold _______ in high regard when it comes to providing veterinary care.
Some examples of commonly shared values include:
I believe each day it is my responsibility to give my best for the pet, pet owner, and veterinary team.
I believe in trustworthiness, continually learning, and training.
Helping your team know and understand their purpose supports their need to be a part of a bigger picture and provides direction and unity. Identifying shared values helps keep everyone aligned. Establishing goals and vision gives them hope for the future.
In a previous article, "How a clear mission can spur purpose,"2 Veterinary Practice News readers were guided through a series of steps to establish team purpose and goals.
Examples of team purpose:
Treat each patient and pet parent with dignity
Work alongside team members with integrity
Be an integral and respected part of the local community
Examples of team goals include:
Receive favorable ratings on client surveys
Decrease team turnover to reflect other industry averages (15 percent)
Engage in three community events annually, as a team
Debrief traumatic team incidences with 24 hours
A team that is rowing in the same direction (on the same page) may share stronger values, understand the purpose of their work, and feel greater satisfaction.
BLS VETERINARY TECHNICIAN6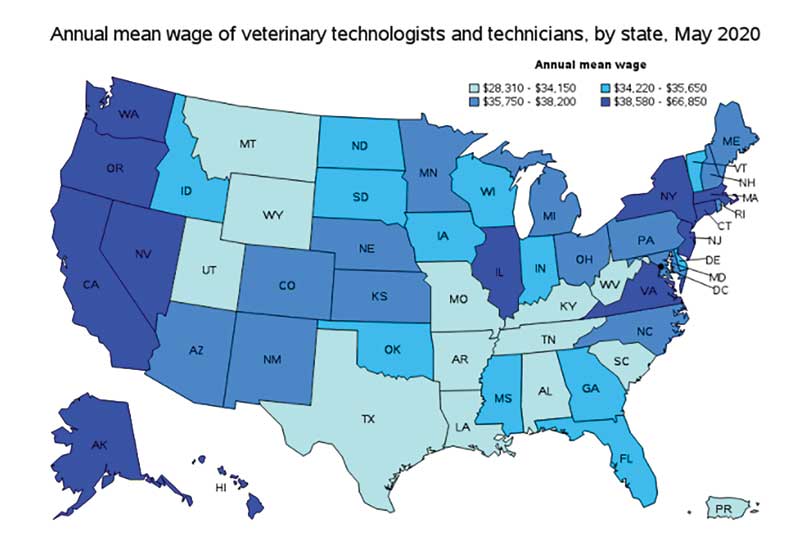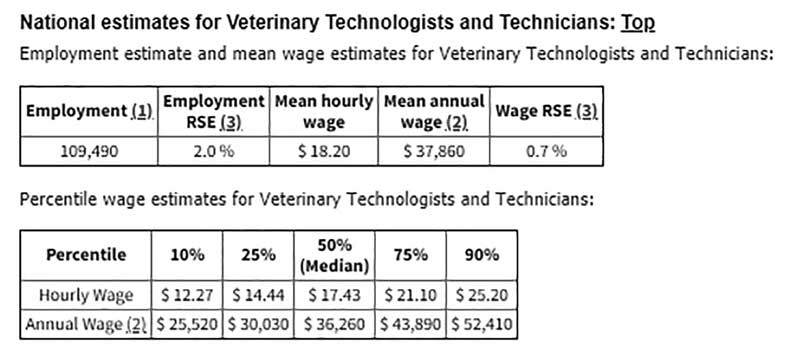 Implement training programs
Often new hires are thrown to the wolves without formal training or support (to include newly hired veterinarians regardless of their years delivering veterinary care), creating a sense of abandonment and lack of direction. You may have team members who have been on your staff for several years and are natural teachers. Embrace those valuable skill sets in training (career advancement in its own right), define an onboarding protocol, training programs, and set everyone up for success.
Onboarding new hires takes time, lasting several months to a year or more. It is a series of events to include orientation, reviewing policies, safety, weeks of formal training, and integration into the hospital's culture. The goal is to help the employee understand day-to-day job success, as well as how the individual's work contributes to the hospital's overall success, and helps fulfill its values, vision, and mission.3
"Research suggests the first 90 days of employment are more critical than we think in terms of retention. The Wynhurst Group found 22 percent of employee turnover happens in the first 45 days of employment. BambooHR found one-third of 1,000 individuals (3.3 percent) survey quit a job within six months of hire," writes Casandra Carver with Astron Solutions, a consulting firm a HR consulting and talent management group.4
Once new hires are trained, consider the many ways your team can create internal training classes of their own. How about asking your seasoned veterinary technicians to offer a 30-minute presentation at each of the monthly team meetings? They choose the topic of their choice, write the handout, build the slides, and enlighten the other team members on the topic. Certainly, a win/win situation!
Establish career goals
Your team members may not see their time with you as a way to grow their career. To them, there is a "glass ceiling," and it is relatively low. Cruise the threads in veterinary team-related social sites to read the discontent.
To be honest, there are myriad ways your team can grow within your veterinary hospital, increasing veterinary team retention. I spoke with a veterinary professional this spring and she was charged up to learn of all the ways she could advance her skills and be a greater asset to the veterinary hospital. For her, for the first time, there was a glimmer of hope for her to stay within the veterinary field.
Career advancement examples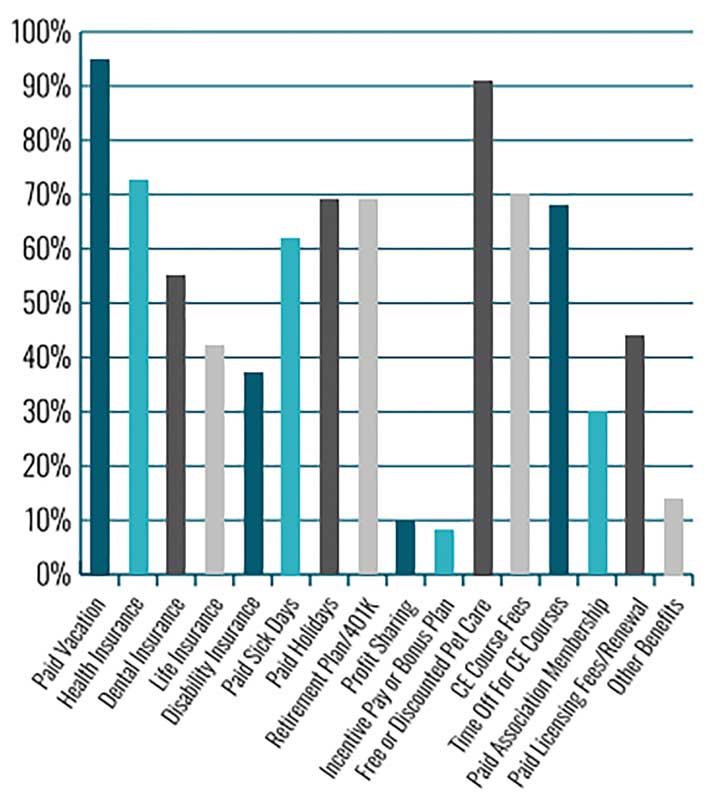 One example: let's say you have a veterinary assistant who does an exceptional job in the exam rooms and delivery of outpatient care. Help her identify ways she can take on more responsibilities in that area. Possibly oversee the stocking and creation of puppy, kitten, adolescent (six months to a year of age), and senior kits. Establish a goal of sending home literature on pet health insurance, heartworm prevention, or parasite control with each pet owner. This may include tracking kits walking out the door (a good thing), recordkeeping, and client education. Maybe she has a knack for creative endeavors, and she can design a monthly bulletin board in the reception area. These goals can be identified and followed for a year. The following year, build on the successes and generate the next level of duties and tasks.
Another example: a savvy, motivated veterinary technician is having her second baby (this was my story!). She wants to stay relevant and engaged within the practice, needing a schedule allowing for evening hours when her husband can be with the children. She introduces a job description to include an evening shift with inventory management, tracking lost charges, and calling owners of surgical patients.
The growing demands in telecare, specialty procedures, and hospice care creates a plethora of innovative opportunities to design unique, individual career paths for all members on a veterinary team.
The point is, work directly with each team member in identifying what they are passionate about and elaborate on that passion. Career goals can be linked with performance reviews and include routine check-ins and monitoring for success.2
Team members that have career goals and supported in their development are more satisfied, leading to higher veterinary team retention.
Compensation and benefits
These two topics are intentionally last because, in my experience, veterinary team members are driven by a supportive work environment, opportunities for advancement (which might include a pay raise), and pulling together as a team behind shared values and purpose even though managers may feel job satisfaction is related to the wage and benefits. There is often a disconnect at this juncture. Yes, offering a competitive wage and benefits package is important in addition to the previously stated solutions in team retention.
You may be surprised by the incredible information you can mine from the Bureau of Labor Statistics for veterinary technicians and veterinarians, specifically. This is my go-to site for searching wages, mostly because I like the interactive state and regional details. (See two images from the site, showing colorful wages for data collated for May 2020.)
Quantifying the veterinary team benefits package may be a way to retain team members simply because few understand the value of the packages. As an example, one veterinary hospital may pay $18 per hour without a benefits package. Another hospital may pay $16 per hour with a hefty benefits package worth $6,000 and profit sharing. Now that's a great package! Generally, benefits are equal to 20 percent of an annual wage. If a veterinary technician is being paid $37,000 annually, a 20 percent benefits package may have a value of $7,400. When was the last time you quantified the value of your benefits package?
There are a number of surveys conducted by various veterinary organizations. The American Animal Hospital Association (AAHA), Veterinary Hospital Managers Association (VHMA), and National Association of Veterinary Technicians in America (NAVTA) collate compensation and benefits surveys. NAVTA's 2016 Demographic Survey7 is free and can be found on its website. In its document, benefits packages depict a descriptive graph showing a larger percentage of respondents who receive paid vacation, discounted pet care (be careful to track services over 20 percent of a team member's income), and health insurance.
How does your benefits package stack up against other companies? (Refer to graph.)
Now that you have a recipe for greater team retention, what are you going to do with it? Consider rolling out the ideas during upcoming team meetings to engage in conversations around shared values, improved team training, onboarding, career advancement and quantifying the benefits package.
BLS VETERINARIAN6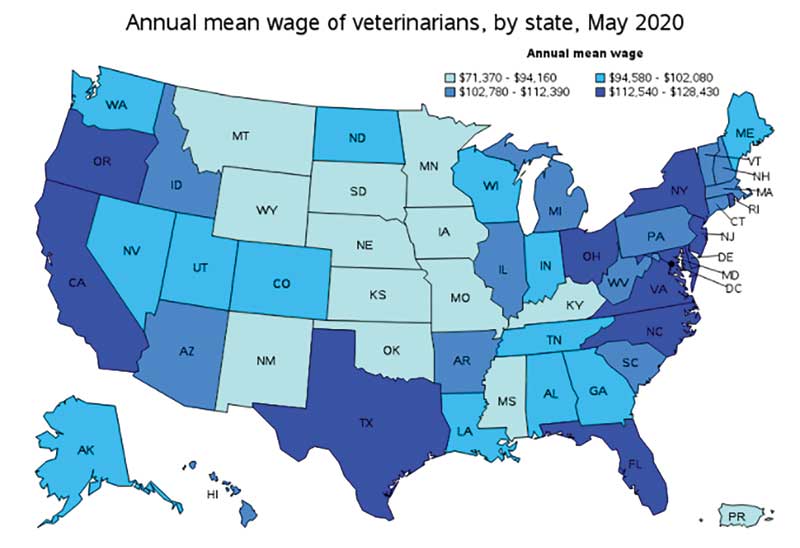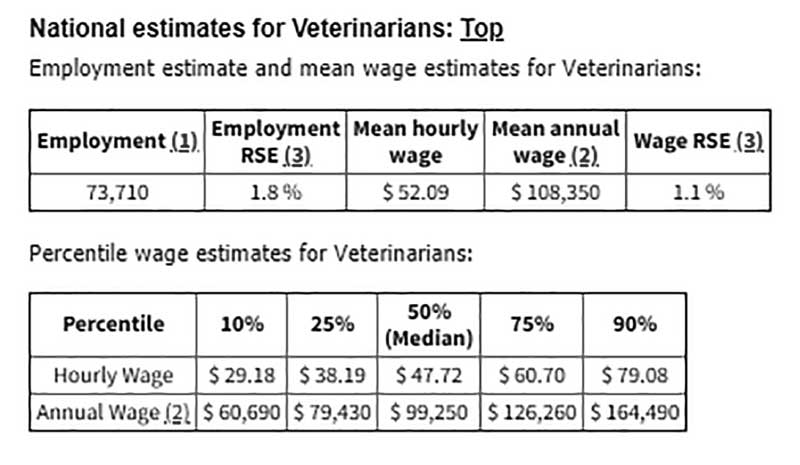 Rebecca Rose, CVT, certified career coach, founder, and president at CATALYST Veterinary Professional Coaches, has a diverse background in the veterinary community. She has worked in and managed clinics, collaborates with industry partners, and facilitates engaging team workshops. Her most current role includes outreach specialist for Lap of Love Veterinary Hospice. Rose's enthusiasm for professional development in veterinary medicine is contagious, as she encourages and supports veterinary teams in reaching their highest potential. She can be reached at Rebecca@LapofLove.com.
References
1 Moving your team from morphing to performing, Rebecca Rose, CVT, Veterinary Practice News, May 2021
2 Deliver Innovative Performance Reviews, Rebecca Rose, CVT, Veterinary Practice News, May 2018,
https://www.veterinarypracticenews.com/delivering-innovative-performance-reviews/
3 Is Onboarding the Key to Better Team Retention? Rebecca Rose, CVT and Denise Mikita, MS, CVT, Veterinary Practice News, January 2019, https://www.veterinarypracticenews.com/is-onboarding-the-key-to-better-team-retention/
4 The Onboarding and Retention Relationship, Cassandra Carver, Astron Solutions, April 2018 http://astronsolutions.net/onboarding-retention-relationship/
5 How a Clear Mission can Spur Purpose, Rebecca Rose, CVT, Veterinary Practice News, September 2017, https://www.veterinarypracticenews.com/clear-mission-can-spur-purpose/
6 Bureau of Labor Statistics, https://www.bls.gov/
7 NAVTA Demographic Survey 2016, https://cdn.ymaws.com/www.navta.net/resource/resmgr/docs/2016_demographic_results.pdf