Suggested Veterinary Products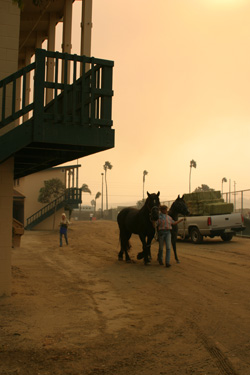 Since mandatory evacuations began in San Diego County, Calif., because of a series of out-of-control wildfires, about 2,500 horses and hundreds more dogs, cats, birds and other small animals have found shelter at the Del Mar Fairgrounds in Del Mar, Calif., says Kina Paegert, representative for the fairgrounds.
Paegert says that the small animals are well taken care of seem to have plenty of supplies, but they are in dire need of supplies for the horses, including hay, large five-gallon jugs of water, halters and leads.
The situation is much more controlled than the wildfires of 2003, also known as the Cedar Fires, because horse owners were prepared early for evacuations and took precautions. "In 2003, we had people with lost horses and horses with lost owners," she says. "This time all of the owners seem to be here with their animals."
Del Mar Fairgrounds is at capacity and hasn't accepted any more people or animals since yesterday. Paegert says they've sent some horses to the HITS Desert Horse Park in Thermal, Calif., just east of Palm Springs. However, Donna Vale, a representative for the Thermal horse park, says that no equine evacuees have arrived at Thermal.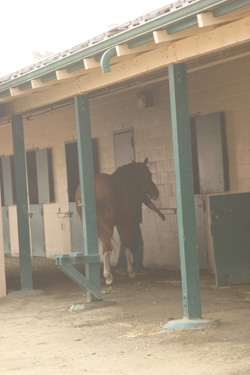 "We have had enquiries, but will have to wait and see if they actually come our way," Vale says.  "We have 1000 permanent stalls on the grounds and supplies readily available."
Paegert encourages people who can bring donations come to the fairgrounds at  2260 Jimmy Durante Blvd., Del Mar, CA 92014 or call (858) 755-1161 for more information. She is uncertain of how donations coming from out-of-state will get to the fairgrounds at this time.