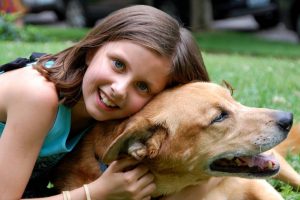 A survey conducted by Banfield Pet Hospital says there is a correlation between pets and professional achievements.
According to the survey, 93 percent of C-suite executives, the highest-level executives in senior management, surveyed in the U.S. grew up with a pet, with 78 percent attributing their career success in part to owning a pet as a child.
"At Banfield Pet Hospital, we've long recognized the special bond between people and their pets, as well as the positive impact pets have on our society," said Brian Garish, president of Banfield Pet Hospital.
"From the pet ownership lessons we learned as children, to the ways our four-legged friends currently help us evolve, connect with others, and stay grounded, our latest research supports the notion we've had all along—there may be a link between pets and their ability to help shape us as people."
Banfield's survey found childhood pet ownership may influence business success, and it isn't just dogs and cats having a positive impact. While more than four in five (83 percent) C-suite executives surveyed grew up with a dog, and almost three in five (59 percent) grew up with a cat, nearly two in five (37 percent) grew up with pets, such as birds, rabbits, or rodents.
Nearly a quarter (24 percent) of those surveyed said their childhood pet taught them more valuable lessons than their first internship. C-suite executives feel their pets also helped them to develop other important leadership skills, including discipline (92 percent), organization (79 percent), and the ability to identify and anticipate business needs (38 percent).
In addition, almost all current pet owners surveyed reported they stick to a schedule or routine (86 percent), have better time management (86 percent), and are good at multitasking (86 percent) because of their pets. Sixty-two percent of C-suite executives surveyed believe pets had a positive impact on their ability to build relationships with coworkers and clients.
When it comes to future generations, almost all (90 percent) of C-suite executives surveyed feel children would be more successful at school if they cared for a pet.