Follow Veterinary Practice News on Twitter at @vetpetnews.
A Texas veterinarian charged with animal cruelty admitted that five animals he intended to euthanize instead were kept alive at his clinic, and a veterinary technician reported that at least one of them was used for blood transfusions.
The case was thrust into the open Wednesday when an arrest warrant was issued for Millard L. Tierce III, DVM, on a felony charge stemming from the discovery of a crippled border collie at Camp Bowie Animal Clinic in Fort Worth, Texas. Dr. Tierce, 71, told a police detective that he had not treated the dog, which another veterinary technician said had been there for a year, and that he could not bring himself to euthanize the animal.
An inspection of the clinic a day earlier revealed unsanitary conditions. The Texas Board of Veterinary Medical Examiners reported that its investigators found animal organs in jars, bugs in exam rooms and "stacks of drugs, trash, laundry, paperwork and other miscellaneous material … strewn about the examination rooms, hallways, stairwells, operating room, laboratories and offices."
The board temporarily suspended Tierce's license pending a hearing May 9.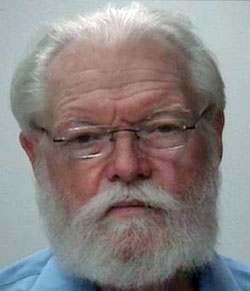 Dr.
Millard L. Tierce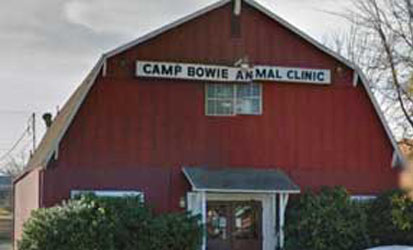 Camp Bowie Animal Clinic
Tierce, who was freed on $10,000 bond, told the Star-Telegram newspaper that the allegation about keeping a 170-pound Leonberger alive for use in blood transfusions was "all a bunch of hooey" and that the former vet tech who jump-started the investigation was disgruntled and "wanted to get me."
The Leonberger, named Sid, was returned to its owners after spending nearly a year at Camp Bowie Animal Clinic.
"The lady wanted me to euthanize their dog, but I just couldn't bring myself to do it," Tierce told the Star-Telegram.
Neither Tierce nor his former vet tech, Mary Brewer, could be reached to comment further.
The Fort Worth Police Department reported that the case remains open and that allegations of theft and animal cruelty are being investigated.
A spokesperson for the Texas Board of Veterinary Medical Examiners declined to comment on the investigation or on the possibility that animals were kept alive for use in blood transfusions.
YEAR-LONG STAY
Camp Bowie Animal Clinic came to the attention of authorities April 22, when Sid's owners, Marian and James Harris, complained to the state board that they took the dog to Tierce in May 2013 for treatment of a "minor anal gland issue."
Tierce told the couple he "wanted to perform cold laser therapy on the anal glands and to keep Sid at the clinic to do that," according to the board's Order of Temporary Suspension.
Weeks went by with the owners being told that Sid was getting better, according to the document, and when the Harrises saw him four months after he was admitted to the hospital, "he could not lift his hind quarters and slid across the floor to get to Mr. Harris."
Tierce told the owners that the lameness was a reaction to medication, the state board reported.
In October 2013—five months into his stay—Sid was diagnosed with a congenital spinal birth defect and Tierce recommended euthanizing him, the board stated. The Harrises paid to have their dog put down and were stunned last month when Brewer told them that Sid was still alive, was kept in a cage for all but 30 minutes a day and was "being experimented on."
The couple took Sid home and filed their complaint.
ANIMAL NEGLECT
The animal cruelty charge arose Tuesday when a police detective and Fort Worth Animal Control officers descended on Camp Bowie Animal Clinic. They found the border collie "lying in a box on the floor of an examination room … twitching in pain with one leg missing, one leg dislocated and two dislocated shoulders," according to an affidavit filed in support of the arrest warrant.
The detective, J.D. Brady, reported that veterinary technician Cynthia Welch stated that the border collie had been in the same spot since she started the job in June 2013. She also said the animal "was in the same poor condition today as it was … when she began to work there."
Brady spoke with Tierce, who said the dog was his, that it had not received medical treatment and that he had "not euthanized the dog even though in his professional opinion he knew it needed to be."
After an examination by Michael Morris, DVM, of Fort Worth Animal Clinic, the border collie was euthanized at the city animal shelter.
The Texas veterinary board's simultaneous inspection led to a handwritten statement from Tierce that "he had accepted five animals for euthanasia at his clinic and proceeded not to euthanize the animals."
Two other dogs found at the clinic and examined by Dr. Morris "were in such decrepit shape that they had to be euthanized," according to the board.
Tierce, a Texas A&M University graduate, received a measure of support on the university's TexAgs discussion forum. One client called him a "very quirky animal-loving man" while another described him as "one of those that you either love or you don't."
Previous: Texas Animal Clinic Under Investigation
Want more Veterinary Practice News? Go here.