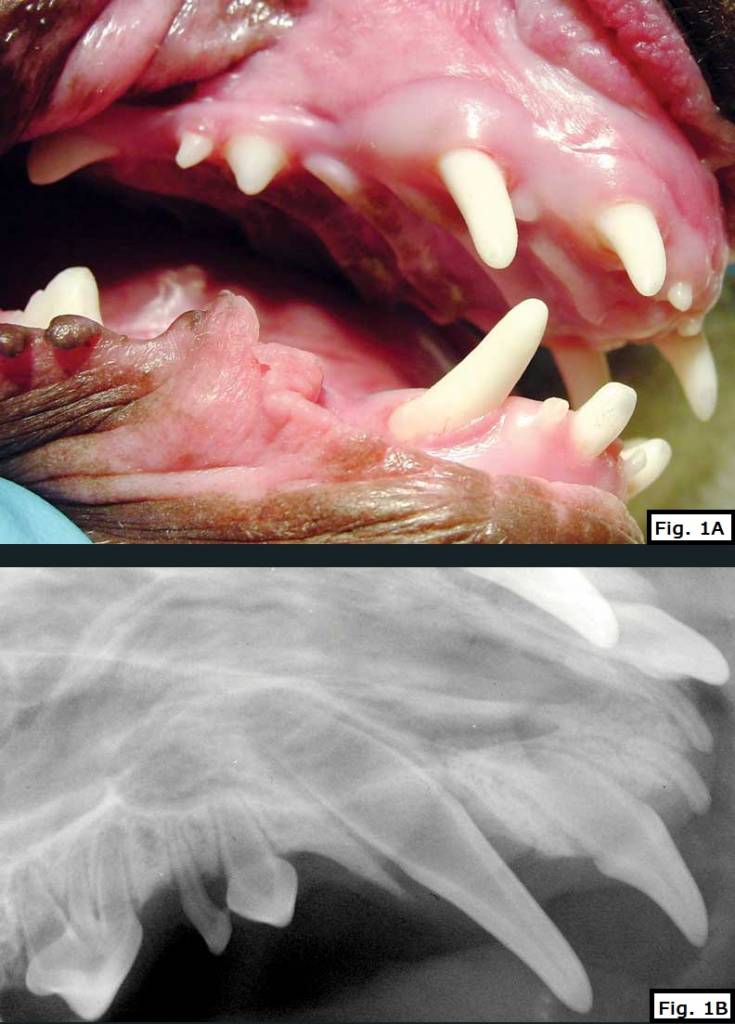 From time to time, I will pull out a "dental zebra" from the archives: a case that you won't see every day, but you'll see it at least once in your career. This month's zebra is one that you likely have seen before simply because it's been accepted as a standard in some dog breeds. If you've ever treated a Chinese crested dog, a Mexican hairless dog (a.k.a. Xoloitzcuintl), or a Peruvian hairless dog, you've already seen the genetic disease that is the topic if this month's column: ectodermal dysplasia (ED). Chinese crested and Mexican hairless dogs are breeds affected by an autosomal dominant form of ED. Many other breeds are affected by recessive X-linked hypohidrotic ED (XLHED), including miniature poodles, Belgian shepherds, Labrador retrievers, bichon frisés, whippets, cocker spaniels, and mixed breeds of the miniature pinscher and Pekingese. Due to its X-linked nature, it tends to manifest in males.1
What characterizes canine ED
Ectodermal dysplasia in humans is usually noticed shortly after birth. The ectoderm is responsible for formation of not only the teeth, but also of structures in skin, including the sweat glands. As humans with ED are born without sweat glands, ectodermal dysplasia often will present with a fever of unknown origin in the newborn.2 Because dogs don't rely on perspiration for thermoregulation, dogs with ED do not present with a fever.
Margret Casal, DVM, Ph.D., DECAR, at the University of Pennsylvania School of Veterinary Medicine has studied XLHED. This condition is characterized by alopecia or sparse hair, inability to sweat, decreased lacrimation, frequent pulmonary infections, and missing and malformed teeth. Affected patients produce a defective protein, ectodysplasin A (EDA), encoded by the EDA gene.
Dental alterations can affect both the deciduous and permanent teeth. Delayed eruption of the permanent teeth in dogs has been documented with ED. Deciduous canine teeth are commonly persistent and crowd the erupted permanent canine teeth. In addition, deciduous canine teeth are often mesioverted (also referred to as "lance" or "spear" canine teeth) in dogs with ED (Figure 1).
One of the most prominent dental manifestations of ED is marked oligodontia (Figure 1). In humans, absence of teeth is more common on the mandible than the maxilla. The distribution of missing teeth in ED dogs varies. The incisor and premolar teeth are most commonly absent in affected dogs.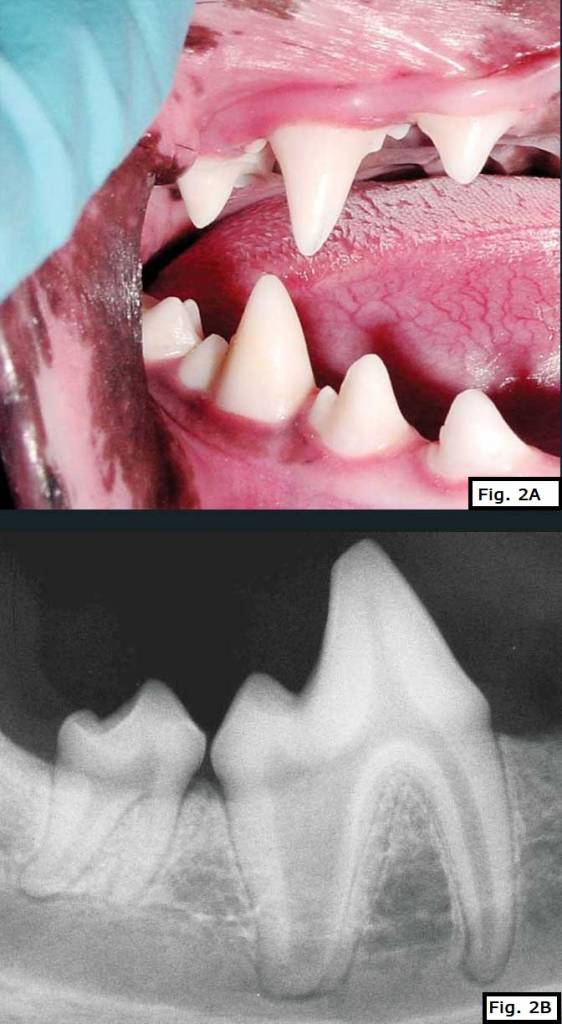 Teeth that are present may exhibit conformational abnormalities such as conically shaped crowns, often referred to as "peg" teeth. Peg teeth, when not referring to the maxillary second incisors in lagomorphs, refer to abnormally shaped teeth that are often smaller than normal (Figure 1). ED teeth often exhibit decreased numbers of roots compared to normal counterparts, fused roots, supernumerary roots (Figure 1 B), or dilaceration of the roots. In humans, anterior teeth tend to be conical in shape, while posterior teeth are reduced in size and number of cusps. In dogs, the conical shape of crowns is not limited to the anterior teeth, with the maxillary fourth premolar and mandibular first molar teeth being commonly affected (Figure 2).
Craniofacial abnormalities also have been documented in humans with ED. The face often appears smaller due to frontal bossing and depression of the nasal bridge. The lips can be prominent and the ears may be more prominent. A high palatal arch or even a cleft palate also may be present in humans with ED. As its development is dependent on the presence of teeth, edentulous areas show a hypoplastic or nonexistent alveolar process. In dogs, prominent lips are present in affected dogs at birth.
ED treatment options
Dr. Casal's research laboratory studies treatment options for the disease. As a canine model of human disease, the genetically missing EDA was compensated for by postnatal intravenous administration of soluble recombinant EDA. Untreated XLHED dogs have an incomplete set of conically shaped teeth. After treatment with EDA, significant normalization of adult teeth was achieved in four of five XLHED-treated dogs. Treatment restored normal lacrimation and resistance to eye and airway infections and improved sweating ability.3 This is but one example of the "one health" concept of veterinarians treating veterinary diseases that, in many ways, benefit the human species as well.
References
1 Lewis JR, Reiter AM, Mauldin EA, Casal ML. Dental abnormalities associated with X-linked hypohidrotic ectodermal dysplasia in dogs. Orthod Craniofac Res. 2010; 13(1): 40-7.
2 Stiles FC, Weir JR. Ectodermal dysplasia presenting as fever of unknown origin. JAMA. 1955; 158(16): 1432-1433.
3 Casal ML, Lewis JR, Mauldin EA, et al. Significant correction of disease after postnatal administration of recombinant ectodysplasin A in canine X-linked ectodermal dysplasia. Am J Hum Genet. 2007; 81(5):1050-1056.
Dr. John Lewis practices veterinary dentistry and oral surgery at NorthStar Vets in Robbinsville, N.J.