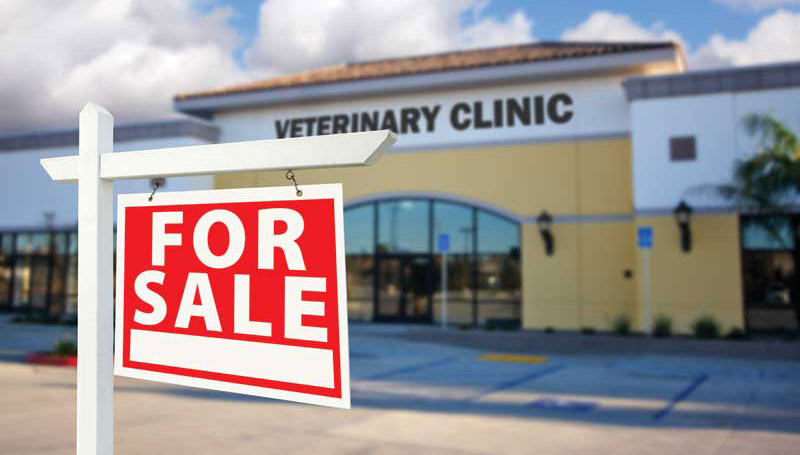 Today, there are a record-amount of veterinary practices selling to corporations. And many owners may decide to sell to corporate because this seems like the easiest way to exit their practice at the last minute because they are exhausted from a 30-year career. This can be a great idea for some; and for many, this might not be the exact path they had wanted when starting their practices. There are no dress rehearsals when selling a practice.
When preparing to exit a veterinary practice, or any business, there needs to be a process to help provide you with the results that are best for your own personal retirement income plan and to help mitigate risk and provide tax-efficient strategies that could be associated with your sale. Let's break this down a bit.
I hold a certified exit planner (CExP) designation and what we find time after time is that many practice owners are absorbed in the day-to-day operations. The goal is to eventually exit the practice, but this is something they will do when it is time. We find this time tends to be a rolling five- to seven-year period. Without taking the time and energy to prepare, the owner is completely exhausted and eventually throws in the towel.
This could potentially result in taking a low price for the practice, paying too much in taxes, or going with the best offer from the next buying group knocking at the door.
Step 1
Exit planning should be considered before someone starts or purchases a business. When I started our business, this was the first thing I looked at and took seriously. The idea of exiting seems too far out in the future so many neglect planning for it. This could mean they miss vital steps along the way. If you are a practice owner or looking to become a practice owner, consider the pre-exit planning process when planning for today and in the future.
The first step is to determine how you want to exit the practice. Have you ever considered or weighed the options? There are three distinct ways to consider (well, four, but this one is not something many people do).
Sell to another veterinarian, group of veterinarians, or practice managers (depending on if the state allows for practice ownership by someone who is not a veterinarian).
Sell to a buying group or corporation.
Keep the practice until you are unable to run it anymore.
Close the doors.
Do you have a preference? Have you ever considered which one you wanted?
Countless times practice owners tell us, "I want to sell to another veterinarian" and they put minimal energy toward doing this. The default way we see so many owners sell their practices is through a personal note. This is where the owner takes all the risk and the buying veterinarian uses future profits from the practice to pay the seller.
This can present many risks like double taxation, the seller being forced to come back if the practice profits decline, and it could provide the least amount of funds to the seller for retirement. Now you can see why so many owners will default to a corporate buying group. There is hope though! As long as you plan at least five years or longer in advance, you can help mitigate these risks and transition the practice.
Step 2
The second step is to understand your retirement income plan. The practice provided a wonderful lifestyle to you and your family. After you sell the practice, where do you go next?
The practice was likely generating 15 to 20 percent returns on gross profits, but now you are left with a sum of money.
An owner may go from a minimal risky veterinary practice to now investing their money into the stock market with hopes to generate the same income. Imagine your income today was reliant on how well the stock market performs each month. That is an incredibly scary thought for many, and I would not want that myself.
This plan is often called the interest-only retirement plan, and money will be invested in stocks, bonds, and dividend producing companies, which are supposed to produce interest to be used as income.1 The downside is there is a chance the income is going to be a lot less than expected. And keep in mind, this might not include unexpected health-related costs or the possibility of living longer than they had planned.
When taking a closer look at retirement, it helps to figure out the steps needed to continue living the same lifestyle. Start by organizing all your finances. Many people are somewhat familiar with what they have, and it is important to see everything from a bigger picture.
See how you are protected, what is available in cash, what outstanding debts there are, the overall investment philosophy, and what is the retirement income plan. You will gain a lot of clarity by doing this exercise, and it can give you confidence to what is needed when selling the practice.
Step 3
The third step is find out what your practice is worth. You are looking to produce income in retirement, and you want to know the amount needed from the practice sale.
There are many valuation types available. Depending on how close you are to selling, sometimes a basic valuation can be done to just get a rough estimate. This will give you a starting place and help with knowing what needs to be done before you sell the practice.
Some professionals you can approach have designations such as Certified Valuation Analyst (CVA) or Accredited in Business Valuation (ABV). These individuals can help with a valuation based on your location, practice type, profit history, overall size of the practice, and other factors.
Additionally, when selling to another veterinarian, there is an opportunity to sell a portion of the practice today and implement metrics for the buying veterinarian. These metrics can help determine when another percentage of ownership will be sold. You want to encourage the veterinarian to continue growing the practice and they will be sold another percentage of ownership at those growth points.
Step 4
The fourth step to consider is how will you continue growing the practice. The simplest place to start is to review your services' pricing model and find ways to minimize costs. If you are overwhelmed on where to start, consider hiring an accountant who is able to provide business consulting services.
Besides the overall numbers of your practice, your employees are the most valuable part. Ask yourself: How are you improving their lives and helping them become laser focused?
Owners will provide a 401(k), health insurance, and other ancillary benefits with the idea this will keep a thriving culture. The challenge is these benefits are often referred to as recruitment tools. They can pull people towards the practice, but may not help maintain the culture or keep people performing at a high level.
Another common example is bonuses. The owner picks a random amount each year or month and then gives the bonus to everyone. The bonus is appreciated for a few days and then afterward each person is wondering when they will receive the next one. And the problem is each person was given a bonus without doing something to earn it. Employee motivation and engagement will increase when they have control over how they receive the bonus.
Instead, consider the employees (e.g. veterinarians, technicians, managers) who could impact your time or profits if something happened to them. You should consider implementing compensation plans for these individuals to help retain them at the practice, a way to recover any costs when they leave early and connect the compensation to something that may be important to them. Some examples could include student loan repayment, children's education, and retirement.
The steps are simple, but the implementation can take time. The best time to start planning is now so you can get the most flexibility and control.
Tom Seeko has worked with practice owners and veterinarians since 2014. He is the cofounder of Florida Veterinary Advisors that work with veterinarians throughout the United States, Certified Exit Planner (CExP), business and personal financial advisor, and cohost of the Smarter Vet Financial podcast. 
Material discussed is meant for general informational purposes only and is not to be construed as tax, legal, or investment advice. Although the information has been gathered from sources believed to be reliable, please note that individual situations can vary. Therefore, the information should be relied upon only when coordinated with individual professional advice. Guardian, its subsidiaries, agents, and employees do not provide tax, legal, or accounting advice. Consult your tax, legal, or accounting professional regarding your individual situation. This material contains the opinions of the author but not necessarily those of PAS or Guardian. Registered Representative and Financial Advisor of Park Avenue Securities LLC (PAS). Securities products and advisory services offered through PAS, member FINRA, SIPC. Financial Representative of The Guardian Life Insurance Company of America (Guardian), New York, NY. PAS is a wholly owned subsidiary of Guardian. Florida Veterinary Advisors is not an affiliate or subsidiary of PAS or Guardian. CA Insurance License #0K80141. 2021-125145 (Exp. 8/23)
Reference
All investments contain risk and may lose value.