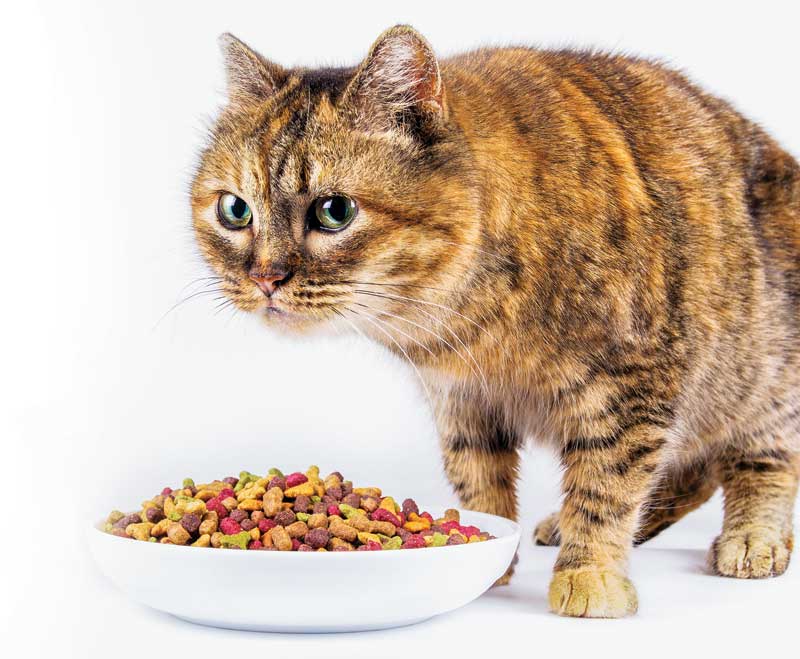 Cutaneous adverse food reactions (CAFR), also known as food allergies, are an immunological reaction to food allergens.3,8 CAFR is thought to affect about 20 percent of dogs, and up to 13 percent of cats with allergic skin disease.3,5
Proteins, such as beef, chicken, dairy, soy, fish, and eggs, are common allergens responsible for triggering food allergies in dogs and cats.2,3
The most common  signs associated with cutaneous adverse food reactions include the following: non-seasonal pruritus (commonly directed at the face and neck), perianal pruritus, anal sacculitis, otitis externa, and recurrent secondary infections.3,8 In some cases, concurrent noncutaneous signs of a food allergy can include: GI (vomiting, diarrhea, flatulence, etc.), conjunctivitis, respiratory signs, urticaria, seizures, and behavioral.3,7  Diagnosing or ruling out food allergies is an important step in the allergic workup in any pruritic pet. However, there is a lot of misinformation about the accuracy of food allergy tests.
Currently, elimination diet trials remain the gold standard for the diagnosis of cutaneous adverse food reactions in dogs and cats, but are they the best test? The short answer is yes, but with specific factors to consider.
What is it?
Elimination diet trials with prescription commercial diets, or home-cooked diets with subsequent protein challenges, are considered the most accurate test for diagnosing cutaneous adverse food reactions. It is performed by feeding a single novel or single hydrolyzed protein, and monitoring for improvement in cutaneous signs associated with CAFR.
If improvement is noted during, or by the end of the diet trial, subsequent protein challenges are recommended to confirm the diagnosis of a cutaneous adverse food reaction.
While the concept of elimination is relatively simple, diet trials can be very challenging with limited owner compliance due to the expense of prescription diets, long duration of the diet trial, and limitations of options for treats.
Therefore, it is important to understand the reasoning behind the many details of an elimination diet trials before making recommendations to pet owners.
Trial duration
A 2015 review by Oliviry, T., et al found the ideal duration of a diet trial is eight weeks. At the eighth-week mark, 90 percent of food allergic dogs and cats will have full remission of clinical signs associated with CAFR.1 Unfortunately, one of the main challenges with elimination diet trials is owner follow through.
The same review also found 80 percent of dogs will show improvement in clinical signs by five weeks, and 80 percent of cats will show remission in six weeks on a diet elimination trial.1 Shorter durations, while not ideal, may improve compliance and help diagnose cutaneous adverse food reactions in the majority of cases.
Diet trial options
Home-cooked diets are still considered the ideal option for elimination diets since they are free of any additives, which rarely triggers food allergies in dogs and cats. However, they are often not practical for pet owners to prepare, and are less likely to be nutritionally balanced. As such, most veterinarians focus on commercially available prescription novel protein or hydrolyzed protein diets for elimination diet trials.
Another challenge in diet trials is the expense of prescription diets, especially in larger dogs or multiple pet households, and many owners are hoping for a less costly over-the-counter alternatives. However, it is important to understand why these diets are not equivalent for a diet trial.
Studies looking at the labelled ingredients in commercial diets compared to ELISA or PCR results evaluating for unlabeled protein content have shown many over-the-counter diets labeled as novel or limited ingredient contain ingredients not listed on the label.6 The potential accidental exposure to unlisted ingredients makes no-prescription commercial diets an unreliable6 choice for elimination diet trials. To ensure accurate results, prescription novel or hydrolyzed diets are recommended to minimize unexpected protein sources that could skew the outcome of the diet trial.
Hydrolyzed or novel protein diet?
A novel protein is sourced from an animal that has not previously been exposed, and thus, the animal is unlikely to have any prior sensitization to that protein.
Prescription hypoallergenic diets historically focused on novel proteins, such as rabbit, kangaroo, and venison. With its recent availability in over-the-counter boutique, it has become less novel, making most prescription diets for elimination diet trials focus on hydrolyzed proteins.
Hydrolyzed diets contain proteins that are broken down in size to reduce the allergenicity of the molecules.2 Many of these are thought to be more palatable compared to novel protein diets, which may aid in owner compliance.2
Further, allergenicity is greatly reduced in hydrolyzed diets, with some patients allergic to the parent protein (i.e. chicken) reacting to the hydrolyzed versions of that parent protein.2,3 Although they have their drawbacks, hydrolyzed diets tend to be favored over novel protein based on many cases.
Saliva and hair testing
Unfortunately, many owners want to avoid the labor-intensive diet trial and are drawn to the allure of the easy and quick answers offered by saliva and hair allergy tests. These tests are often readily available pet supply stores and online. Saliva and hair tests are very affordable, simple to perform, and offer fast results.
However, several studies, including the 2019 study by Coyner, K. et al, found many companies offering these tests could provide no validation of their test's accuracy,9 making them an unreliable test for food allergies. Additionally, studies evaluating the accuracy of these tests have submitted samples from allergic pets, nonallergic pets, or fake controls (i.e. water for saliva and fake fur for animal hair),10 and have received similar variable, positive results amongst the groups.9,10 Finally, when the same samples were resubmitted, different results were received.9
Ultimately, due to the lack of reliability of results, hair and saliva tests should not be considered an accurate substitute for an elimination diet trial.
Serology testing
Serology testing measures allergen-specific IgE levels in blood samples. This test is commonly used in human medicine for the diagnosis of food-specific allergens. However, the reliability of serology testing in dogs and cats has been found to have low repeatability and high variability in accuracy.4
One of the major roadblocks for this testing method is the unknown role of IgE in the pathomechanisms of CAFR and neither the presence or level of IgE can accurately predict food allergies in dogs.11
Additionally, when serum results are challenged with food provocation tests there is marked variability in positive results and subsequent cutaneous reactions on challenge with the food specific allergens. This all supports the variable accuracy of these tests.4
Finally, it is important to note some companies offering these tests have included disclaimers on the results that note a diet trial is the gold standard for diagnosing food allergies.
Like most dermatology cases, cutaneous adverse food reactions are a life-long disease, but when accurately diagnosed, they can be easily managed with diet alone which makes the diet trial a very important diagnostic test.
Rebecca Mount, DVM, DACVD, earned her Bachelor of Science in biology from the University of New Mexico in 2005, and her doctorate of veterinary medicine from Colorado State University College of Veterinary and Biomedical Sciences in 2009. Following graduation, Dr. Mount completed an internship in small animal medicine and surgery at Garden State Veterinary Specialist in New Jersey. She began her residency with Dermatology for Animals in 2010, and became a diplomate of the American College of Veterinary Dermatology in 2014.
References