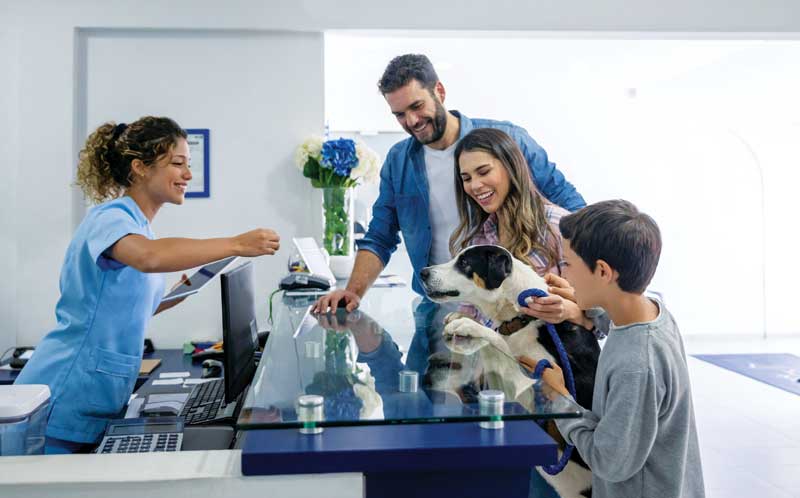 Among the more challenging aspects of being a veterinarian is balancing economics and emotion when discussing care for pets.
Those who dedicate their career to caring for animals are sympathetic by nature and, thus, understand the emotions involved when speaking with clients about the health of their pets. To be successful, veterinarians need to develop long-term connections with their clients. Building trust helps ensure clients are more receptive to veterinarian's recommendations, which help pets get the care they need, as highlighted by the American Veterinary Medical Association (AVMA) Language of Veterinary Care initiative.1
One of the best strategies to help build stronger relationships is to proactively reinforce the benefits of preventive care and address costs head on. Doing so helps foster open, transparent conversations with pet owners when addressing both health and financial concerns.
To put the costs in perspective, in 2021 alone, $123.6 billion2 was spent on pet care in the United States, and, of that total, $34 billion was spent in veterinary offices. As pet ownership and spending rise in the U.S., financial hurdles hold steady as the No. 1 barrier to veterinary care for all pet owners, regardless of income.3
The Synchrony Lifetime of Care study4 supports this: nearly half of all pet owners who thought they were financially ready for unexpected pet expenses were not and would consider a financial solution dedicated to financing care for their pets.
When having conversations about treatment, including preventive care, there are strategies veterinarians can consider to reduce financial stress and build trust with clients.
Build personal relationships
Cultivating personal relationships with pet owners builds a veterinarian's credibility as an expert and allows them to offer personalized recommendations that meet each patient's unique needs. This opens a dialogue between the veterinarian and client on the full suite of payment options, myths, or barriers surrounding cost of care, and the available treatment options for the pet.
People rely on veterinarians to stay on top of their pets' health, but many clients only take their pets to the veterinary office when there is an emergency.1 The goal is to educate clients about long-term costs so they can budget for annual check-ups, instead of waiting for an emergency, to make routine care affordable.
Encourage regular client meetings
The AVMA's language-focused research indicates pet owners often skip visits when pets appear healthy. So, emphasize regular care is not just to address medical needs, but to help the veterinarian get to know the patient and owner. Motivating clients to bring their companions in regularly helps address ongoing healthcare needs.
If the pet owner feels as though this is overkill, or just a way to increase billing, it's not. To put pet owners' view of the importance of caring for their pets in perspective, our research indicates owners would forego daily and household expenses to afford a non-emergency pet-related expense.5 Getting to know your clients—their hot-button issues, extenuating circumstances, history of the relationship with the pet—will help any veterinarian do better at their job.
Offer personalized recommendations
Each pet has its own unique needs that require specific treatment plans. Some needs are medical, such as which medications may cause allergic reactions, while others are more about behaviors. For instance, some cats don't like to be held, and some dogs prefer to lay down on a cold tile floor and need a few minutes to adjust to their new surroundings.
I'm reminded of a recent visit a friend of mine made to the veterinarian with his cat. My friend's cat, Abbey, is a very picky eater and avoids food she doesn't like to the point of becoming so hungry she gorges on whatever food is put in front of her, which frequently leads to vomiting on the carpet. My friend mentioned he had searched online for options about using soft or wet food, and felt the answers were insufficient.
This gave the veterinarian the opportunity to iterate not everything on the internet is true. The veterinarian was able to offer multiple suggestions since he knew the owner, his tendencies and concerns, and, of course, what would be best for Abbey. Building trust with my friend opened the door for the veterinarian to give advice that best met the pet's needs.
Provide options to ease decision-making
Owners appreciate it when their veterinarian demonstrates an understanding about the cost of care and even voices a desire to help make medical care more affordable. When talking about different courses of treatment with clients, be transparent about costs and remind them your practice can help explore a full range of flexible care and treatment options to fit their budget.
These affordable payment options may include in-house payment plans or pet care credit cards designed to support a lifetime of care for the pet, so no owner ever must choose between cost and care. Other solutions, such as financing veterinary care have helped owners like Leanne give her "baby," a Dogo Argentino, life-changing surgery and the guarantee that he would have a quality life for the rest of his days, and pet parents like Jennifer, who is a frontline hero herself, pay for an unexpected, expensive emergency surgery for her beloved kitten, quite literally saving her cat's life.6
Learn how to speak 'pet owner'
The AVMA's language-focused research shows what veterinarians say to their clients, down to specific words and phrases, has a real and lasting impact. A fundamental shift in the way veterinary teams communicate can significantly influence pet owner's perceptions about the value and importance of veterinary care. By offering personalized recommendations, using language that is reassuring, addressing the elephant in the room—money—and offering to work with clients on an individual basis to explore payment options that fit their budget, are key components to enhancing the value of regular care.
One tool helping to facilitate positive conversations around the cost of care with clients is Synchrony's Lifetime of Care research, which sheds light on the lifetime costs associated with pet care. The report covers an exhaustive list of dog and cat expenses, from first-year expenses (spaying/neutering, vaccinations, pet supplies) to food and health insurance, to end-of-life expenses.
"The Lifetime of Care data has proven to be a helpful  tool for veterinarians to facilitate honest conversations with clients about costs," says Peter Weinstein, owner of PAW Consulting, author, and veterinary industry leader. "This new study provides us a comprehensive look at the true costs of pet care so we can arm our clients with the information and financial solutions they need to care for their pets for a month, year and an entire lifetime."
Boo Larsen is the general manager and vice president of Veterinary Industry at CareCredit.
References
"Communicating with clients: Using the right language to improve care." https://www.avma.org/resources-tools/practice-management/communicating-clients-using-right-language-improve-care.
Pet Industry Market Size, Trends & Ownership Statistics.
https://www.americanpetproducts.org/press_industrytrends.asp
The University of Tennessee's Access to Veterinary Care Coalition. https://pphe.utk.edu/access-to-veterinary-care-coalition-avcc.
The Synchrony Lifetime of Care. http://petlifetimeofcare.com.
CareCredit Pet Journey Study 2020.
CareCredit cardholder testimonials: https://www.carecredit.com/reviews