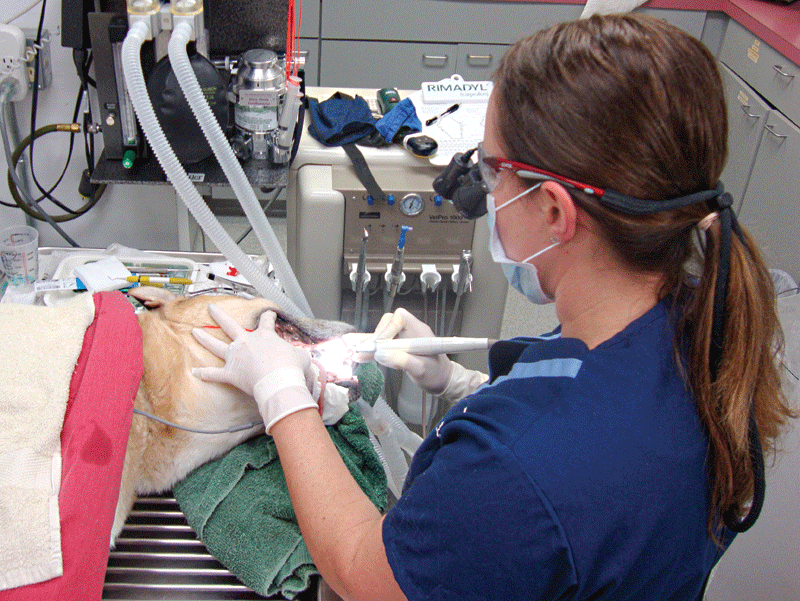 Dental procedures and oral surgery can be extra challenging, especially when extracting tiny teeth or tooth roots, such as in feline patients. Proper selection and organization of equipment, instruments, lighting source, magnification, suction, as well as sufficient training in using them could solve many common issues in veterinary dentistry.
In this article, I will share tips in increasing efficiency in using magnification, direct light source, and suction during dental procedures, as well as information on new product innovations to prevent and deal with the aerosolization of biological contaminants when using ultrasonic scalers or high-speed handpieces. Further, how to improve dental care by utilizing best practices in instrument organization and maintenance.
Magnification issues
Understanding what is available today for magnification during dental procedures can be an overwhelming task, given there are more choices than ever before.
When purchasing the most customized magnification and lighting system, buy the best system you can afford. If you purchase a "one-size-fits-all" type of system, the lenses will work to magnify the working field. However, as the operator, you will need to adjust your field of vision, depth of field, and functional interpupillary distance to meet the limitations of the loupes. You are modifying your posture to the loupes; consequently, the loupes are not encouraging you to have a posture that would prevent these types of chronic strains, leading to more serious injury over time.1,2
Human eyes are limited in their ability to see detail, especially at a distance. For detail to be seen, the eyes must get very close to the object. This causes poor posture, which is unsustainable while working in the oral cavity of patients.1
The alignment of the oculars on the loupes determines the clarity of vision.1 This is very important when deciding what tool to purchase.
Not all magnification loupes are designed to prevent neck, eye, and back strain (See "Types of loupes").2 Simply magnifying the area to be worked on in the patient's mouth does not help prevent these conditions in the veterinarian or veterinary technician.
It may be tempting to purchase an entry-level pair of loupes and light to get started, using magnification and the required lighting source. Initially, there may be nothing wrong with that approach; however, you may realize you need more customized loupes over time.
Once you are convinced it is much more productive to see what you are doing, especially regarding oral surgery and extractions, you will want to purchase a more long-term solution customized to your specific dimensions. These custom systems use prescription glasses for the primary lenses and optics for magnification that work together to give you the best outcome.1,2 The decrease in injury to the operator is worth every penny of the cost.
Typically, higher-end loupe manufacturers and distributors will require a personal assessment of your physical requirements before your purchase.
See the light
A direct light source is a must when working with magnification. The light will be directed where you are looking, such as in oral procedures requiring focal light directed into the oral cavity. When overhead lighting is used, the operator's head creates a shadow effect, blocking the light source from reaching the oral cavity, especially in the caudal mouth.
When it comes to light choices used in conjunction with head-mounted magnification loupes, there are several choices. Some factors to consider are the weight of the light system, whether wired or wireless, the operation method, the light spectrum, and battery life.
A heavy light system can add to the stress of wearing the loupes and magnification, potentially increasing the strain on the neck and back while wearing the system.1,2
If the light source is too bright, it can cause a glare that can hinder visual acuity.2 Bright lights cause our pupils to constrict, limiting our ability to see a larger field of vision.1,2
Ideally, an achromatic light source will spread the light evenly across the field of vision, avoiding bright spots or fading light near the outside rim edges.2
The spectrum of light is essential. Unfortunately, some LED lights on the market distort colors. Cool blue LED light, especially when magnified, has been shown to cause retinal damage over time, resulting in early-onset macular degeneration.2 Research which light sources are considered safer before purchasing.
When deciding what system to buy and from which supplier, some considerations are product support before and after the purchase, no-obligation trial periods, warranty, replacement part availability, system adaptability to changes in prescription lenses, changing needs for magnification, and cost of acquiring the system.
Magnification and lighting can save you a lot of physical pain and discomfort. The benefits are to increase your productivity and longevity in the field and the quality of patient care you provide.
Surgical suction factors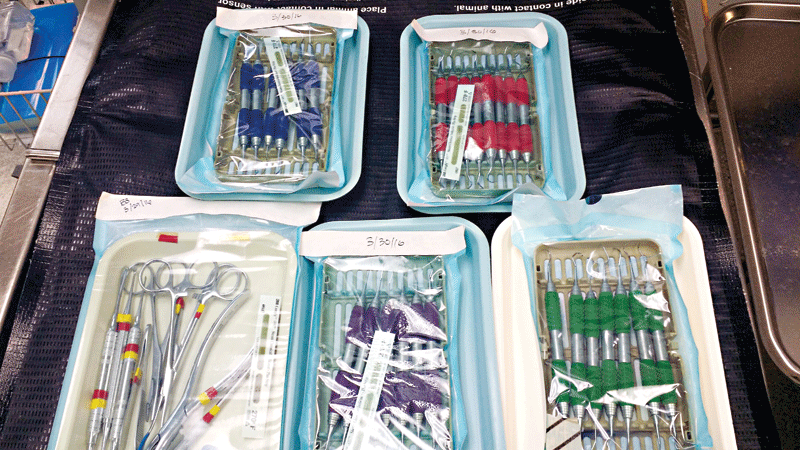 Surgical procedures in the mouth are challenging when it is difficult to visualize the surgical field. Still, it becomes even more challenging when fluids, such as blood and water, from the high-speed handpiece obscure the area. In addition to visualization, aerosolized biological debris can be a hazard to the operator, especially if the individual is not wearing appropriate personal protective equipment (PPE).3
The air-water syringe on the dental delivery unit is frequently used for clearing fluids away from an extraction site to increase visualization. Using air pressure from the air-water syringe in an open extraction site risks an air embolism via air introduction into open bone.3
A more practical option is surgical suction with an appropriately sized tip to pull away fluids as they accumulate.4 This simple technique could shorten surgical times by increasing the accuracy of work through proper visualization of the tooth roots, periodontal ligament space, and surrounding alveolar bone.4
Several small and quiet electrical suction units are available for purchase through your veterinary distributor or online sources. Some things to consider when purchasing include cost, size, noise level, ease of use, suction tubing and suction tips options, the volume of the fluid container, adjustable suction pressure control, product warranty, maintenance requirements, and cleaning procedure.
Potential suction tip options include disposable versions or stainless steel, autoclavable, and reusable tips. Disposable tips come in several sizes; an ideal size for veterinary dental procedures is 1/16 inch in diameter at the tip. These are available in 25 to 250 counts online or through your distributor.
The Frazier #10 suction tip offers stainless steel construction with an opening near the handle that allows the operator to occlude it to increase suction force or allow airflow to decrease suction forces to delicate tissues. The working end is 2 mm in diameter and five inches long.4 There is also a stylet included for removing obstructions as needed. This five-inch-long suction tip is ideal for oral surgery.4
Innovations in human dentistry have led to the prevention of aerosolized biological hazards through specialized suction tips, such as a wearable high-volume evacuator that attaches to the finger of the non-dominant hand during ultrasonic scaling, drilling of bone or tooth, and other procedures.
Suction for a device that will prevent significant debris aerosolization must be at least 8mm in diameter at the working end and held no less than 2 cm away from the ultrasonic scaler's tip or the high-speed bur while it is operating to be effective.7
Instrument organization
Instruments wear out over time, even faster when unprotected. Consider using proper instrument trays that keep instruments together and organized by the type of procedure they are used for and keep the delicate working ends separated and protected from accidental damage when not
in use.3
Tray organization helps ensure easy access for procedures; tray racks are available to store trays in closed cupboards or drawers.3
Dividing instruments into two basic categories will assist when organizing them by the procedure types. For example, two basic procedures frequently performed in general practices:
Comprehensive oral and radiographic evaluations with dental cleaning procedures.
Oral surgery to extract teeth or provide surgery to the gingival or mucosal tissues.
Instrument tray features to consider when making purchasing decisions are:
Size, composition, ease of cleaning, ability to be sterilized in the autoclave, weight, durability, color coding, cost, and organizational system compatibility.
Instrument trays for organization and protection are numerous; here are a few:
Colorful plastic cassettes that hold either five, eight, or 10 instruments throughout the use, cleaning, and autoclaving process are available.5
Several companies have available instrument management systems for all types of dental instruments. These are metal trays that are durable and well-made.
Several instrument trays allow the veterinary professional to group instruments by procedure and stay with them throughout their cycle from sterilized, in-use, dirty, and cleaning procedures, including ultrasonic baths, and sharpening and then returning to the autoclaving and sterilization process.
Few things have such an impact on our ability to increase patient safety and positive surgical outcomes other than magnification, lighting, and surgical suction. When we can see optimally, we can be more effective and efficient, which could lead to shorter anesthetic times and fewer complications. So, take some time to organize your dental operatory with the proper equipment and instruments, and look towards a future of dentistry in your practice with a new sense of visual acuity and well-cared-for and organized instruments.
MAGNIFICATION AND MORE
Good and efficient tools for magnification can provide the following:
Increase the visual ability of the operator
Increase the quality of patient care through visual accuracy
Increase efficiency during the procedure
Prevent eye, neck, and back strain for the operator
TYPE OF LOUPES
Here are two main types of magnification loupes to consider when purchasing your tools:
Through the lens (TTL) attached telescopes to the primary glasses, with or without prescription lenses. TTL is explicitly aligned for one user.
Front-lens mounted (FLM) flip-up telescopes that are adjustable and not permanently attached to the primary lenses. Adaptable for many users.
Benita Altier, LVT, VTS (Dentistry), began her career in veterinary technology in 1988 and has worked in small animal general medicine, ophthalmology, equine and llama neonatal care, canine reproduction, and dental specialty. Altier is the president of the Academy of Veterinary Dental Technicians, member at large for the Arizona Veterinary Technician Association, and is former Secretary for the Washington State Association of Veterinary Technicians. She has co-authored two textbooks on veterinary dentistry for technicians, as well as published several articles on the subject in professional journals. Through her business, Pawsitive Dental Education, LLC, Altier has provided professional dental instruction and consultation to veterinary hospitals and conferences across the U.S., Canada, and China since 2008.
References
Aller, M.S. (2005) Personal Safety and Ergonomics in the Dental Operatory. Journal of Veterinary Dentistry. Vol 22 No 2. 124-130. https://pubmed.ncbi.nlm.nih.gov/16149389/
Pollack-Simon, R. (2002) All the Right Moves. Penn Well, Tulsa.
Holmstrom, S. E. (2018). Veterinary Dentistry: A Team Approach (3rd ed.). Elsevier Health Sciences (U.S.). https://bookshelf.vitalsource.com/books/9780323533423 Accessed 11/10/2022.
Arzi, Boaz, and Abraham J. Bezuidenhout. "Instrumentation, Aseptic Technique and Patient Preparation." Oral and Maxillofacial Surgery in Dogs and Cats, Elsevier, St. Louis, 2020, pp. 69. DOI:10.1016/B978-0-7020-7675-6.00016-4
"Instrument Holders." Zirc Because Time Is Everything, https://www.zirc.com/products/instrument-holders . Accessed 11/13/2022
Harrel, Stephen K. "Clinical Insights: Proceed with Caution. Dimensions of Dental Hygiene: Magazine." Dimensions of Dental Hygiene. Aug. 14, 2020. https://dimensionsofdentalhygiene.com/article/proceed-with-caution/ Accessed 11/12/2022.