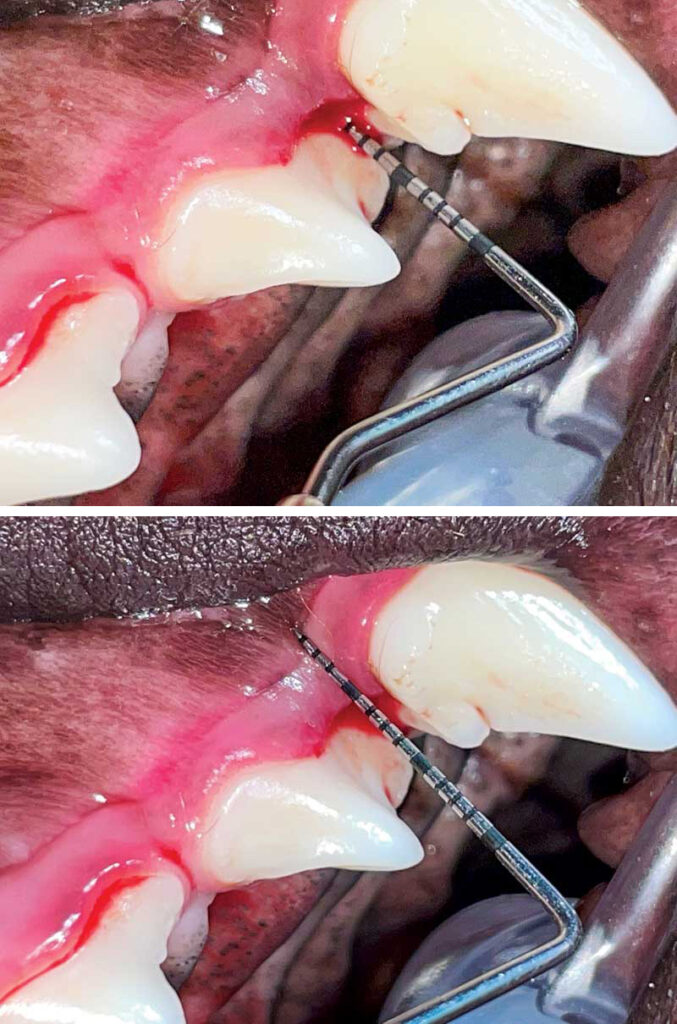 In my November 2021 column, I discussed the mechanisms of the most common disease of dogs and cats: periodontal disease. It included the analogy of the periodontal attachments of a tooth being likened to a zipper; gingivitis is the harbinger.
This column addresses treating periodontal disease. In most patients, when gingivitis occurs, it is easily reversible with a thorough professional cleaning and polishing under anesthesia. A professional cleaning may involve use of both ultrasonic and hand scalers, and curettes to ensure all plaque and calculus is removed supragingivally and subgingivally. Hand scalers are used on the crown, whereas curettes are used beneath the gumline. Polishing is an important part of the cleaning to remove microscopic scratches from the enamel surface after scaling.
Since plaque and calculus form quickly, preventing recurrence of gingivitis requires home care in the form of daily brushing. As periodontal disease progresses beyond the point of gingival inflammation into the territory of periodontal attachment loss, these changes become more difficult to reverse.
The periodontal probe
The periodontal probe is an important tool when making treatment decisions. A UNC-15 periodontal probe is a favorite among veterinary dentists due to its easy-to-read markings and thin diameter. Normal gingival sulcus depths in cats are 0 to 1 mm, whereas one to three millimeters is considered normal in dogs.
When abnormal periodontal pocket depths are encountered, decisions need to be made. In addition to pocket depths, radiographic appearance of the tooth should be considered when making decisions. Is there significant horizontal or vertical bone loss? Is there evidence of endodontic disease or other conditions that make attempts to save a tooth problematic? What is the overall length of the roots?
For example, a 4-mm pocket is more significant in a tooth with a root length of only 4 mm long. Once periodontal disease penetrates deep enough into the surrounding structures of a tooth it can result in endodontic disease (infection within the pulp, i.e. a tooth root abscess).
Bone loss
Next, addressing the clinical approach to a common area of periodontal bone loss: the palatal surface of the maxillary canine teeth in dogs. Palatal bone loss of the maxillary canines can occur at a young age, particularly in certain breeds such as dachshunds, and left untreated, can eventually result in development of an oronasal fistula.
In the firmly rooted, radiographically normal maxillary canine tooth with increased pocket depths of 4 to 6 mm, I like to perform a procedure called closed root planing and subgingival curettage. Closed root planing involves a periodontal curette to remove subgingival calculus from the root surface.
The same instrument is utilized to remove granulation tissue from the soft tissue that forms the walls of the periodontal pocket. Just like a chronic wound that is not completely healing, epithelialized tissue must be removed to encourage reattachment of the gingiva to the surface of the root. When pocket depths are even deeper, closed root planing may not be enough. Open root planing involves raising a flap to expose the area of periodontal bone loss, which allows for a better look and more thorough debridement.
Should we place something in the cleaned periodontal pocket? This is a point of contention. Options for placement of products into the periodontal defect include an antibiotic gel (sometimes called a perioceutic). It has always been generally accepted what you remove from a periodontal pocket (calculus, migrating epithelium) via root planing is more important than what you place into the pocket.
This has been confirmed by a study published in the Journal of the American Veterinary Medical Association (JAVMA), Martel, et al. found that during a 12-week followup, there was no significant difference in periodontal pocket depth among three groups treated by 1) closed root planing (RPC) alone, 2) RPC plus doxycycline gel, 3) RPC plus clindamycin gel.1
Other products that can be used to treat periodontal pockets include bone graft materials as a form of guided tissue regeneration (GTR). Conventional GTR involves placing a membrane over the bone graft to prevent the more rapidly growing tissues, such as epithelium, from filling bony defects before bone cells have a chance to fill the defect.
One study looked at placement of allograft into bony defects, which was then covered with a doxycycline polymer perioceutic instead of a resorbable or nonresorbable membrane. Although this study only looked at four teeth, improvement in probing depths were seen in all four teeth, with gains as great as seven millimeters and as little as one millimeter. More studies with larger number of cases are warranted.
One of the most important indicators of whether periodontal therapy will be successful may be the ability of owners to perform daily home care. The most skilled periodontal surgery may not provide long term benefit without daily home care. However, if you have a client who does not believe in "toothanasia," there are options.
John Lewis, VMD, DAVDC, FF-AVDC OMFS practices and teaches veterinary dentistry and oral surgery at Veterinary Dentistry Specialists and Silo Academy Education Center, both located in Chadds Ford, Pa.
References
Martel DP, Fox PR, Lamb KE, Carmichael DT. Comparison of closed root planing with versus without concurrent doxycycline hyclate or clindamycin hydrochloride gel application for the treatment of periodontal disease in dogs. J Am Vet Med Assoc. 2019;254(3):373-379.

 Alterman JB, Huff JF 3rd. Guided tissue regeneration in four teeth using a liquid polymer membrane.

J Vet Dent.

2016;33(3):185-194.