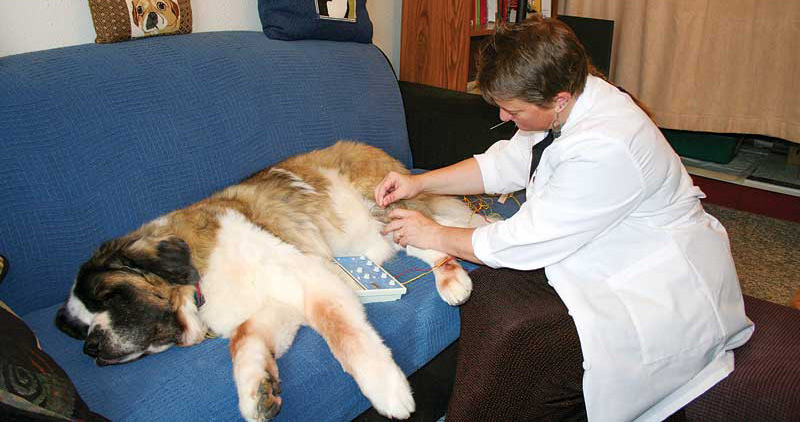 If you have a rehab practice or offer some rehab services at your clinic, new and updated types of equipment can help you better assist your patients. From a machine able to detect anxiety and pain to increased flexibility and versatility of underwater treadmills, there are numerous options available to help clinicians identify and relieve pain in patients and assist pets in regaining strength and mobility.
The latest generation of rehab equipment comes with better software, improved ease of use, better ergonomics, and some home-use options. Preset modules help users apply techniques appropriately, especially if they do not yet have extensive experience in a particular procedure. Some equipment, such as underwater treadmills, allow each patient's protocol to be stored so it can be easily called up and started. Electrical stimulation using electrode pads or acupuncture needles can be used for neural, muscular, or pain management.
Equipment manufacturers are also working to meet the needs of more types of dogs. For instance, a smaller underwater treadmill is available for practices seeing many small dogs or hoping to work canines of different sizes at the same time.
The science behind and digital capabilities of diagnostic methods has become more refined as well.
"Diagnostic ultrasound capabilities have improved so that where once we could only see big horse structures, now we can see those structures in a tiny cat," says Bianca Shaw, DVM, hospital director at Back on Track Vet Rehab in Portland, Ore. "Thermography can detect more subtle changes, better detail, and account for some hair or fur differences, where we originally couldn't see through more than a thin single coat like a Doberman."
Shockwave—high-energy focused sound waves directed at a specific site within the body—has been in use in animals for a little more than 20 years. The high-pressure acoustic pulses interact with tissues to relieve pain and stimulate healing.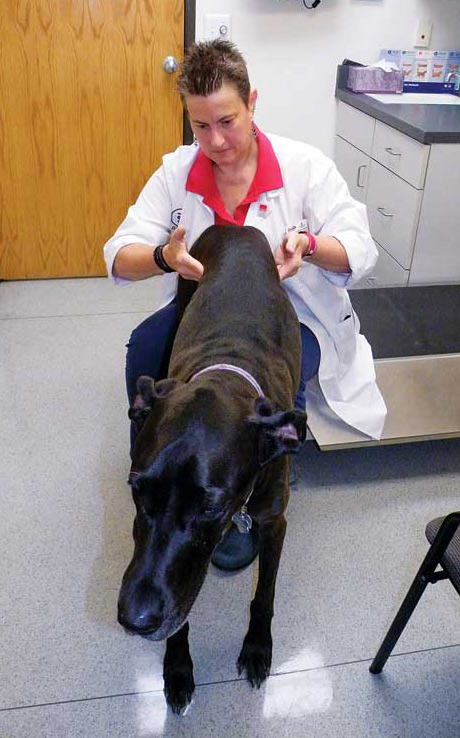 The procedure is an example of a treatment that has improved with time. Shockwave treatment can be so loud and painful while administered that animals must be sedated heavily or anesthetized for five to 10 minutes while the treatment takes place. That equipment still exists, but now a device is available that does not require patients to be sedated or anesthetized, says Evelyn Orenbuch, DVM, DACVSMR, at Georgia Rehabilitation, Fitness and Pain Management in Marietta, Ga.
"That's one of those things I think is getting more and more use in veterinary medicine, particularly rehab medicine," she says. "It works a little like the laser does, but I think it gets into the joints a little bit better than laser does at times. It's tremendous for healing soft-tissue injuries as well."
She has also found that dogs with severe elbow arthritis benefit from shockwave therapy.
"It's really hard to treat those dogs," Dr. Orenbuch says. "We would do range of motion, laser, acupuncture, adjust them, put them on medication, and they would still limp, at least somewhat, and usually pretty severely. When I got the shockwave, I could start to treat those dogs and see dramatic improvements I wasn't getting with my other modalities."
Using equipment
The PainTrace monitor identifies anxiety and pain in patients by reading the afferent and efferent nerve impulses in the skin.
"You are able to identify areas of pain during the exam," says Laurie McCauley, DVM, DACVSMR, at Red Tail Rehab in Zirconia, N.C. "It may pick up pain where you didn't even realize it with your exam so it may be a really cool new piece of equipment for the future. I'm just learning it now, but I think it has a lot of potential."
Low-level lasers, or photobiomodulation, have been in use for a while, but now there are more types and variables, including multiple size probes and wavelengths.
"Therapeutic lasers continue to be tweaked as more data are collected and analyzed, improving and expanding treatment protocols," says Robin Downing, DVM, DAAPM, DACVSMR, hospital director of The Downing Center for Animal Pain Management in Windsor, Colo.
There is also more research on the ability of lasers to increase strength and endurance in canine athletes as well as improvements in dogs with degenerative myelopathy, Dr. McCauley says.
In her practice, Orenbuch uses laser frequently, saying it is tremendous for healing, decreasing pain, and increasing cell repair and nerve growth.
Underwater treadmills are among the most common types of equipment. Along with pools, they are helpful for strengthening dogs who need support while they are working and reducing stress on joints. Plus, the stimulation of the water on their legs helps them "remember" the limb is there and can be moved.
"There's also some pain control that comes with being in the water," Orenbuch says. A study done on humans with knee injuries looked at rehabbing them with and without water. "Everybody got stronger but the people who worked in the water had less pain," she says. "They recovered a little bit better."
Purchase decisions
When choosing equipment, talk to other practitioners about their experiences with particular items—and, of course, it is easy these days to check them out virtually. Look at your own practice with a clear eye.
"Have an open mind about what you absolutely need for the work you will do," Dr. Downing says.
As for the most essential equipment? Hands, eyes, and a brain, Dr. Shaw says.
"A good practice develops because we as practitioners can feel and see what works and what doesn't work."
INJURIES AND WHEN THEY OCCUR
The most common types of injuries rehab practitioners see tend to be associated with the cruciate ligament, iliopsoas, medial shoulder, hips, and back, as well as neurological deficits, carpal hyperextension, and osteoarthritis in general.

Injuries can occur year-round, of course, but sometimes there is a seasonal component. In winter, practitioners see slip injuries from ice and snow. "We also see old-dog issues then, because of the reduced activity and the cold affecting achy joints," says Bianca Shaw, DVM, hospital director at Back on Track Vet Rehab in Portland, Ore. "Next, we see spinal or intervertebral disc disease when the muscles are deconditioned due to less activity and cannot support the spine adequately."

In spring and summer, active pets may experience sprains, strains, cruciate ligament tears, and broken bones.

But whatever the weather, rehab practices barely slowed down throughout the pandemic year. There was a brief lull at the beginning, but Dr. Shaw says her client load returned to normal within six weeks of the first lockdown.

Laurie McCauley, DVM, DACVSMR, at Red Tail Rehab in Zirconia, N.C., sees patients in their homes as well as at area clinics. She also says her practice dropped off in the beginning of pandemic measures, but is now busier than it had been because so many people have new pets.

"I think people see their dogs more," Dr. McCauley says. "They're spending more time with their dogs [and noticing things more] or they're adopting dogs with problems or they're adopting dogs and those dogs get problems."
Kim Campbell Thornton is a frequent and longtime contributor to Veterinary Practice News. She is a Southern California-based freelance writer who specializes in pet-related topics.