Suggested Veterinary Products
The Tuskegee University School of Veterinary Medicine recently welcomed two new faculty members: Lorraine Linn, DVM, Dipl. ACVS, and Athema Etzioni, DVM, Dipl. ACVP. The school made the announcement in late October.
"We are excited to have both Dr. Linn and Dr. Etzioni join the veterinary family," said Ruby Perry, DVM, dean of the College of Veterinary Medicine, Nursing and Allied Health. "Both have impressive backgrounds and will bring a wealth of knowledge to help TUSVM prepare the brightest minds for the veterinary medical profession."
Linn has joined the Department of Clinical Sciences as an associate professor of small animal medicine. Her specialty areas of interests are soft tissue, neurosurgery and orthopedics.
Linn is a retired lieutenant colonel with the United States Army Veterinary Corps where she served for 25 years, according to the university. Her tours of duty included serving as a commander and surgeon at the Military Working Dog Referral Hospital in Germany; branch chief and regional consultant for the National Capital District Veterinary Command at Ft. Belvoir in Virginia; chief of surgery and dentistry for the U.S. Department of Defense Military Working Dog Hospital at Lackland Air Force Base in Texas; deputy commander, clinical specialist and forward surgical team leader for the 463rd Medical Detachment at Ft. Benning in Georgia which was responsible for the clinical training of all veterinary technicians and corps officers to ensure the deployment readiness of the Forward Surgical Team.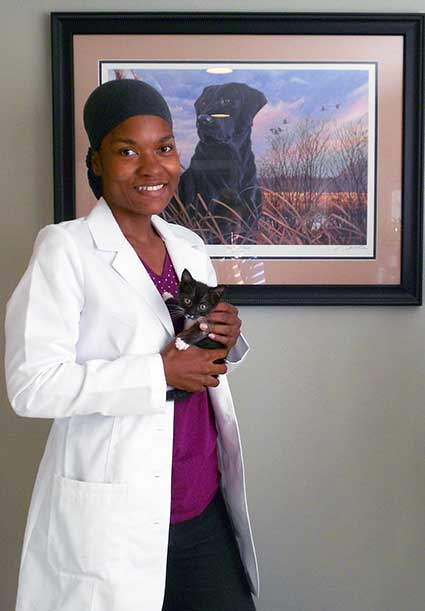 Tuskegee University School of Veterinary Medicine
Dr. Athema Etzioni
"I am excited to be a part of the veterinary medical school team here at Tuskegee," Linn said. "I am dedicated to educating the next generation of veterinarians and look forward to helping the growth of the surgical referral cases for the TUSVM Veterinary Medical Teaching Hospital."
Etzioni has joined the Department of Pathobiology as an associate professor of clinical pathology.
She has worked in academia, research, government, corporate and private practice and as an associate and relief veterinarian. Etzioni is state licensed in both Alabama and Georgia, the university noted.
"I am also excited to return home to my alma mater," Etzioni said. "I have a love for clinical pathology and I am passionate about sharing my knowledge to help our students be the best they can be. I want to inspire future Tuskegee veterinary graduates as my mentor, Dr. William O. Jones, inspired me."