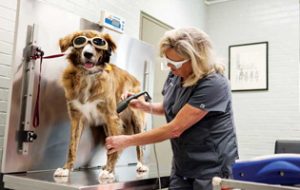 At its simplest, laser therapy is the application of light to living organisms to improve health. However, great detail exists behind this simple idea. The wavelength and power of the laser, the location and duration of exposure, the number of treatments, and many other variables are crucial to the effects achieved.
Generally, low-level lasers use wavelengths between 600 and 1,000 nm and power levels from 5 to 500 mW. More powerful lasers (at longer wavelengths circa 10,000 nm, i.e. CO2 lasers) are used in surgery, but these function primarily to cut or cauterize tissue or otherwise cause controlled damage. Low-level lasers are intended to have biological effects on tissue without causing damage.
The FDA classifies lasers, from Class 1 to Class 4. Low-level laser therapy typically involves Class 3 lasers, though more powerful Class 4 devices are becoming more popular.
The possible uses for laser therapy
The most common recommended uses of low-level laser therapy are to facilitate wound healing, reduce inflammation, and treat musculoskeletal pain. However, proponents of laser therapy often suggest this tool can be used to treat many other medical conditions. Lasers have been promoted for specific clinical problems, such as allergic skin disease, gingivitis, bacterial and viral infections, and envenomation. Likewise, they have been publicized as providing general health improvement (e.g. enhancing immune function, normalizing metabolic function) and vague and scientifically questionable indications (e.g. "Qi-stagnation" and "energizing" cells.1
Conflicting evidence
Systematic reviews of multiple clinical trials, with detailed analysis of the limitations of each trial, are the most trustworthy sources of evidence on any clinical intervention. Unfortunately, such reviews are often not available in veterinary medicine, and none exist for low-level laser therapy.
Controlled clinical trials of naturally occurring disease in the target species are the next most reliable form of evidence. Studies in clinical patients exist, though they have significant limitations and often inconsistent findings.
For example, a pilot study adding laser therapy to standard treatment for dogs with acute intervertebral disk disease suggested laser treatment might have shortened time to ambulation after surgery.2 That said, the absence of randomization, blinding, and placebo controls limit the strength of this conclusion. Another similar study reported no clinical benefit.3 A very small study of laser therapy and physical therapy for dogs with thoracolumbar disk disease also failed to find any benefit.4
Similarly, a recent study of laser therapy as an adjunctive treatment for dogs undergoing TPLO surgery found no effect on comfort or the healing of soft-tissue or bone. Some small effect on gait was seen.5 An earlier study of preoperative laser treating in dogs having TPLO surgery showed a similar pattern, finding no significant differences in most outcomes evaluated but a small difference in one measure of weight-bearing.6
Overall, the clinical trial literature in veterinary medicine is sparse and has methodological limitations. Some positive effects have been reported, but no consistent pattern of clinical benefit has yet emerged.
In the human literature, hundreds of systematic reviews are available for specific conditions, often with several different reviews of the same studies. The results are inconsistent. Many reviews conclude the evidence is not strong enough to support definitive statements about efficacy. Some reviews do show results supporting benefit for particular conditions, though in some cases other reviews of the same evidence reach different conclusions.
For example, there have been three systematic reviews in the last 10 years of studies investigating laser therapy for osteoarthritis of the knee. Each sorted through hundreds of studies and selected a different subset as the highest quality studies to assess. One review concluded there was good evidence for beneficial effects.7 Another determined there were some positive findings but insufficient evidence on important therapeutic variables to conclusively demonstrate a benefit.8 The third review concluded there was no good evidence laser therapy is useful in treatment of knee osteoarthritis.9 This is representative of the pattern seen in reviews of the human clinical trial literature.
There have been many preclinical studies of laser therapy for a variety of conditions in veterinary species, and again, the results are mixed. Some studies of wound healing, for example, show possible benefits10 while others do not.11-15 Some studies looking at lasers for skin disease have found beneficial effect16 and others found no apparent effect.17
Multiple systematic reviews of lab animal studies are available. One found there were some potentially beneficial effects in bone healing models, though there were few studies to review.18 Another reviewed in vitro and animal model studies relevant to wound healing and concluded there was insufficient evidence to justify clinical trials in humans.19 In contrast, a more recent review of animal wound-healing models concluded there is good evidence for benefits from low-level laser treatment, though not all protocols are effective for all types of wounds, so the details of indication and technique matter.20
An enormous body of in vitro evidence shows effects of laser light on various tissues. It is clear laser has significant biological effects in such models, and some of the effects seen could potentially have clinical benefits in living patients.
Finally, there are innumerable anecdotes regarding the effects of laser therapy, and some laser advocates are absolutely convinced by their own experiences that low-level laser is a powerful therapeutic tool. However, this evidence should serve only to suggest hypotheses for testing, as opposed to validating clinical interventions.21
Laser therapy safety
Experimental and clinical studies of low-level laser therapy have found few adverse effects. Inappropriate use of higher-power lasers or excessive duration of treatment can result in thermal tissue damage. Operators of laser equipment should exercise caution as well, as no research exists to evaluate the long-term effects of ongoing laser treatment. Safety guidelines, available from government agencies, manufacturers, and the medical literature, should be followed scrupulously.
Future research
Lasers have significant measurable effects on living tissues in laboratory experiments. Preclinical research, while inconsistent, also suggests potential benefits. Extensive research done in humans has so far produced limited evidence to support the use of lasers in a few conditions. Experimental evidence in veterinary species is mixed, and there are no systematic reviews of clinical trials validating laser therapy for specific indications.
Hopefully, future research will clarify the benefits of laser therapy, identifying which techniques are useful for which conditions and in what circumstances laser treatment is not beneficial.
Resources for evidence-based medicine
Several organizations exist to support and promote the practice of evidence-based veterinary medicine (EBVM). In addition to bringing together EBVM proponents and practitioners, these groups have developed resources which illustrate how EBVM and science-based critical thinking can be applied to all areas of veterinary practice.

The Evidence-Based Veterinary Medicine Association (ebvma.org) is the main organization promoting EBVM in the U.S. It is a great resource for learning more about EBVM and for veterinarians seeking to support an evidence-based approach.

The Centre for Evidence-Based Veterinary Medicine (CEVM) at the University of Nottingham is a robust and vibrant center of research and teaching in EBVM. The organization (bit.ly/OChfGq) offers tools that illustrate the possibilities for the future of our profession.

The first is its critically appraised topic database, BestBETs for Vets (bestbetsforvets.org). BET stands for best evidence topic. The BestBETs concept was first developed for emergency medicine doctors. In collaboration with our medical colleagues, the folks at CEVM have developed a freely accessible database of BestBETs for veterinarians. Though the number of topics is currently small, this is a dynamic project that eventually will be an important resource for veterinarians interested in making the best, most evidence-based decisions.

CEVM also offers VetSRev (bit.ly/2KEkkD7), which is a freely accessible online database of citations for systematic reviews of relevance to veterinary medicine and science. A systematic review is the most comprehensive and unbiased assessment of the total body of clinical research on any given subject. The number of systematic reviews in veterinary medicine has exploded in recent years, which makes it much easier for veterinarians to quickly and reliably find the "bottom line" for many diagnostic tests and treatments. l

— Brennen McKenzie, MA, MSc, VMD, cVMA
REFERENCES
Petermann U. Pulse laser as ATP-generator: the use of low level laser-therapy in alleviating Qi-shortcomings. Zeitschrift für Ganzheitliche Tiermedizin. 2012;26(1):8-14.
Draper WE, Schubert TA, Clemmons RM, Miles SA. Low-level laser therapy reduces time to ambulation in dogs after hemilaminectomy: a preliminary study. J Small Anim Pract. 2012;53(8):465–469.
Williams C. Barone G. Is low level laser therapy an effective adjunctive treatment to hemilaminectomy in dogs with acute onset paraplegia secondary to intervertebral disc disease? Proceedings, American College of Veterinary Internal Medicine Forum, Denver. June 2010.
Bennaim M, Porato M, Jarleton A, et al. Preliminary evaluation of the effects of photobiomodulation therapy and physical rehabilitation on early postoperative recovery of dogs undergoing hemilaminectomy for treatment of thoracolumbar intervertebral disk disease. 2017;78(2):195-206.
Renwick SM, Renwick AI, Brodbelt DC, et al. Influence of class IV laser therapy on the outcomes of tibial plateau leveling osteotomy in dogs.Veterinary Surgery. 2018: epub before print.
Rogatko CP, Baltzer WI, Tennant R. Preoperative low-level laser therapy in dogs undergoing tibial plateau levelling osteotomy: A blinded, prospective, randomized clinical trial. Vet Comp Orthop Traumatol. 2017;30(1):46-53.
Wyszyńska J, Bal-Bocheńska M. Efficacy of high-intensity laser therapy in treating knee osteoarthritis: A first systematic Photomed LaserSurg. 2018: epub before print.
Rayegani SM, Raeissadat SA, Heidari S, et al. Safety and effectiveness of low-level laser therapy in patients with knee osteoarthritis: A systematic review and meta-analysis. J Lasers Med Sci.2017;8(Suppl 1):S12-S19.
Huang Z, Chen J, Ma J, et al. Effectiveness of low-level laser therapy in patients with knee osteoarthritis: a systematic review and meta-analysis. Osteoarthritis Cartilage. 2015;(9):1437-1444.
Singh M, Bhargava MK, Sahi A, Jawre S, Singh R, Chandrapuria VP, Kocchar G. Efficacy of low level laser therapy on wound healing in dogs. Indian Journal of Veterinary Surgery. 2011;32(2):103-106.
Grayson LC, Cassie NL, Juergen P, et al. Effect of laser treatment on first-intention incisional wound healing in ball pythons (Python regius). Am J Vet Res. 2015;76(10):904-12.
Kurach LM, Stanley BJ, Gazzola KM, et al. The effect of low-level laser therapy on the healing of open wounds in dogs. Vet Surg. 2015. doi: 10.1111/vsu.12407. Epub before print.
Madhya Pradesh Pashu Chikitsa Vishwavidyalaya, Jabalpur MP, India. Low level laser therapy for the healing of contaminated wounds in dogs: histopathological changes. Indian Journal of Veterinary Surgery. 2013;34(1):57-58.
In de Braekt MM, van Alphen FA, Kuijpers-Jagtman AM, et al. Effect of low level laser therapy on wound healing after palatal surgery in beagle dogs. Lasers Surg Med. 1991;11(5):462-70.
Petersen SL, Botes C, Olivier A, et al. The effect of low level laser therapy (LLLT) on wound healing in horses. Equine Vet J. 1999;31(3):228-31.

Olivieri L, Cavina D, Radicchi G, et al. Efficacy of low-level laser therapy on hair regrowth in dogs with noninflammatory alopecia: a pilot study.

Veterinary Dermatology

. 2015;26(1);35-e11.

Stich AN, Rosenkrantz WS, Griffin CE. Clinical efficacy of low-level laser therapy on localized canine atopic dermatitis severity score and localized pruritic visual analog score in pedal pruritus due to canine atopic dermatitis. Veterinary Dermatology. 2014;25(5):464-e74.
Tajali SB, MacDermid JC, Houghton P, et al. Effects of low power laser irradiation on bone healing in animals: a meta-analysis. Journal of Orthopaedic Surgery and Research. 2010;(5):1.
Lucas C, Criens-Poublon LJ, Cockrell CT, et al. Wound healing in cell studies and animal model experiments by low level laser therapy: Were clinical studies justified? A systematic review. Lasers Med Sci. 2002;17(2):110-34.
Gál P, Stausholm MB, Kováč I, et al. Should open excisions and sutured incisions be treated differently? A review and meta-analysis of animal woundmodels following low-level laser therapy. Lasers Med Sci. 2018, Mar 30.
Kida T. Don't Believe Everything You Think: The 6 Basic Mistakes We Make in Thinking. 2006. New York: Prometheus Books.
Dr. McKenzie discovered evidence-based veterinary medicine after attending the University of Pennsylvania School of Veterinary Medicine and working as a small animal general practice veterinarian. He has served as president of the Evidence-Based Veterinary Medicine Association and reaches out to the public through his SkeptVet blog, the Science-Based Medicine blog, and more. He is certified in medical acupuncture for veterinarians. Columnists' opinions do not necessarily reflect those of Veterinary Practice News.