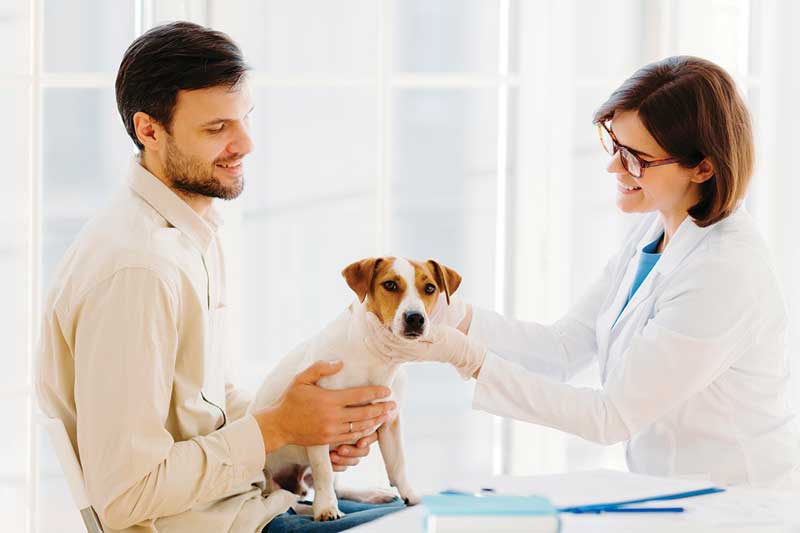 As veterinary professionals, it is our goal to provide pets and clients with the best possible care we can offer. We pride ourselves on delivering quality veterinary medicine, which is advancing by leaps and bounds. Yet, client compliance is something with which veterinary professionals struggle every day.1 Another is pet owners' inability to pay for that care. That said, the cost barrier is removed when clients purchase pet insurance for their cat, dog, exotic, and even companion horses, stretching their buck when an animal is ill or experiences an accident.
Put simply, insured animals receive more care. The North American Pet Health Insurance Association (NAPHIA) report shows pet owners spent 29 percent more per year on veterinary care when their dog was covered by insurance, and a whopping 81 percent more on insured cats.2 Insured pets receive nearly three times the amount of veterinary care. Veterinary team members wanting to provide more pet care may have a better chance with insured pets, which brings me to the ABCs of pet health insurance (PHI):
Animals receive more care
Benefits explained
Consistent messaging
Let's look at how each matters.
Attitudes have changed
"We don't want you here," stated a veterinary practice manager many years ago, as I stood in the reception area. "We don't want pet insurance dictating how we treat our patients." That was one of the first experiences I had as a field educator when I worked for a pet insurance company in 2004. Even though pet insurance has been around since 1982, there are still misconceptions as to its benefit and impact in providing the best options for pets to receive more care.
Fast forward to 2017 when keynote speaker Andy Roark, DVM, asks attendees at Colorado Veterinary Medical Association's (CVMA's) conference, "How many of you want all your clients to have pet insurance for their pets?" Ninety percent of the hands in the room went up. My, how times have changed. Still, less than one percent of pets in the U.S. are insured.3
Even the American Veterinary Medical Association (AVMA) recognizes the role pet insurance plays in animal health—it updated its position statement last August. It now reads:
AVMA endorses the concept of pet health insurance that provides coverage to help defray the cost of veterinary medical care and encourages veterinary health-care teams to proactively educate their clients about the existence of such resources. AVMA recognizes viable pet health insurance programs may be an important approach for the veterinary profession to continue to provide high-quality veterinary services.4
It seems like an easy equation to grasp: an insured pet equals more medical care. It makes sense (at least to me) for team members to recommend pet health insurance to all clients. Pets visit the veterinarian three times more often when insured.2 As such, there are several ways team members can encourage clients to provide pets the health care they require without a second thought. One is through consistent messaging regarding the benefits of purchasing an insurance policy.
Benefits explained
Consider the following advantages of pets receiving more care from the veterinary health-care team:
Client takes pet to the veterinarian earlier in the disease process (win)
Health-care team can provide services sooner (win)
Increased chances for a better medical outcome (equaling a win/win/win)
We've all heard clients say something along the lines of, "I wish I knew pet insurance existed before my pet had… (fill in the blank)!" I am not claiming one insurance provider is better than another, but I encourage the practice to display brochures from at least two companies to get the word out
to all clients.
The data5 shows us the top 10 illnesses and diseases covered by pet insurance (see the chart to the left). If you work at a general practice, you know you see these cases every day. For veterinary professionals priding themselves on properly educating their clients regarding pet health, this data can be hugely advantageous.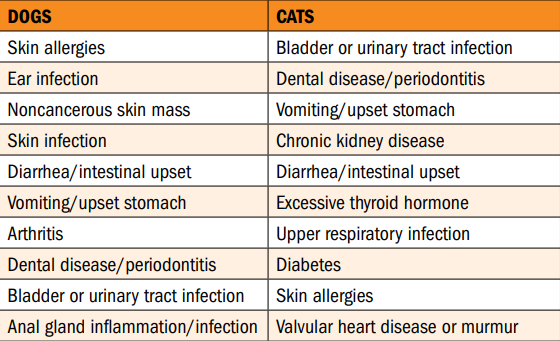 New puppy and kitten owners are probably not considering what the future has in store for their pets health-wise; however, the data clearly shows their pet is likely to need veterinary attention for the following ailments and accidents:
"In 2017, allergic dermatitis was the most common health issue among Nationwide-insured canines, with more than 140,000 individual claims at an average cost of $255 per dog. Cystitis/urinary tract disease accounted for the most common medical condition among Nationwide-insured felines with more than 5,800 claims received at an average cost of $495 per cat. Periodontitis accounted for the costliest canine medical condition on the list, with an average cost of $400 per dog. The most expensive feline medical condition on the list was diabetes mellitus, which carries a significantly higher cost of $889 per cat," writes Carol McConnell, DVM, MBA, in, "What are the most common medical conditions for dogs and cats? We know!"5
Consistent messaging
Clients need to be given the opportunity to choose what is best for them to ensure their pets receive veterinary care for accidents and illnesses. We are doing the pet owner a disservice if we are not educating them on the opportunity to offset the cost of veterinary care.
How much for the free puppy in the window? Well, the puppy may be free, but the average pet owner spends $15,7826 over the lifetime of a medium-size dog and $12,5007 over a cat's lifetime.
Consider the following messaging points for your team members as the client is handed a brochure: "Pet health insurance is a safety net you hope you never have to use. Similar to car insurance, you have it, you pay the premium for it, and you pray you never have to use it. Pet health insurance plans are available to use when there is an accident or illness."
Remind clients that pet insurance is not purchased as an investment. If a client is looking to "break even," they are, in fact, hoping their pet gets sick or has an accident. That's not the appropriate stance to take regarding pet insurance. Instead, it should be one of having a safety net. When (not if) the "bad stuff" happens, they can afford to get the required treatment for the major accidents and illnesses.
By having pet health insurance, clients don't have to decide between their pet's health or the amount of money sitting in their bank account or on their credit card balances. Their policy stretches their dollar when their pet experiences an illness or accident. This is peace of mind when caring for their pets.
Rebecca Rose, CVT, certified career coach, founder, and president at CATALYST Veterinary Professional Coaches, has a diverse background in the veterinary community. She has worked in and managed clinics, collaborates with industry partners, and facilitates engaging team workshops. Rose's enthusiasm for professional development in veterinary medicine is contagious, as she encourages and supports veterinary teams in reaching their highest potential. She can be reached via getCATALYST@CATALYSTVetPC.com.
References
1 Four Steps to Improved Veterinary Client Compliance. Marshal Liger, LVT. Veterinary Practice News July 2018. bit.ly/2w5M7dq
2 North American Pet Health Insurance Association (NAPHIA) State of the Industry 2019. naphia.org
3 Dog Insurance is Easy to get and Important to Have. Jeff Werber, DVM. Pet Health Network bit.ly/2HcA940
4 American Veterinary Medical Association Statement Position on Pet Health Insurance. NAPHIA bit.ly/2HduTgx
5 What Are The Most Common Medical Conditions For Dogs And Cats? We Know! Carol McConnell, Nationwide DVM, March 2018 bit.ly/2ULHNKI
6 How Much Will You Spend on Your Dog in His Lifetime. AKC October 2017. bit.ly/2Swu7jP
7 Total Lifetime Costs of Owning a Cat. Jane Financial. August 2017 bit.ly/2Seqi3V