It seems like everyone in the horse world, from rescues to Grand Prix riders to amateurs, are turning to alternative therapies to treat their horses. And, if done correctly, they're onto something. Alternative therapies can be an excellent way to keep horses of all kinds in top form.
If you're looking to add alternative therapies to your conventional veterinary practice or have clients interested in finding an alternative practitioner, there are a few important things to know.
Alternative Medicines are Safe
Dr. Giulia Gamberg, a Portland, Ore.-based vet working on her equine acupuncture certification, explains that the risks associated with alternative medicines vary depending on the specific treatment, but generally they are quite low.
For example, herbal therapies will cause diarrhea in the worst case, which is easy to solve by simply stopping treatment. Acupuncture is considered relatively benign. This relative safety makes alternative treatments great for owners wanting to offer tune-ups to their horses. They are also great for cases that were previously well-managed with conventional therapies or cases that don't have a clear diagnosis.
The biggest risk associated with alternative medicines, according to Gamberg, is the clients themselves, who may be resistant to conventional medicine, even when it's the most appropriate course of action.
Look for Certifications
Alternative medicines are only as effective as the person doing them. In the hands of an amateur, they can sometimes be more damaging than beneficial. Even though they're a relatively low-risk option, it's important to be sure that anyone you add to your team to practice an alternative therapy is appropriately credentialed.
According to Grant Miller, an equine vet based in California, chiropractors who lack proper training may pose a risk of injury up to and including death for a horse. While chiropractic treatment may be the riskiest alternative, other types of therapy can also do damage in improper hands. Make sure your clients know how to identify someone who has high-quality training if they're considering working with another professional. For acupuncture, one of the most popular options, only three places in the country offer legitimate certifications. Look for someone trained at the Colorado Veterinary Medical Association Medical Acupuncture for Veterinarians, the Internal Veterinary Medical Society or the Chi Institute of Traditional Chinese Medicine.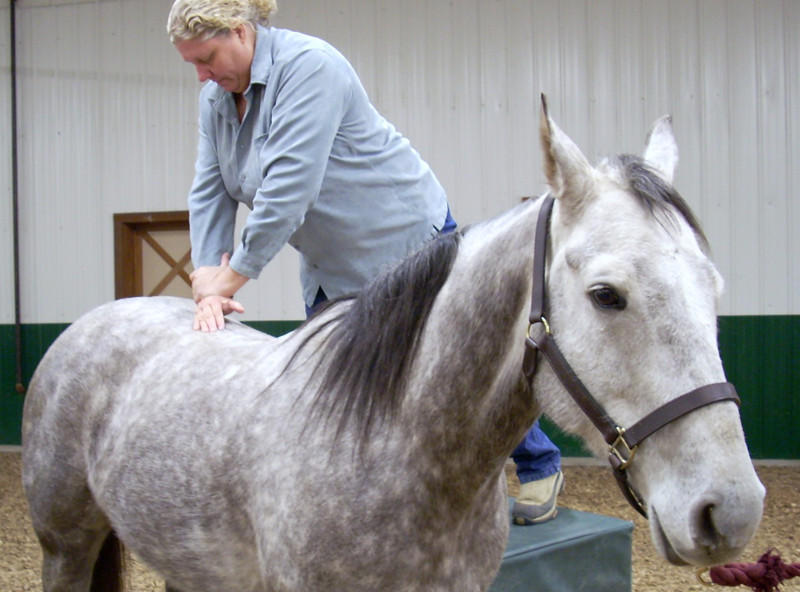 By DrDennisEschbach (Own work) [CC BY-SA 3.0], via Wikimedia Commons
Dr. Heidi Bockhold, of Options for Animals College of Animal Chiropractic, performs a chiropractic adjustment on a horse.
Alternative Therapies can be Cost-Effective
Often when patients don't have a clear diagnosis, it's because budgetary constrains are preventing them from pursuing further testing. While a lack of a clear diagnosis can make a conventional treatment plan difficult to develop, alternative or integrative therapies may be exactly what your client needs to successfully address whatever is ailing their horse. Because alternatives are able to target different problem areas, they can be beneficial as long as the practitioner can determine what the problem areas are and work to alleviate pain or soreness.
Most vets feel that alternatives are most appropriate in conjunction with conventional treatments, but they can help make progress when conventional treatments are out of reach for clients. If budget is a major concern for your client, one option might be to work closely with a student working on a certification in an alternative therapy. Because they have less experience, a student might charge less or even work for free, but a client should be fully aware that a student practitioner is not yet certified and is very much still learning.
Practitioners Are Often Vets
Depending on your state and the type of treatment you're considering, it's very likely that the laws in your area require people practicing alternative treatments to be veterinarians before they pursue certifications. This is a great rule to heed even if it's not a requirement in your area because effective treatment requires in-depth knowledge of equine physiology. Gamberg explains that, "It's similar to going to vet school, so you have to be really into it. You have to believe in it."
Getting a certification means time away from your own practice and rigorous training that may sometimes require travel to one of just a few locations that offer training in the therapy you're interested in.
Communication is Key
Because of how grueling the certification process can be, it's not necessarily the right move to work on getting certified yourself (though it can be a great addition to your skillset, especially if you operate a small private practice). Even if you do want to pursue a certification or even two, it's impossible to gain the knowledge needed to practice all of even the most common therapies.
Instead, you should focus on learning as much as you can about when it might be appropriate to refer a client to a specific type of alternative or integrative therapy and then be prepared to help your client choose a qualified practitioner. Once your client settles on someone to do the treatment, you need to be sure that you and that practitioner are regularly communicating with each other about your patient's progress. As Miller points out, if you have a particularly complicated case, you may be coordinating with two or more others who practice different types of alternative therapies. It's important that all of you are openly communicating with each other in order to ensure the best possible results.