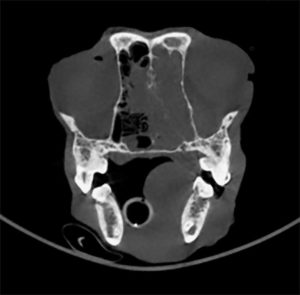 We had a tough day at the clinic recently. Working in the specialty of dentistry and oral surgery, it's rare we need to broach the topic of euthanasia. And if we do, it's usually in regard to a patient whose quality of life is diminishing because it has a form of cancer we are unable to fix with surgery.
Dante, a 13-year-old neutered male schnauzer/poodle mix, was presented to us for assessment of his dental problems. The first sign noted was when Dante's mom saw swellings in the neck region that were assessed by his primary care veterinarian to be enlarged mandibular lymph nodes. Historically, Dante was doing well at home, with the only recent change being an increased frequency of reverse sneezing. Anesthesia, dental cleaning, and aspiration of the mandibular lymph nodes were done at Dante's primary care facility.
At the time of the cleaning, Dante was noted to have periodontal disease and tooth resorption, and was therefore referred to me to see if extraction of the diseased teeth might resolve the issue with the enlarged nodes. The nodes were reported to decrease in size after his prior cleaning, but they were still markedly enlarged when Dante visited me for a consultation approximately one month after the initial procedure. Reviewing the prior aspirate results, I saw the predominant finding was reactive lymphoid hyperplasia; however, the cytologist reported there were clusters of cells that were concerning for possible metastatic carcinoma.
An episode of epistaxis
Once I saw this information, I suspected the clinical signs may not be resolved by extraction of diseased teeth. I recommended an anesthetized exam to take a closer look for a possible primary site of a carcinoma. After his initial conscious examination, Dante waited patiently on his mom's lap for his anesthetic procedure, which was slated to occur after another patient received a root canal treatment. As he sat in the waiting room, Dante showed a new clinical sign of a trickle of blood from his left nostril. This was his first episode of epistaxis. Perhaps the mere stress of being in a veterinary facility caused an increase in blood pressure, which spurred on the epistaxis.
My first comment on hearing about the nosebleed was, "We may have found our primary site of carcinoma." Around the same time as the onset of epistaxis, Dante's mentation quickly progressed to a much more dull state when compared to a relatively normal level of lucidity when he arrived at our hospital. We discussed our concerns with Dante's mom, and she agreed diagnostics were warranted to assess the nose for possible primary nasal carcinoma. We placed Dante under anesthesia and performed a cone-beam computed tomography (CBCT) scan that revealed an aggressive nasal tumor filling the entire left nasal passage and causing lysis of the cribriform plate, extending into the olfactory lobe of the brain. After showing Dante's mom the CBCT and discussing the options, she decided to not pursue radiation/chemotherapy. Her primary concern was preventing Dante from suffering further, and she requested we euthanize him while he was still under anesthesia.
Life can turn on a dime
Dante's mom and grandmother were right by his side when I injected the euthanasia solution into his IV catheter. After finishing the injection, I reached for the stethoscope draped over my shoulders, and I took a listen to Dante's heart. The heart was no longer beating. "He's gone,"
I said to his owner. Much crying and hugging ensued. Details of owner's wishes for cremation were confirmed, and before long, Dante's mom and grandmother were on their way home.
As they left the hospital, I couldn't help but think of how life can turn on a dime. One moment you are bringing in your beloved pet for oral surgery, and a couple of hours later, he or she is no longer part of this world.
Our staff took it pretty hard. Decades ago, when I was in general practice, it was not uncommon to perform multiple euthanasias in a single day, and it could really take a toll. However, as a specialist in dentistry and oral surgery, I probably perform less than five euthanasias a year, and this was the first one we had performed in our new practice, which opened in March.
I think every employee shed multiple tears for Dante that day, but we all knew in our hearts
it was the right decision. In a way, it was good Dante was in a medical facility when his disease process started to progress, so that he and his mom were able to avoid a potentially worse situation at home.
Our staff's genuine concern for Dante was obvious to his mom and grandmother. The next day, Dante's mom wrote via email to our practice manager: "We are a mess and I keep crying and crying. I can't believe Dante is gone. He was awesome in every way… Your hugs and personal touch were extra special, and even though I don't think we were able to let you know enough yesterday, thank you for helping us through one of the darkest days of our lives. Your hugs were real and genuine, and know we felt sincerity from you."
Though such moments can be emotionally draining, when they do arise, we in the veterinary profession have an opportunity to positively impact our fellow humans' lives in a lasting way, turning a dark moment into a chance to show we care. It's not just about the animal at the end of the leash: it's about the animal at each end of the leash.
John Lewis, VMD, FAVD, DAVDC, practices dentistry and oral surgery at Veterinary Dentistry Specialists and is the founder of Silo Academy Education Center, both located in Chadds Ford, Pa.