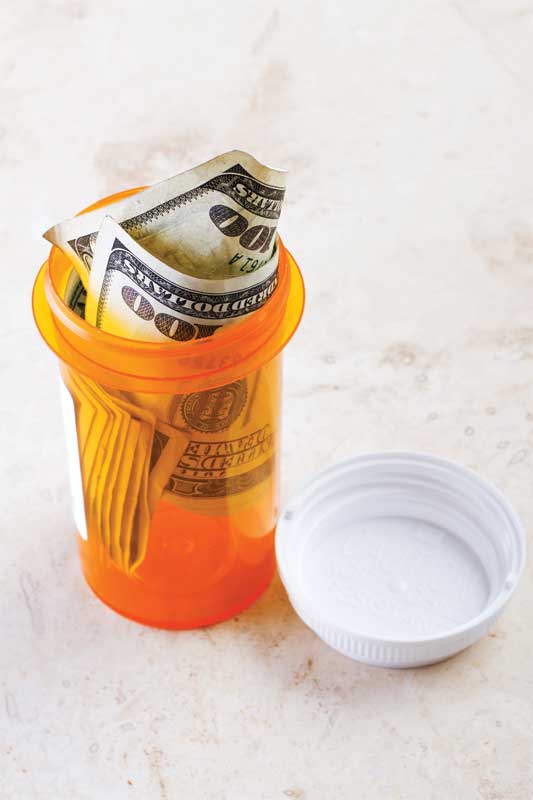 Practice ownership is not an easy feat, and the demands put on you as the owner can feel unsurmountable. If you are a practicing veterinarian, it can be difficult to run a successful business while practicing high-quality medicine.
There are three critical roles within a business: an entrepreneur, manager, and technician. Something interesting about each of these roles is trying to do more than one, while trying to do that one really well is almost impossible due to the amount of attention needed to excel in each position. This is a whole other topic for discussion, but when starting a business, many will jump into the role feet first and not have a solid plan on how to utilize the business to build their personal wealth over time.
Practice only
Have you heard about the "practice-only" retirement plan? The plan relies 100 percent on the sale of the practice, and maybe there is real estate involved, which could provide a little extra cash flow on top of the sale proceeds. In the instances where real estate is not involved and you lease the location, the only money available to provide income in retirement will be the sale.
While you are an owner, the practice might be your personal expense account. Whenever you needed money, the easiest thing to do was to pull money from the business checking account to fund personal expenses.
Granted, if you are an S Corp., or other tax entity, all those funds were likely taxed, and you have a right to take those funds. In addition to taking money as needed, there might be expenses funneled through the practice, such as personal car allowances, travel, and insurance.
Your accountant is someone who can provide appropriate advice on what money could and should be funneled through your practice, but it is important to make sure you do not "pierce the corporate veil."
This is where there is no clear distinction between what expenses in the business account are personal and business related. That could open you up to personal lawsuits should someone file a suit against the practice. There should be a line drawn in the sand clearly separating personal and business expenses by paying yourself consistently a salary and taking distributions monthly or quarterly.
Your accountant will be able to appropriately categorize salary and distributions when your taxes are filed, but having a consistent income flow to cover your personal expenses is important.
Taxes
Whenever you are given advice to reduce your profits, it can impact the overall value of your practice, especially when there are not up-to-date profit/loss statements and tax returns prepared. When your plan relies heavily on the sale, it could put you in a tough position whenever a confusing story is communicated to the potential buyers.
In the case you have sold your practice and received a lump sum of money, the first order of business is to congratulate yourself on building a successful practice and finding someone who found an interest in continuing it once you are no longer involved. Now you have the lump sum of money, the next step is determining what is next. The answer is taxes!
The amount of taxes will likely be a combination between income taxes and capital gains, depending on the cost basis inside your practice. The cost basis is the money you have personally invested. Whenever you take money out of the practice, the cost basis will decline and increase the amount of taxes due on the sale proceeds. You might have been paying yourself a salary and periodically taking out distributions from the business checking account.
Do you have an idea on what your total income actually was, and the total amount of expenses you actually had? There are many who struggle to answer this question because they spent most of their time working in the practice and not on the practice.
Your income might have been $200,000 in total between a salary and distributions. Maybe it was more. Also, let's say your practice was valued at $3 million. After paying taxes, you might be left with $2.1 million. If your income was $200,000, how many years will you be able to produce that level of income before you run out of money? At a minimum, it would be 10 years and maybe a few extra depending on how well your investments perform.
As you can see, this is a huge problem for most and the next best solutions are to not sell or drastically reduce their lifestyle. Now every day is a Saturday, and we all know how much money we spend on the weekend. No one wants to make this drastic shift to live off less when they now have so much more free time.
If you designed a strategy on how to spend money, the sale proceeds could go further and would be based on what you positioned where. You want to include a plan to produce consistent income, accessible money for whenever you want to spend extra, and a later bucket to replenish the accessible money when it runs a bit low.
Another way to think about this is to use your practice to build your personal net worth. Instead of letting money accumulate inside the business checking account, and then taking those funds to randomly reinvest into the practice or pay off your mortgage, you could be strategic on how you are saving money.
Your practice could be used to build up your personal wealth with the net income generated alongside the eventual sale in the future. There is new income generated ongoing each month and then there is "dead cash" where money is just hanging out in the business accounts without any true purpose.
The best way to approach this scenario is to define which operational fund is absolutely necessary to keep inside the business for ongoing expenses, and then set up a plan to systematically distribute money from the practice. This does not mean you must put money into retirement accounts, but have a plan to actively pull money from the practice into your personal life for your retirement income plan.
This can be a difficult decision to make when there is no direction on what you want from the practice and how much should be kept inside the business checking accounts. Take a close look at your expenses in the practice, as well as overall goals for the growth to determine what is appropriate for your circumstances.
You have a choice to create a plan allowing you to live a somewhat comparable lifestyle in retirement by setting up a strategic savings plan and coordinating it with a retirement income plan. The sooner you start, the more options and flexibility there will be for you to produce the most income throughout retirement and reduce stress from your plan.
Tom Seeko has worked with practice owners and veterinarians since 2014. He is the cofounder of Florida Veterinary Advisors that work with veterinarians throughout the United States, Certified Exit Planner (CExP), business and personal financial advisor, and cohost of the Smarter Vet Financial podcast.
This material is intended for general public use. By providing this content, Park Avenue Securities LLC is not undertaking to provide investment advice or a recommendation for any specific individual or situation, or to otherwise act in a fiduciary capacity. Please contact a financial representative for guidance and information that is specific to your individual situation. Guardian, its subsidiaries, agents, and employees do not provide tax, legal, or accounting advice. Consult your tax, legal, or accounting professional regarding your individual situation. This material contains the opinions of the author but not necessarily those of PAS or Guardian. registered representative and financial advisor of Park Avenue Securities LLC (PAS). Securities products and advisory services offered through PAS, member FINRA, SIPC. Financial representative of The Guardian Life Insurance Company of America (Guardian), New York, N.Y. PAS is a wholly owned subsidiary of Guardian. Florida Veterinary Advisors is not an affiliate or subsidiary of PAS or Guardian. Florida Veterinary Advisors is not registered in any state or with the U.S. Securities and Exchange Commission as a Registered Investment Advisor. The individuals associated with Florida Veterinary Advisors do not maintain specialized licenses or qualifications for the financial services provided to veterinary professionals. CA Insurance License #0K80141. 2021-136508 (Exp. 4/24)