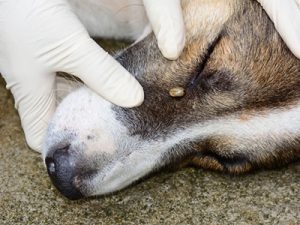 It's important to remember that a single tick can transmit multiple infectious agents that may cause or contribute to serious illness, including kidney disease. And because dogs don't always show clinical signs, it can be challenging to understand the true harm of any given infection to a pet's health. This makes regularly screening of pets—including asymptomatic or seemingly healthy ones—to identify exposure to infected ticks all the more important.
Here's a quick look at why regular, comprehensive screening is critical, and what veterinarians can do to help keep dogs healthy.
All dogs need to be screened annually for exposure to infected ticks
It's quite possible a patient could be fighting an infection without showing any signs of disease. That is why limiting screening to symptomatic pets and those known to have had a tick on them is too restrictive—it will miss infections. All dogs need to be tested, and pet owners need to be reminded that negative results are the goal in order to verify that preventive measures against ticks are working.
A new study reinforces the importance of detecting exposure
The study, found at idexx.com/ckdstudy, showed two key findings: 1) dogs with Ehrlichia antibodies in E. canis-endemic areas have a 300 percent increased risk of kidney disease; and 2) dogs with B. burgdorferi (the causative agent of Lyme disease) antibodies in Lyme-endemic areas have a 43 percent increased risk of kidney disease.
A blue dot on a comprehensive pet-side vector-borne disease screening test (e.g. the IDEXX SNAP 4Dx Plus Test), which indicated exposure to infected ticks—can be quickly and easily followed up with routine blood work and urinalysis to determine if there is hidden (or underlying) tick-borne disease.
What are next steps for a blue dot on an apparently healthy dog?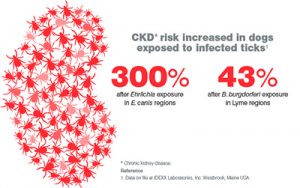 If there is a positive result for Ehrlichia/Lyme, you also can run the IDEXX SDMA Test annually to monitor kidney function and identify any potential disease earlier. Finding increased SDMA levels in a dog with verified tick exposure indicates an immediate course of action to investigate, manage, and monitor possible kidney disease with guidance from the IDEXX SDMA Test diagnostic algorithm. If SDMA increases are stable, then chronic kidney disease treatment based on International Renal Interest Society (IRIS) staging can be initiated.
What else can veterinarians and pet owners do?
Help your clients understand that year-round tick prevention and annual testing are integral to the health of their pet. Checking regularly for ticks, using preventives consistently as prescribed, and testing annually all are ways to keep more dogs healthy.
Melissa Beall, DVM, is medical affairs manager for IDEXX Laboratories Inc.