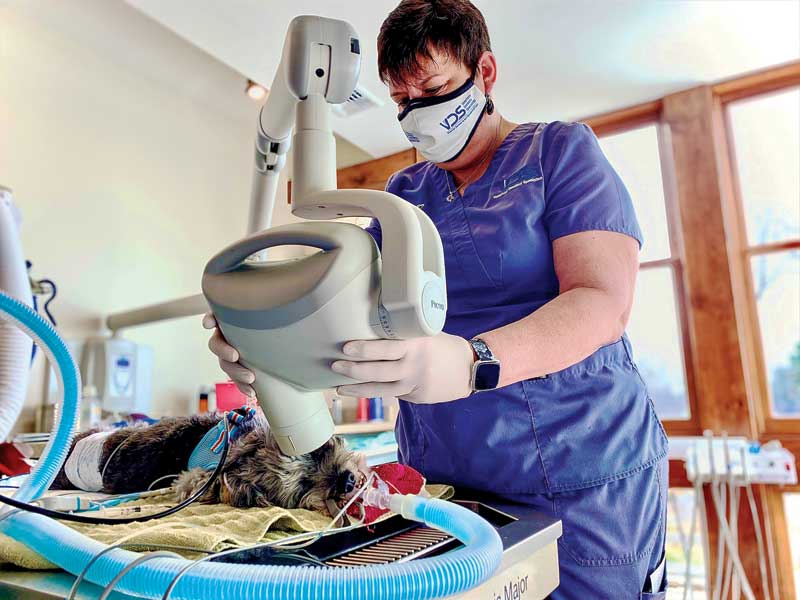 In last month's column, we discussed the important role of technicians in veterinary dentistry. Let's delve into this further. Technicians are vital in ensuring the basic needs of our patients are met in delivering anesthesia, providing nursing care, and performing and assisting with dental procedures. Above and beyond the basic needs, technicians enhance the experience for our patients and our clients. They sweat the small stuff. They put the whipped cream on top of the metaphorical sundae of patient care!
Discovering along the way
It's difficult to believe I've been practicing for 24 years. Time sure has flown by! During those 24 years, I've had the opportunity to work in nearly every possible practice setting: general practice, academia as a resident, academia as a faculty member, large multi-specialty practice, and currently, stand-alone dentistry practice.
Throughout these various stops, I have had varying amounts of technician help. The lowest technician to doctor ratio I experienced over the years was in multi-specialty private practice. During that time, my dedicated technician and I were able to accomplish great things, especially considering it was just the two of us. However, because the two of us were usually busy performing procedures, we were sometimes unable to provide the personal touch at the beginning and the end of each visit to optimize the client's and patient's experience.
When I made the move to stand-alone dentistry practice, I knew if we wanted to provide concierge-level patient care, we needed to find talented technicians, and enough of them to ensure our high standard of individual patient care did not falter, no matter what came through the front door on a given day. In our practice, the adequate level of technical staff currently equates to having three technicians who provide support to two specialty doctors (anesthesiologist and dentist). Two of the technicians have achieved veterinary technician specialist (VTS) status, one in anesthesia and one in dentistry.
Specialty setting
In a specialty setting, having a mixture of VTS technicians and nonspecialized technicians is helpful. Having a VTS in your practice can be akin to having an additional doctor on staff due to the knowledge and experience that invariably comes with a focus on a particular subject area. However, obtaining specialized knowledge can come at a price.
True of both doctors and technicians, the transformation from generalist to specialist can often result in one's status as a "jack-of-all-trades" to fade. The holy grail of specialization is finding the ability to master a specialty without losing grasp of what was hopefully learned as a generalist earlier in the career. Nonspecialized technicians fill in the gaps for VTS technicians, often providing the well-rounded experience that sometimes gets lost in the process of specializing.
Even though having a VTS technician in your practice is sometimes like having an extra doctor on staff, there are certain things even VTS technicians should not do. In the context of veterinary dentistry, this includes extractions and oral surgery. Not every state currently prohibits technicians from doing extractions, but even if your state allows it, I feel it is unfair to put technicians in the situation of asking them to perform extractions. There are too many things that can go wrong.
How did it become the norm in some practices that technicians would be responsible for performing tooth extractions? It probably relates to a lack of dentistry training in veterinary school. Until recently, dentistry was not a required subject in veterinary school,1 so it was quite possible a technician who has been in practice for a while had much more experience than a new veterinarian graduate. This is changing, and more veterinary schools are providing students with resources needed to graduate with the skills they need in practice.
Even if those opportunities are not provided in veterinary school, new graduates are seeking out these opportunities after graduation in the form of continuing education extraction wet labs.
Since veterinary technicians play such an important role in practice, this raises questions. Are they undervalued, and if so, why? I feel strongly that technicians are underappreciated and undervalued. The national average salary of veterinary technicians is twice that of minimum wage,2,3 but is equal to the starting salary at Amazon/Whole Foods at $15 per hour. In comparison, fitness trainers make $20/hour, chefs make $21/hour, surgical technologists make $22/hour, and plumbers make $25/hour.
Of this list, perhaps the surgical technologist (human OR tech) is the most comparable from the human medicine side. Why do veterinary technicians make $7 less per hour, on average, than their counterparts in the human field? A big part of the answer is the bosses of veterinary technicians get paid less than half of what their human counterparts get paid. According to salary.com, as of November 2020, the average veterinarian salary is $96,952 vs. $209,990 for general practice physicians.4,5
Better titles?
Another possible reason veterinary technicians may be undervalued could be perceptions created by their title. Most veterinary technicians do more than just technician work. In addition to being OR technicians, they perform patient care duties analogous to those performed by RNs and LPNs. This raises the question of whether there should be further delineation of titles in the veterinary field above and beyond what currently exists.
The National Association of Veterinary Technicians in America (NAVTA) formed the Veterinary Nurse Initiative in 2016 to unite efforts to rename technicians to better reflect the breadth of what they do in practice. The struggle to introduce and pass state bills to change the title of "registered veterinary technician" to "registered veterinary nurse" has proven to be an uphill trek,6 but it seems reasonable and appropriate to have further delineation of roles in addition to the existing veterinary assistant/veterinary technician/VTS monikers.
John Lewis, VMD, FAVD, DAVDC, practices dentistry and oral surgery at Veterinary Dentistry Specialists and is the founder of Silo Academy Education Center, both located in Chadds Ford, Pa.
Recommended reading
https://www.avma.org/javma-news/2020-11-01/dentistry-now-required-part-veterinary-curriculum
https://www.ziprecruiter.com/Salaries/Veterinary-Technician-Salary-per-Hour
https://www.dol.gov/general/topic/wages/minimumwage
https://www.salary.com/research/salary/benchmark/veterinarian-salary
https://www.salary.com/research/salary/alternate/physician-general-practitioner-salary
https://www.avma.org/javma-news/2020-03-15/navtas-veterinary-nurse-initiative-work-progress