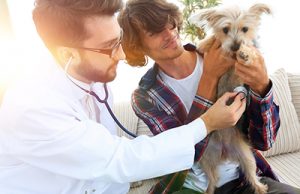 You've probably had the experience of eating out at a restaurant where the food was great but the overall experience was terrible. You were seated 30 minutes after your reservation time, the server was aloof and, at times, rude, and the kitchen got your original order wrong—and then stuck it on the bill before you pointed out the error. It doesn't matter that the steak you ended up eating—the offering you actually paid for—was cooked and seasoned to perfection, tender to the bone, and delicious; at the end of the meal, you walked away feeling like you'd had an extremely negative experience and, chances are, you thought twice about ever returning to that restaurant again.
The veterinary service you provide your patients is, in many ways, no different from the service you get when you eat at a restaurant—at least when it comes to customer experience. While your patients come to you for a specific service (veterinary care), just like you went to that restaurant for a steak, their overall judgment of the value of that service will be determined just as much by their overall experience and the way they were treated as by the quality of care they receive.
You probably spend a lot of time and energy getting patients into the door. You spend money on staffing, supplies, and training all in an effort to ensure you're delivering on your core promise. But, just like the restaurant spends money on prime ingredients and yet can still manage to alienate a customer, there may be aspects of your customers' experience that are driving them away.
To accurately assess the overall experience you provide your patients, you must take time to walk a mile in their shoes. Merely thinking about it or taking a cursory glance around your practice is not enough. You need to walk through their entire experience from the start—and not just of the appointment. If you're starting with the waiting room, you're skipping crucial touch points and the impressions they impart.
Pre-appointment
The client experience starts before they even step foot in your office.
How easy is it to book an appointment with your office? Do patients have to wait on hold or be transferred to someone or can they contact someone directly or go online to find a time that is convenient for them?
Do patients receive an appointment reminder email, text, or phone message the day before the appointment? Have one sent to yourself. What's your impression? Perhaps the message tone could be improved? Perhaps you could add a map link to make locating the office easier?
Does your appointment process consider the demographics of your area? For example, if you're located in a town heavily populated by Spanish speakers, do you have people on staff and/or resources online to serve them?
Arrival
How are patients greeted when they walk through the door? Try taking inspiration from the hospitality industry and have reception greet your patients warmly and immediately as soon as they arrive.
Upon check-in, why not offer your guest a bottle of water? Hand the WiFi password you've printed on a card to the guest with their water.
Is it hot outside? Why not offer your patient a cool face towel upon arrival? Cold out? Offer to take and hang your patient's coat.
Take mental inventory of all other components of the waiting room your patient is experiencing. How comfy are the chairs? What music is playing? Is stress-inducing cable news playing on the TV? Perhaps switching to a calming travel channel would be more appropriate.
How clean is the floor or carpet? Are there half-torn and dog-eared magazines strewn about? Is the temperature comfortable?
How long are your wait times? While all practices can get busy, you should make every effort to leave patients waiting no more than 15 minutes after their scheduled appointment time. If you find patients are waiting much longer than that on average, perhaps you need to change your scheduling procedures or hire additional staff.
Post-appointment
If the procedure is emotionally trying (euthanasia, grave prognosis), does your patient have to walk back out to reception in front of other patients to settle up? Or can you accept credit card payments in your exam room to complete in-exam room processing?
When settling up or scheduling the next appointment, is your reception asking each and every patient "What could we have done better for you this visit?"
Upon leaving, is your patient thanked by name by reception for coming in?
Within a week of the appointment, are your patients emailed a thank you note, as well as again asked "What could we have done better?" This would be an ideal time to remind them to rate their experience on Yelp or Google.
Re-engage those patients whom you haven't seen in a long time. Set up a "We miss you" email campaign for lapsed patients. Address the message to the pet's name.
Ryan Pirkle is director of marketing at Gravity Payments.